verbal language
Writing for the IU brand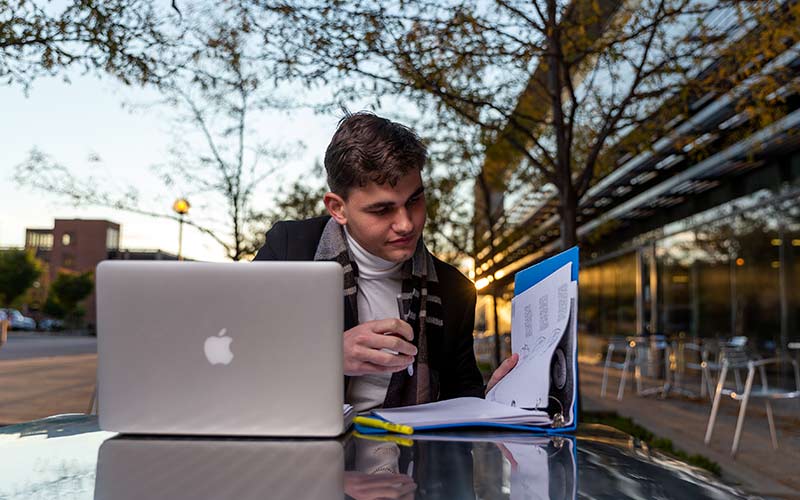 Let words do the talking
The craft of writing requires thoughtful consideration of a number of variables in order to maximize your execution's persuasive or informative effect. Whether you're writing educational materials or advertisements, catching your audience's attention and delivering your message in a compelling way are vital.
Mind your audience
We're writing for our audience, not for ourselves. That means a message becomes valuable when it's processed by the recipient. What you say, and how you say it, is only part of the picture. Your audience's beliefs and attitudes shape how your message is perceived.
Sharing stories in different spaces
With no shortage of things to say, our brand conveys ideas to different audiences and utilizes countless media tactics to do it. 
We persuade prospective students to join the IU family, inspire current students to pursue the career of their dreams, and stay connected with alumni throughout their lives. We message in moments of joy and in moments of crisis, telling some stories in five words and others across hundreds of pages.
Most of the content you create, including your writing, should be tied to a strategic objective—whether it's a brand objective or a goal your unit has set out to achieve. Particularly if you're going to be developing messaging that's leveraged across channels or touchpoints, start by designing a messaging strategy to make the most of your efforts. 
The nature of our content
You'll find that the nature of your content tends to fall under one of two main categories: editorial or commercial.
Editorial content is inherently designed to inform or educate. It might include press releases, blogs or vlogs, or newspaper articles. Editorial work is typically created to convey knowledge and/or demonstrate our expertise in a certain area, not to "sell" something. 
Commercial content, including advertising, is designed to persuade an audience and promote our brand. It is often intended to elicit a desired response from constituents, be it an attitude or action. Commercial work might include digital display ads, paid social posts, or program brochures.
Understanding the distinction between the two is important for building constituent trust, and for maintaining brand credibility. Each type of content is governed by a separate set of guidelines, best practices, and processes.
Both editorial and commercial content are important components of IU's Integrated Marketing Communications strategy and can be used together to support your unit's goals.
In today's digital landscape, there are plenty of instances where the line between the two gets blurry. Placements like native advertising, for example, exist at the intersection between editorial content and advertising. Native advertising is paid content that takes the shape of editorial content.
Copywriting
Writing for commercial content (including advertising) is called copywriting. Copywriting has its own set of best practices that involves writing headlines, subheads, and body copy for persuasive marketing materials.
Learn more about copywriting
A little reading to help your writing
Always make your writing accessible and inclusive to maximize its reach and impact.

Learn best practices for writing content across media touchpoints.

Get access to our style guides: the IU Web Style Guide and our Editorial Style Guide.