Becoming IU
After classes began in 1825, with an enrollment of 10 men, IU demonstrated a progressive commitment to inclusion and diversity.
1867: IU became one of the first state universities to admit women.
1869: Sarah Parke Morrison became the first woman to graduate from IU.
1895: Marcellus Neal became IU's first African American graduate.
1919: Frances Marshall became IU's first female African American graduate.
IU today: An expansive community
Today, the IU community represents a diverse cross-section of people from all backgrounds and cultures across current students and faculty.
71,000+ degree-seeking undergraduate students
19,000+ students in graduate and professional programs
7,200+ international students from 164 countries
21,000+ faculty and staff university-wide
44,500+ total affiliated IU employees (including students and temporary workers)
27%
of degree-seeking domestic students are multiracial, African American, American Indian, Asian American, Hispanic, or Pacific Islander
19%
of instructional faculty members are multiracial, African American, American Indian, Asian American, Hispanic, or Pacific Islander
Focusing on new horizons
IU began to expand beyond Bloomington in 1921, when courses were first offered in another location (Gary and Lake County), kicking off another 100 years of growth and innovation.
1933–1971: IU establishes its seven regional campuses throughout Indiana.
1969: IU and Purdue join together to create IUPUI.
1981: IU's Black Film Center/Archive is established as the first archival repository dedicated to collecting, preserving, and making available historically and culturally significant films by and about black people.
1989: IU offers its first online class.
2012–2020: IU establishes or reconfigures seven schools, including IUPUI's Lilly Family School of Philanthropy and Richard M. Fairbanks School of Public Health; and at IU Bloomington, the School of Public Health, the Luddy School of Informatics, Computing, and Engineering, the Hamilton Lugar School of Global and International Studies, the Eskenazi School of Art, Architecture, and Design, and The Media School.
IU today: A world-class institution
Today IU spans seven campuses and two regional centers across Indiana and partner locations around the globe, with resources that allow us to broaden our impact and make an IU education accessible to more people.
930+ academic programs university-wide
20,000+ classes offered each semester
200+ museums, institutes, and research centers
$1.1 billion+ in financial aid awarded in 2021
$397 million+ in institutional gift aid and loans in 2021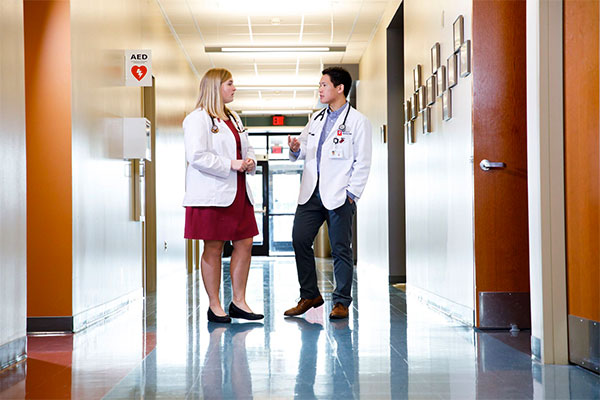 Leading the way in health
See how IU is setting new standards for education and helping graduates build thriving career paths in health sciences.
Learn about health at IU
76%
of degree-seeking undergraduates receive financial aid
47%
of Bachelor's degree recipients graduate with no student debt
A vibrant student life
From active student organizations to exciting study abroad programs, spirited Division I and NAIA athletics to inclusive intramural sports teams, IU campuses offer a multifaceted college experience for every student.
1,500+ student clubs and organizations across all IU campuses
40 Division I sports teams at IU Bloomington and IUPUI
60+ NAIA athletic teams across all five regional campuses
380+ study abroad programs [overseas.iu.edu] in more than 70 countries
4,000+
IU students across all seven campuses study abroad each year.
A commitment to outcomes
Throughout our history, IU has been dedicated to empowering our students and faculty to cultivate meaningful careers, develop lifelong connections, and make an impact on the world.
725,000+ IU alumni around the world
160+ IU Alumni Association chapters and groups worldwide
IU alumni have earned nine Nobel Prizes, 21 Pulitzer Prizes, 104 Olympic Medals, and 357 Fulbright Awards.
IU graduates in the performing arts have won four Tonys, six Oscars, 33 Emmys, and 50 Grammys.
*All statistics are current as of 2020.
Shaping the world
IU alumni and faculty are responsible for discovering the structure of DNA, becoming Africa's first elected female head of state, chairing the 9/11 Commission, and pioneering the use of cord blood stem cell transplants, among many other incredible achievements.
Get to know IU
Learn about our global locations, meet our leadership, and find out how to contact us.
See where to find IU throughout the world.

Meet the leaders behind our university.

Get in touch with questions and comments.