Getting started
A lot goes into paying for college. As you explore your options, take some time to compare costs and explore the grants, scholarships, loans, and work-study options available to you.
Find out how much it costs to attend IU by campus and see a breakdown of student fees by campus.

Learn how financial aid works and how to apply for it.

Discover a wide range of scholarships to help fund your IU education.
A Big Ten price that's hard to beat
Did you know tuition and fees at IU are among the lowest among universities in the The Big Ten? That's why publications like Washington Monthly, Kiplinger's Personal Finance, and Fiske Guide to Colleges have recognized IU's excellent value for the cost.
My advisor provided great counseling on the kinds of loans to apply for and good information on smart, manageable ways to repay the loan.
Jennifer Pruitt BS in Political Science from IU East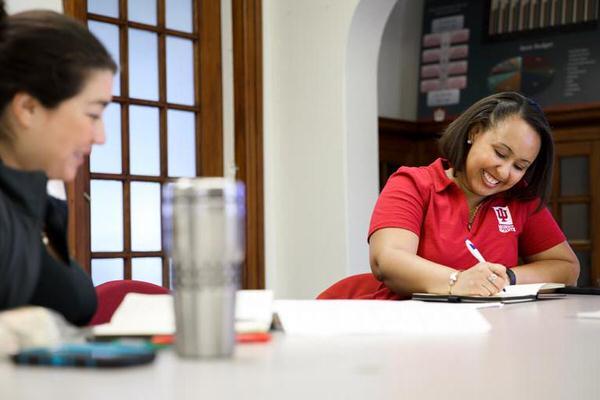 Making college more affordable
In addition to exploring financial aid and scholarships, managing the cost of attending IU is all about making good financial decisions, minimizing your loan amounts, and working to graduate on time. Our MoneySmarts tools and info have helped IU students reduce borrowing by more than $125 million over the last 10 years.
Explore MoneySmarts
Are you an international student?
Check with your IU campus international student admissions office for more information about cost and financial aid.
Keep learning
Learn how to fill out your FAFSA, get a primer on financial aid, and find advice for managing your financial aid wisely.
Get a step-by-step guide to filling out your Free Application for Federal Student Aid (FAFSA).

See how the financial aid process works and get familiar with common terms.

Get tips for making smart decisions about your financial aid options.