A home for world-class academics
IU is home to top-ranked business and music schools. We're home to the world's first school of philanthropy, the nation's first school of informatics, and the country's largest medical school. Our hundreds of academic programs are among the world's best, and we're always looking toward the horizon, thinking about what's next.
To better prepare our students for the careers of tomorrow, we've launched or reconfigured 10 schools in the last decade, and we're constantly adding new academic programs, like IU Bloomington's Intelligent Systems Engineering program and IU Online's 100% virtual Master of Science in Educational Technology for Learning.
Get to know IU
See IU facts and figures, learn about our global locations, meet our leadership, and find out how to contact us.
Learn about IU history and find useful facts and statistics.

See where to find IU throughout the world.

Meet the leaders behind our university.

Get in touch with questions and comments.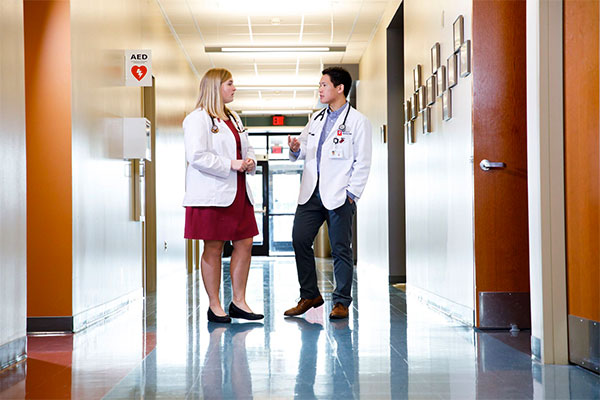 Leading the way in health
See how IU is setting new standards for education and helping graduates build thriving career paths in health sciences.
Learn about health at IU
A home for shared success
When our students and faculty thrive, we thrive. Since 2011, our nationally recognized MoneySmarts financial literacy program has helped IU students reduce their borrowing by $126.4 million, a 19 percent decrease.
We also help our faculty members to share their knowledge, innovate in their research and creative activity, and prepare for leadership positions—all within an environment where diverse backgrounds and perspectives are valued, so they can continue to catalyze discoveries and ignite students' potential.
A home for innovation
Get a glimpse of some of the most notable achievements from IU faculty and students throughout history.
A diversity milestone
Juanita Kidd Stout, an IU alum, was the first African American woman to serve on a state supreme court in the United States.
A cure for cancer
IU oncologist Lawrence Einhorn developed a treatment for testicular cancer that improved the survival rate from 5 to 95 percent.
A Nobel first
Late IU professor Elinor Ostrom was the first female Nobel Laureate in economic sciences.
A genetic breakthrough
IU scientists were responsible for the first use of DNA technologies to locate a marker for a human disease gene, targeting the gene responsible for Huntington's Disease.
A historical note
IU faculty member Camilla Williams was the first African American singer to receive a regular contract with a major American opera company, the New York City Opera, and sang the national anthem before Dr. Martin Luther King, Jr., delivered his "I Have a Dream" speech in 1963.
The original Crest formula
IU scientists first developed the toothpaste formula that Procter & Gamble later named Crest.
A home for global perspectives
IU is a gateway to the world, and we prepare students to live and work anywhere with wide-ranging language and culture programs, more than 380 overseas study options, Global Gateway Network offices across continents, and partnerships with nearly 60 institutions worldwide. More than 7,000 international students are currently pursuing their educations here, serving as a testament to the power of an IU degree.
A home for bold vision
Our mission is to provide broad access to undergraduate and graduate education for students throughout Indiana, the United States, and the world, as well as outstanding academic and cultural programs and student services.
We seek to create dynamic partnerships with our communities in economic, social, and cultural development and to offer leadership in creative solutions for 21st-century problems, and we strive to achieve full diversity and maintain friendly, collegial, and humane environments, with a strong commitment to academic freedom.
To achieve our vision as one of the great research universities of the 21st century, we will:
Provide an excellent, relevant, and responsive education across a wide range of disciplines in baccalaureate, graduate, and professional education, to students from all backgrounds
Pursue excellent world-class research, scholarship, and creative activity
Engage in the economic, social, civic, and cultural development of Indiana, the nation, and the world by building on the base of excellence in research and education
A home for strong values
We are committed to the highest standards of ethical conduct and integrity at IU, including these core values.
Excellence and innovation
Discovery and the search for truth
Diversity of community and ideas
Respect for the dignity of others
Academic and personal integrity
Academic freedom
Sustainability, stewardship, and accountability for the natural, human, and economic resources and relationships entrusted to IU
Sharing knowledge in a learning environment
Application of knowledge and discovery to advance the quality of life and economy of the state, the region, and the world
Service as an institution of higher learning to Indiana, the nation, and the world
Keep exploring
Learn about IU's involvement in our local, state, and global communities, explore academics, and find out what it's like to be an IU student.
Discover how IU students and faculty are changing the world.

Explore our world-class schools and degree programs.

Get a taste of life on campus across IU's nine campuses.