Installation of IU Kokomo Chancellor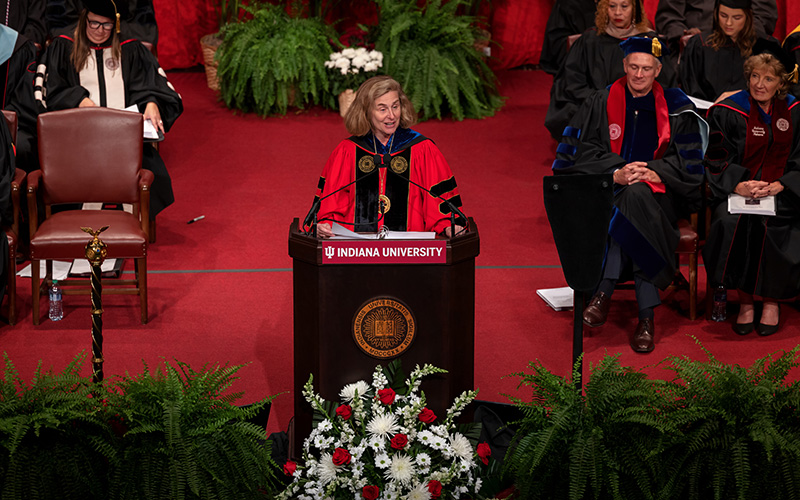 Meeting the chancellors of today and tomorrow
At the dedication ceremony for the Kokomo campus held 57 years ago in this very auditorium, Indiana University's 12th president, Elvis Stahr, said that the interaction of civic and academic growth was particularly well illustrated by IU's experience here in Kokomo. "It is now clearly demonstrated here and elsewhere in Indiana," he said, "that (we) can meet the major challenges of today and tomorrow with efficiency and effectiveness and quality."[1]
Having made multiple visits to all of IU's regional campuses, beginning in the days after my appointment was announced and continuing through as recently as last week, it is abundantly clear that IU Kokomo and her sister regional campuses have grown tremendously in efficiency, effectiveness, and quality over the ensuing decades.
The many strengths of IU Kokomo have, of course, long been known to those of you who work, learn, and teach here. But from my experience having worked at universities around the country, it is no exaggeration to say that what we have in Indiana University's regional campuses is relatively rare in American higher education.
IU's regional campuses are remarkably robust institutions. They are home to talented and engaged students, excellent faculty and staff who are committed to helping students succeed, and comprehensive and robust academic programs. They are located on beautiful campuses and are home to state-of-the-art facilities for teaching and learning. IU's regional campuses offer the benefits of a large public university and its resources, combined with the close-knit learning environment typically found at smaller institutions. They play a major role in helping the state achieve its goal of substantially increasing the number of Indiana residents with college degrees. And they also serve as catalysts for economic and community development in their regions.
The regional campuses are, in short, a vitally important part of the whole of Indiana University. The entire university community—and indeed, the entire state—should take pride in our regional campuses and the impact they make in the Hoosier state. 
A vital part of the region
Nowhere is this impact more greatly felt than right here at IU Kokomo.
During visits to the campus, I've had the pleasure of meeting many outstanding IU Kokomo students, and have been so impressed by their excitement, enthusiasm, and passion for their studies. And like those who have come before them, the vast majority of those students will stay in the area after they graduate, using their new skills and knowledge to contribute in countless ways to the civic, economic, and cultural life of north central Indiana.
Named as a top regional college in the 2022 U.S. News & World Report Best Colleges rankings, high-impact and experiential learning practices lie at the heart of the IU Kokomo educational mission and practice.
The outstanding faculty of IU Kokomo are "teacher-scholars" in the truest sense. They provide an excellent education to students in the classroom and engage in high-quality scholarship that influences their teaching and impacts the state.
Countless campus leaders, faculty, staff, and students have helped to transform IU Kokomo into what it is today: a vibrant intellectual community that is a vital part of this community and the entire region.
Chancellor Mark Canada 
Today, the campus's traditions of excellent leadership and a commitment to partnership continue as we officially install Mark Canada as the eighth chancellor of Indiana University Kokomo. 
Having served this campus and the community in a variety of positions for a number of years, Mark really needs no introduction to most of you. But let me take a moment to share some of his background and a few of his many accomplishments.
 Mark has served as IU Kokomo's deputy chancellor since July 2021 and executive vice chancellor for academic affairs since 2015.
A longtime advocate for student success, he led the effort to begin the IU Kokomo Experience and You, or KEY, the campus's signature program of high-impact practices and transformative learning experiences to enrich the student experience.
 He also has an extensive background in higher education. Prior to his positions at IU Kokomo, he was dean of the College of Arts and Sciences at the University of North Carolina at Pembroke, where he had also been acting dean; associate dean; chair of the Department of English, Theatre and Foreign Languages and a professor of English.
 We are also proud to count Mark as an IU alumnus. He earned a bachelor's degree in English from IU and went on to earn master's and doctoral degrees from the University of North Carolina at Chapel Hill.
Most importantly, Mark knows and understands the mission of the regional campuses and has been a champion for student engagement and other important initiatives during his time at IU Kokomo.
In the coming months, members of the campus community will work together to imagine what they want IU Kokomo to be by 2030 and develop a bold new strategic plan. I am confident Mark will lead the campus with distinction—during this strategic planning process and beyond—and he will work to continue to strengthen relationships across north central Indiana.
Bigger, better, brighter days ahead
 For more than a century, under various names and in various locations, Indiana University has been engaged in Kokomo to provide excellent teaching and scholarship for the benefit of students. For many decades, IU Kokomo has led that charge, while at the same time partnering with countless individuals and institutions in the surrounding communities to enhance the quality of life in north central Indiana and to contribute to the region's educational, social, economic, and cultural development.
Under the leadership of Chancellor Mark Canada, I am confident that the IU Kokomo campus—and the entire region—can look forward to even bigger, better, and brighter days ahead.
 Congratulations to Mark, his family, and the entire IU Kokomo community.
Footnotes
[1] Elvis J. Stahr, Remarks at the Dedication of the Kokomo Regional Campus, November 12, 1965, IU Archives.
More on the IUK Chancellor ceremony
Find out more about this important milestone for IU Kokomo.