A focus on students, research and service
Pamela Whitten is the 19th president of Indiana University and the first woman to lead IU, a world-class public research university with seven campuses throughout Indiana.
Under her leadership, IU has emphasized three core missions: providing broad access to an education for all students from Indiana and beyond; pursuing world-class research, scholarship and creative activity; and making meaningful contributions to improving Hoosier health and the economic, social, civic and cultural development of the state and the world.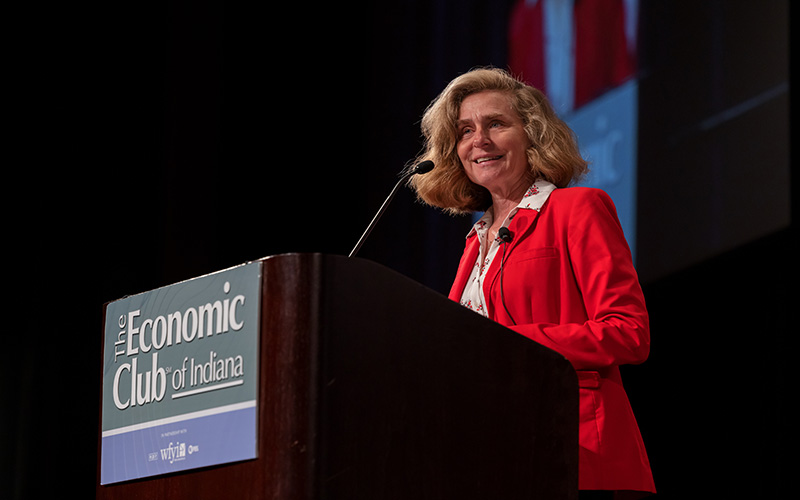 IU's impact
President Whitten is committed to a focus on student success, world-class research and scholarship, and to improving Hoosier health and the economy in Indiana and beyond.
Areas of focus
A look back at the first year
During her first year in office, Whitten accelerated the university's efforts to hire and retain diverse faculty and researchers, strengthened IU's commitment to sustainability, and renewed its focus on student mental health.
Whitten has placed a strong emphasis on prioritizing students across the state, appointing the university's first Vice President for Student Success. With support from search committees comprising faculty, staff and students, Whitten has also assembled a diverse and experienced leadership team that includes five IU alumni. With this exceptional cabinet in place, IU is positioned for a bright and successful future.
The state's flagship university since 1820, IU has a record of leading innovation and advancing research and partnerships throughout the region that has continued during Whitten's tenure. In 2022, the IU School of Medicine, the largest medical school in the nation, celebrated record-breaking funding from the National Institutes of Health, and IU expanded enrollment and growth of its nursing program to address the state's nursing shortage.
President Whitten attended IU Northwest's kick-off for Hispanic Heritage Month. IUN is the only public comprehensive higher education institution in Indiana designated as a Hispanic-Serving Institution. Throughout September and October, our campuses will be bustling with events and activities that celebrate the heritage, achievements, and enduring spirit of our Hispanic and Latine students, faculty, staff, and alumni.

IUPUI's deans help lead the campus's academic units and fulfill IUPUI's mission of advancing Indiana and the intellectual growth of its citizens through research and creative activity, teaching and learning, and civic engagement.

The IU Board of Trustees is the university's governing body and holds responsibility for Indiana University's mission and role.

IU is proud to celebrate 10 years of the Civic Leaders Center. The CLC emphasizes public service and leading for the greater good which has made IU a better place.

2023 Board of Aeons members meet with President Pamela Whitten at IU Bloomington.

The deans who lead the Indiana University Bloomington Division of Student Affairs are here to help students have the best possible experience during their time at IU.

Students, IUPUI Interim Chancellor Carol Anne Murdoch-Kinch, and President Whitten cut a cake to commemorate the first day of fall semester classes at IUPUI!

A Bloomington campus tradition since 1933, the New Student Induction Ceremony marks the beginning of Welcome Week and mirrors IU Commencement, symbolizing the full academic journey.

IU's Weeks of Welcome features the yearly "Traditions and Spirit of IU" event, co-hosted by FYE and IU Athletics. It introduces new Hoosiers to the IU family with excitement and pride.

Celebrating the 34th Wells Scholars class, which embodies our commitment to nurturing talent for leadership. These scholars possess academic excellence and social responsibility, poised to drive impactful change.

IU's move-in weekend showcases the dedicated Housing and Residence Life team and volunteers who help to create an environment where students can thrive academically, socially, and personally.

Indiana University's partnerships with life science partners, like Boston Scienticore, are a critical part of IU's dedication to innovation, research, and bettering health and wellness here in Indiana and across the globe.

President Whitten shakes hands as she meets with students during the Groups Scholars Program Summer Experience, which was created as a way to increase college attendance among first-generation, underrepresented students at Indiana University.

Ron and Jill Sedley's generous endowment gift will empower IU Bloomington's Jewish Cultural Center, fostering cross-cultural understanding and combating antisemitism through education and dialogue.

The IU Distinguished Service Medal was presented to Interim Chancellor Andy Klein from IU President Pamela S. Whitten during his farewell reception as he stepped down as the Interim Chancellor.

Trustees from both Indiana University and Purdue University approved a definitive agreement that paves the way for IU to transition its operations at IUPUI and officially begin as Indiana University Indianapolis in fall 2024.

President Whitten gives high fives to degree candidates after the IU Southeast Commencement.

IU Bloomington's Undergraduate Commencement ceremony in May 2023.

The Libraries and Literacy Symposium took place at the IUPUI Campus Center in Indianapolis.

IUPUI's Undergraduate President Kartikay Gulia (center) and VP Zach Wilson (left) at University Hall.

Chair of the Board of Trustees W. Quinn Buckner and President Whitten present a ceremonial Crimson Card and key to the Ferguson International Center namesakes Connie and Stephen Ferguson.

President Whitten poses with the Wilkie Sprint team celebrating 35 years since their victory in the first women's Little 500.

IU's Traditional Powwow is a traditional ceremony where generations come together to celebrate the diversity of contemporary Native American tribal identity.

Pamela Whitten with César Félix-Brasdefer, Shawn Reynolds, Hannah Buxbaum, Molly Fisher, and Mexico Gateway Program Coordinator Quetzalli Sánchez Clavel in front of an iconic UNAM central campus building.

President Whitten and Provost Shrivastav visited the Department of Chemistry and visited the undergraduate teaching laboratory spaces and research lab spaces with Department Chair Steve Tait.

The sixth annual Launch(ed) Women in Technology conference aims to inspire middle school girls to pursue their interest in STEAM fields: science, technology, engineering, art, and math.

President Whitten led the Vision 2024 all-task force meeting at the Madam Walker Theatre.

Acclaimed musician, artist and activist John Mellencamp will donate an archived collection of his life and work to Indiana University. The collection will include items related to his iconic artistry, social activism and philanthropy, and it holds original creative works, photographs, instruments and other significant memorabilia.

President Whitten visits and takes a selfie with students from the Civic Leaders Center.

The Luddy Living Learning Center is designed as a housing option for students who love technology. Here students can take advantage of special opportunities, like a trip to Silicon Valley.

President Whitten poses with Trustee Jeremy Morris and Unnati Nayak at the 14th annual IUPUI Regata.

President Whitten is welcomed by Freie Universität's President Ziegler. IU has a strong partnership with the university and our longest student exchange program in the EU.

The IU's Latino Culture Center goal is to ease the transition to college for Latine students. They provide academic support, networking, cultural, social, and professional activities for their members.
Connect on social media
Follow President Whitten to learn more about her vision for Indiana University, and to see what our students, faculty, staff and alumni are up to on a daily basis.
I am honored to lead this great university, and to continue to work with exceptional faculty, staff, students, alumni and friends of IU to seize opportunities and challenges ahead, creating a better future for all those we serve.
Pamela Whitten President of Indiana University
Career and honors
Before joining IU, Whitten held a variety of leadership roles, including serving as a dean for five years at Michigan State University, senior vice president for Academic Affairs and provost at the University of Georgia, and as president of Kennesaw State University. She is an internationally recognized expert in the field of telemedicine, holding a Ph.D. in communication studies and a Master of Arts in communication.
2021- : President, Indiana University
2018-2021: President, Kennesaw State University 
2014-2018: Senior Vice President for Academic Affairs and Provost, University of Georgia
2009-2014: Dean of the College of Communication Arts & Sciences, Michigan State University 
2007-2009: Associate Dean for Research and Graduate Education, College of Communication Arts & Sciences, Michigan State University 
2006-2007: Assistant Dean, College of Communication Arts & Sciences, Michigan State University
2005-2006: Professor, Department of Communication and Regenstrief Center for Healthcare Engineering, Purdue University
2005-2014: Professor, Department of Telecommunication, Information Studies & Media, Michigan State University
2004-2005: Professor and Director, Health & Risk Communication Center, College of Communication, Michigan State University
2001-2005:

 

Associate Professor, Department of Telecommunication, Michigan State University
1998-2001:

 

Assistant Professor, Department of Telecommunication, Michigan State University
1998-2005:

 

Research Fellow, College of Human Medicine, Institute of Healthcare Studies, Michigan State University
1995-1998: Inaugural Director of Information Technology Services and Research and Assistant Professor in the Department of Family Medicine, University of Kansas Medical Center 
1993-95: Teaching Assistant, University of Kansas
1988: Instructor, University of Maryland, Frankfurt, West Germany Campus
IBJ Media's Inaugural Indiana 250, a list of the state's most impactful and influential leaders (2022)

Atlanta Business Chronicle's Who's Who in Education – Top 100 Educators (2019, 2020 and upcoming May 2021)
Atlanta Magazine's Atlanta 500: Education & Healthcare (2020 and 2021)
Atlanta Business Chronicle's Most Admired CEOs (2020)
American Telemedicine Association Fellowship (2011)
Michigan State University Distinguished Faculty Award (2010)
Michigan State University Outreach Scholarship Award (2008)
Linkugel Distinguished Alumni Lecture Series Award, University of Kansas (2006)
National Library of Medicine and American Medical Women's Association: Local Legends in Medicine (2004)
Michigan State University Teacher-Scholar Award (2002)
Get to know the president
Learn more about Pamela Whitten, IU's 19th president.
See the headlines from Indiana University.

Read the president's newsletter and see her latest speeches and statements