Introduction of IU President-elect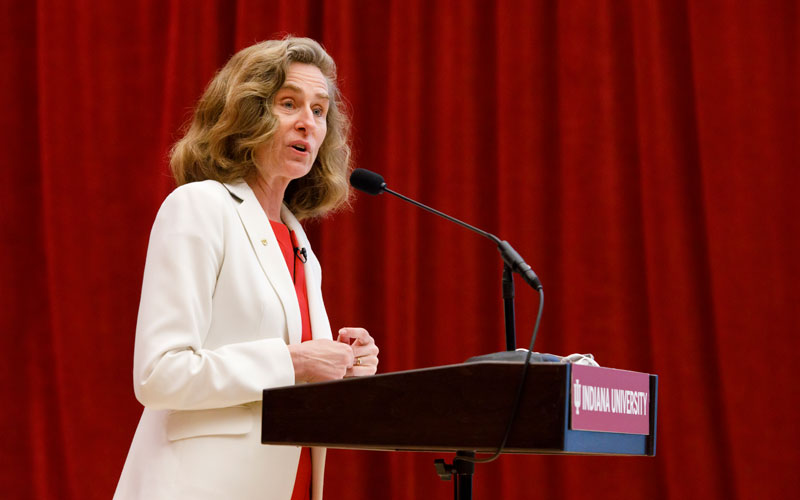 Opportunity of a lifetime
This is a special day in the Whitten household. My husband, Jason, is here with me this morning. And, I know, my grown children, Laura, Allie and Ben are watching remotely. 
As incoming Hoosiers, we join you in our devastation regarding last night's mass shooting in Indianapolis. Our thoughts are with those who have lost loved ones and those fighting to recover. 
I have always considered IU to be among the best public universities in the country. I am humbled and honored and excited to be joining the IU family as your president.
Let me first acknowledge the outstanding leadership President McRobbie and his team have provided for the past 14 years, helping to transform IU into the university it is today.
I also want to thank the Trustees. Thanks to them, the journey to our being here today has been wonderful. As they did their careful and rigorous diligence during this process, they also took the time and care to show me all the wonderful attributes of IU. If my experience with them is any indication of what it will be like to work with the IU community, I am coming to a special place.
Let's talk about this special place. With our trio of goals to (1) provide a world-class education to students, (2) conduct groundbreaking scholarship and (3) contribute to the overall well-being of the state and its citizens, we have an amazing canvas from which to work at IU. 
We have the flagship institution in Bloomington with its rich traditions and expectations of excellence.
We have IUPUI, an exciting urban campus on a skyrocketing trajectory. 
We have five regional campuses where students can receive an excellent education locally and where IU can serve as an important local partner in those communities. We have the largest (and I would argue best) medical school in the country. We are fully comprehensive from the life sciences to the arts and from our professional schools such as business, law and nursing.
The university I am excited to join and to lead is now poised for even greater progress.
In recent years, IU has dramatically transformed its academic structure to be more responsive and relevant to the evolving needs of its students, as well as major employers across the state and nation. New programs in intelligent systems engineering, in architecture and in cybersecurity—to name just a few—reflect how IU is reimagining education in an unprecedented way.
IU's research enterprise is a force, and it is well-positioned to meet the biggest challenges facing our communities and our society at large. Key to this strength is, of course, a world-class faculty whose scholarship, research and creative activity will continue to drive the reputation of our university and attract the best and brightest students from Indiana and beyond. 
IU's excellent programs in the clinical and health sciences will allow the university to continue to make major contributions toward bettering Hoosier, national and global health. 
IU will continue to build a more prosperous and innovative Indiana by translating the discoveries and innovations of our faculty, staff and students into new products, services and companies. We will also further our longstanding traditions in the arts and humanities, which are a major way we contribute to the cultural vitality of our communities.
And, of course, central to all that we do—across every area of the university—will be ensuring the success of our students, who are our lifeblood.
This includes keeping an IU education affordable and accessible to all qualified students; providing them with an education of the highest quality in areas of importance to our state and our nation; helping them graduate on time; giving them access to the highest quality learning and living environments; and ensuring our campuses are diverse, tolerant and inclusive.
Once again, I am humbled and privileged to count myself among the very few individuals who have been charged with leading this great institution. This is an extremely exciting time for IU—at the dawn of its third century.
All of the elements are in place to seize the opportunities in front of us, to meet the challenges facing our institution and our communities, and to create a better future for all of those we serve.
To our world-class faculty, our staff, and our alumni and friends all across the world, I cannot wait to get to work with all of you. The loyalty and passion you have for IU is palpable, and I'm excited for what we will do together to further IU's reputation in every corner of the state and nation, and also around the world.
And to our students, please know that you will always be the center of our universe at IU.
Thank you for the opportunity of a lifetime.
More about President Whitten's introduction
Watch her press conference and read the news release.
Introducing President-elect Pamela S. Whitten

Pamela Whitten named 19th president of Indiana University