IU School of Medicine – Medical Education and Research Building Groundbreaking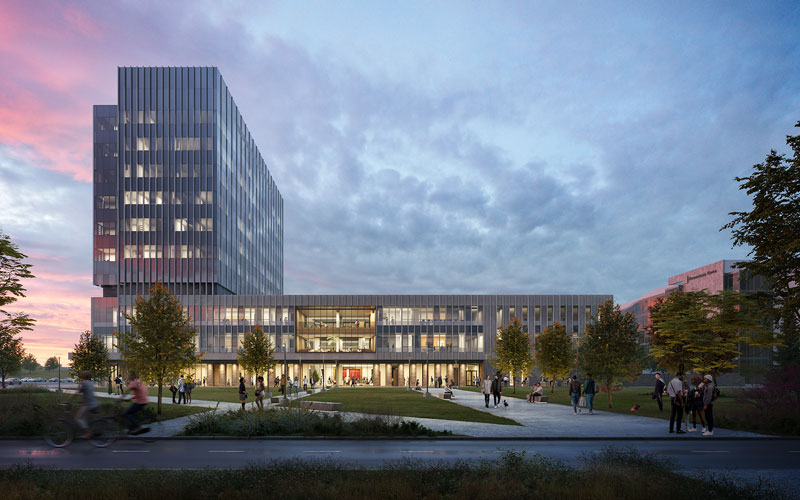 Importance of academic health centers
Our nation's academic health centers have an enormous impact on society and the nation's health.
They are the main places where the education of the nation's health care professionals takes place. They help generate new medical knowledge and introduce innovative clinical practices. The research they produce helps Americans live longer, healthier lives and holds promise to alleviate suffering for millions of patients.
They also provide the most sophisticated medical care available. A recent study published in the Journal of the American Medical Association showed that patients treated at major teaching hospitals have up to 20 percent higher odds of survival, compared to those treated at nonteaching hospitals.[1] They provide the lion's share of specialty care, 59 percent of all pediatric intensive care beds, and 100 percent of comprehensive cancer centers.[2]
The building for which we break ground today, will, together with the new IU Health downtown hospital, comprise a vibrant new academic health center that will soon lead the way in educating the next generation of health professionals and uncovering answers to medicine's most challenging problems. 
The IU School of Medicine
The Medical Education and Research Building will serve a school that plays a critical role in educating our state's physicians and conducts transformative research that improves the lives of people of the Hoosier state and beyond.
More than half of Indiana's physicians receive some or all of their training in the IU School of Medicine, the nation's largest medical school. The school's faculty have performed a number of "firsts" in Indiana medical history, including the state's first transplants of the kidney, liver, and pancreas, the state's first heart and lung transplants in newborns, and the first adult and pediatric cochlear implant surgeries in Indiana.
The school's reputation for research excellence continues to grow, with a number of its research programs—including in neurodegenerative, musculoskeletal, and pediatric diseases—considered among the best in the country.
In 2021, the school received more than $217 million in research funding from the National Institutes of Health, the leading source of federal funding for biomedical research. Recent IU School of Medicine studies funded by the NIH have strengthened our understanding and treatments of Alzheimer's disease, cancer, childhood asthma, and congenital heart defects. This level of funding ranks the school 14th among public schools of medicine in the nation in terms of the amount of funding it receives from the NIH. We recently announced that it is our goal for the school to move into the top 10 in this regard in the next five years, a goal we believe that is made even more attainable by the new opportunities for bioscience research that will be created by the transformation of the Indianapolis campus.
The Medical Education and Research Building
So, as you can see, the IU School of Medicine is thriving in many ways.
Since 2013, IU has doubled its federal grant funding, but space for this essential work has remained stagnant, and the school has not built a new educational space in six decades.
The Medical Education and Research Building will rectify that in a major way.
The new building will stand adjacent to the new downtown hospital and will connect via underground tunnel to the building where we are gathered today. It will feature high-tech, immersive training environments that will provide future medical students with sophisticated, hands-on experiences that will prepare them for careers in 21st century medicine.
Special thanks
There are many people to whom we owe enormous debts of gratitude for helping us reach this moment.
The construction of the new building will be funded largely by a generous gift of $145 million from IU Health. On behalf of Indiana University, I want to thank Dennis Murphy, president and CEO of IU Health, as well as his colleagues and the members of the IU Health Board of directors for this generous gift, and for their partnership and support of Indiana University's mission of educational and research excellence.
We are excited about the possibilities the new building holds for research, and so I want to thank Dave and Susan Roberts, who have made a generous gift of $10 million to support groundbreaking discoveries in neurodegenerative disease research. Would you join me in thanking Dave and Susan for the vital role they are playing in this project?
I also want to commend Dean Hess and his School of Medicine colleagues Jamie Dimond, executive associate dean of financial and administrative services, Tatiana Foroud, executive associate dean for research affairs, and Paul Wallach, executive associate dean for educational affairs and institutional improvement, for their leadership that has made this historic groundbreaking possible.
Connecting the IU School of Medicine's distinguished past with its bright future
So, what will we see at the IU School of Medicine in the coming decades?
We can expect to see a public medical school ranked in the Top 10 in NIH funding, collaborating across a transformed IU-Indianapolis campus that leads the way in improving Hoosier health.
We will see enhanced integration of IU's science programs with the School of Medicine, expanding the number of students who will be prepared for health science-based careers, improving the pipeline of doctors, and keeping more graduates in the state.
And we will see future generations of IU students earning an outstanding medical education and IU scientists and physicians conducting transformative research in a state-of-the-art facility that is part of a world-class academic health center.
The Medical Education and Research Building will connect the IU School of Medicine's distinguished past with its incredibly bright future.
Today, we take the next step that will make all of this a tangible reality for the IU School of Medicine, for Indiana University, and for all those we serve across the Hoosier state, our region, the nation, and the world.
Thank you very much.
Footnotes
[1] Laura G. Burke, Austin B. Frakt, Dhruv Khullar, "Associations Between Teaching Status and Mortality in US Hospitals," JAMA, May 23/30, 2017, Web, Accessed October 10, 2022.
[2] Jeffrey L. Houpt, Roderick W. Gilkey, Susan H. Ehringhaus, Learning to Lead in the Academic Medical Center: A Practical Guide, (Springer, 2015), 3.
More about the Medical Education and Research Building
Read more about and watch the broadcast from the IU School of Medicine – Medical Education and Research Building Groundbreaking ceremony.
See news from the School of Medicine.

View the groundbreaking ceremony here.