2021 Winter Commencement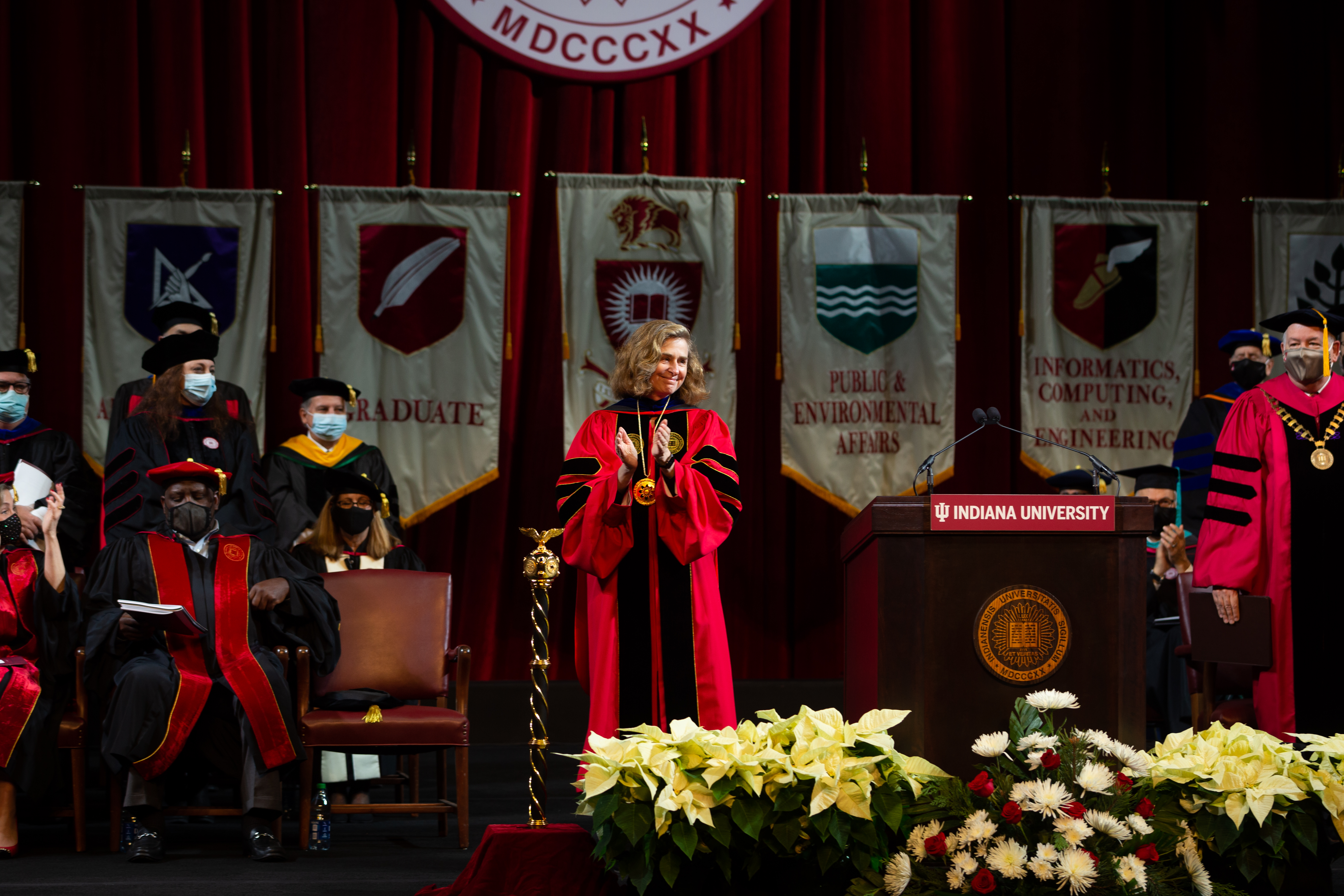 Making your mark on the world
What an honor it is to preside over my very first Commencement ceremony at Indiana University, and to celebrate the many accomplishments of today's graduates. Your dedication to your studies—and the commitment of our faculty and staff to helping you succeed—are major parts of what makes Indiana University such a special place.
I want to ask all of today's graduates to take a moment to think back to your first days on this campus and to recall the reasons you chose to become a student at Indiana University Bloomington.
Those reasons are as many and varied as the nearly 2,000 students who are receiving degrees today. But no matter what drew you to IU, and no matter what degree you have earned, today is a culmination of the hopes and dreams you brought with you to IU—and of the new hopes and dreams that took shape while you were here.
Of course, what none of you envisioned when was that much of your time at IU would be marked by a global pandemic, and that you would have to overcome the challenges of adapting to a new higher education landscape with remote learning, new public health protocols, and disruptions to your support networks.
But, through the resilience, flexibility, patience, and compassion for others you have demonstrated, you have shown the world what it means to be an Indiana University Hoosier. All of us at the university are proud of you.
During your time at IU, you have received an education that has not only prepared you to enter the workforce or to go on to advanced studies, but one that has helped you to learn to think critically and creatively, and one that has given you the skills you need to help devise solutions to some of the most pressing challenges we face in the 21st century.
You are now ready to make your mark on the world.
The class of 2021
The students who graduate today as part of the IU Bloomington Winter Class of 2021 come from 59 different countries, from 45 states, and from 68 different Indiana counties.
You range in age from our youngest graduates at age 20, to today's oldest graduate, who is 73.
And you have excelled in the classroom.
Among the members of the Winter Class of 2021 are 91 students who are graduating with a 4.0 GPA. In addition, 234 students are graduating with double majors, and 9 of you are graduating with TRIPLE majors.
Many of the members of the graduating class have already helped to improve the quality of life for members of this community and for citizens of the world through their commitment to serving others.
Yiling Dong, for example, is a Wells Scholar who is graduating today from the College of Arts and Sciences with a double major in Human Biology and Gender Studies, with minors in Chemistry and Psychology. She plans to begin medical school in the fall. Yiling has served as volunteered as a crisis counselor with the Crisis Text Line, a global not-for-profit organization that provides free and confidential mental health crisis intervention. She was selected for the highly competitive Amgen Scholars Program at the National Institutes of Health, where she learned more about health disparities and the role science, policy, and community engagement can play in their elimination. Yiling plans to dedicate her life to the commendable goal of advancing healthcare equity.
Another member of the Class of 2021, Allison Jorden, is graduating today with a master's degree in Data Science from the Luddy School of Informatics, Computing, and Engineering—her second IU degree. A member of the IU women's soccer team, Allison has been honored as a Big Ten Distinguished Scholar and has received Academic All-Big Ten honors. She also helped to create an ongoing community outreach program called "Everybody Plays," which offers sports-themed events for children and young adults with special needs, giving them the opportunity to interact with and learn from current IU student-athletes.
Carly Chia, who graduates today from the Kelley School of Business, has worked to help bridge the gap between domestic and international students at IU as president of Kappa Eta Phi, a professional co-ed fraternity at the Kelley School, whose members are predominantly international students. Leading the organization through the pandemic meant that she often had to be up very late or very early here in Bloomington to connect virtually with international students who had returned to their home countries—but her efforts helped Kelley students who were thousands of miles away maintain a sense of community and a sense of connection to the campus.
Abdullah Al Jaberi, a student from Saudi Arabia, is receiving his master of public affairs degree from the O'Neill School of Public and Environmental Affairs. Abdullah is an example of the entrepreneurial spirit that many of our students exhibit, as he formed his own startup company while at IU. The company, called "Homie," helps connect consumers with home-based small businesses in the United Arab Emirates, and is already expanding into India and other markets.
These are only a few examples of the outstanding achievements of today's graduates.
Still other members of today's graduating class have served as peer tutors, as sustainability fellows, as concertmasters, and have helped uplift the voices of Black students on the campus as columnists for the "Black Voices" section of the Indiana Daily Student.
And many of you participated in or helped lead the IU Dance Marathon, a great IU student tradition, which, this year alone, raised more than $3 million in support of Riley Hospital for Children.
Charge to the class
Graduates, you have been preparing for years to become the next generation to apply all that you have learned at Indiana University.
The world now looks to you to take the lead in answering its most pressing challenges.
Draw on all that you have learned at IU.
As you seek to make your mark on the world, ask yourselves where you can do the most good and make the greatest difference.
And, as the late Ambassador Aldai Stevenson said to graduates at Princeton University graduates many years ago: "Your days are short here… (D)on't forget when you leave why you came."[1]
Congratulations and best wishes to the Class of 2021.
[1] Adlai Stevenson, "The Educated Citizen," An Address to the Princeton University Class of 1954, as reprinted in The Princeton University Library Chronicle, Vol. 61, No. 3 (Spring 2000), pp. 421-434.
More about the Winter Commencement celebration
Read more about and watch the broadcast from the ceremony.
Daisy Trujillo is a champion for the underrepresented.

View the commencement ceremony here.