Steve Tuchman and Reed Bobrick Atrium Naming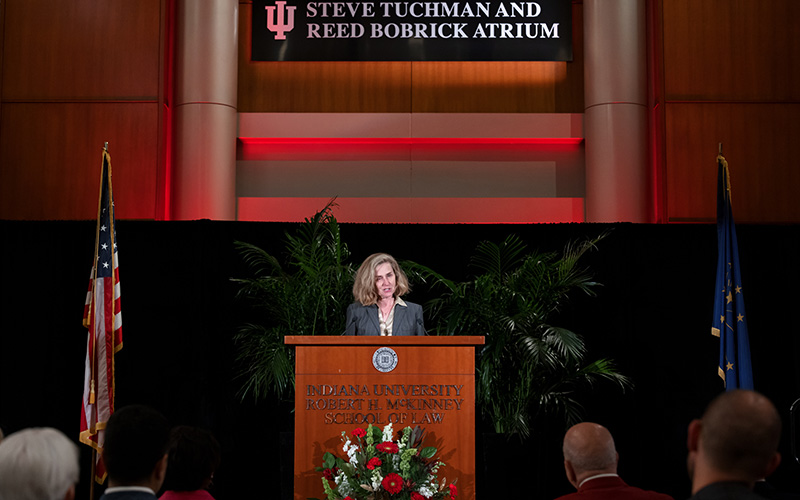 Atrium naming at the Mckinney School of Law
It is a pleasure to be here today—in Inlow Hall and in this beautiful atrium—to honor Steve Tuchman and Reed Bobrick for their dedication to Indiana University and the McKinney School of Law and for their generous philanthropic support.
The McKinney School has more than a century of success in providing an outstanding legal education to students. Alumni of the school have had enormously successful careers as attorneys, judges, and as leaders in government, business, and countless other professions. Students here learn not only to become effective advocates and to advance justice, but they also learn to contribute more broadly to the public good in the nation and around the world.
And for a school with such a rich history and distinguished alumni, this beautiful building is a fitting home.
Inlow Hall has recently been ranked by both preLaw Magazine and Best Choice Law Schools as one of the nation's best law school buildings. Best Choice Law Schools called the building a campus landmark, praised its glass design that provides natural light and exterior views, and, in fact, highlighted this splendid atrium as one of the building's most notable features.
In recent decades, atria like this one have become more common features in university buildings, especially in urban settings. Students use spaces like the one in which we are gathered for vitally important informal learning activities like group study, discussions with faculty members and fellow students, socializing, and more. And here in Inlow Hall, this splendid atrium is also used regularly as a space for engagement between McKinney alumni and students. It is home to a variety of events from career fairs to events that connect students with externships and opportunities to make a difference in the community through pro bono work.
And so, it is fitting that today we celebrate the naming of this atrium for McKinney alumnus Steve Tuchman and his husband Reed Bobrick who have demonstrated a commitment to bringing people together, to the success of the school and its students, and to serving the broader community in alignment with the school's core mission.
Honoring Steve Tuchman and Reed Bobrick
Indiana University is proud to call Mr. Tuchman an alumnus. A born and raised Hoosier, he completed his bachelor's degree in history at IU Bloomington and earned his JD here at the McKinney School.
After law school, he worked in real estate, which would eventually lead him to teach real estate law classes at the Kelley School of Business here in Indianapolis.
And, as you will hear today, his service to the legal profession, to the McKinney School, and to IU has been extraordinary.
Mr. Bobrick has had a successful career as a founding partner and principal designer for Misch Bobrick Design.
And together, they have been among Indiana University's most loyal philanthropic supporters. They have supported LGBTQ+ initiatives, the Department of Sociology in the School of Liberal Arts at IUPUI, and the IUPUI Liberal Arts Works Scholarship.
Mr. Tuchman and Mr. Bobrick's latest generous gift of $4 million will have an enormous impact on McKinney students and faculty. As Dean Bravo noted, the most recent scholarship they have established will support students pursuing a JD in the school, with special consideration given to underrepresented populations, including members of the LBGTQ+ community.
Additionally, their gift has established the endowed Tuchman Bobrick Professorship, which will support a faculty member whose work advances LGBTQ rights and issues, reproductive rights, and immigration law practice and policy. This endowed professorship will enable the McKinney school to recruit and retain outstanding faculty and to extend its research focus. And both the scholarship and the professorship support the school's deep commitment to embracing diversity and inclusion, to providing a welcoming environment in which to study and learn, and to preparing future leaders to better serve the needs of our diverse society.
Conclusion
As all of us work together to transform the Indianapolis campus into the nation's finest urban research university, Steve and Reed's generous gift enables the McKinney School to strengthen and invest in the future of our students, faculty, and the community, and to continue its pursuit of excellence.
The atrium will also remind all of us about the transformative power of philanthropy—and about the great strength of the relationships that IU and the Indianapolis campus have fostered over many years.
On behalf of Indiana University, I extend our most grateful thanks to Mr. Tuchman and Mr. Bobrick for their enormous generosity and service to the school.
More about the Steve Tuchman and Reed Bobrick
Learn more about their philanthropic contributions to the university.
Learn about the $4 million gift to Indiana University Robert H. McKinney School of Law at IUPUI.

Watch the celebration of the new Steve Tuchman and Reed Bobrick Atrium.