The Inauguration of Pamela Whitten as the 19th President of Indiana University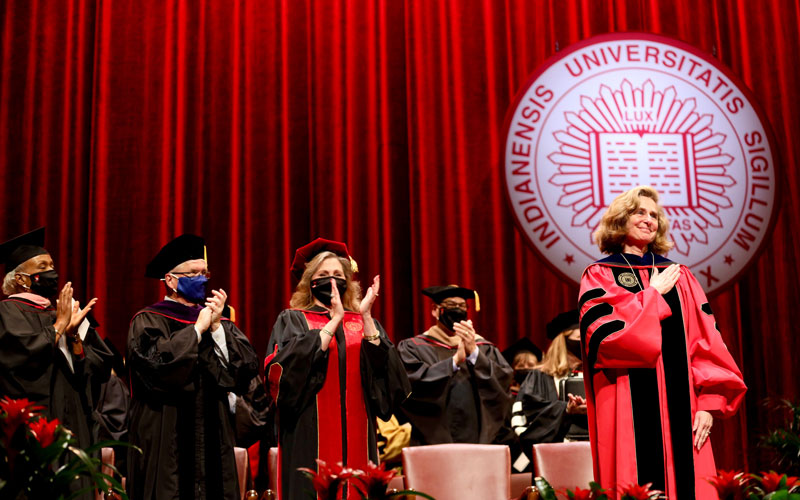 Inauguration Day Address
What an honor it is to be formally installed as the 19th president of Indiana University. 19 is now my lucky number. Before I begin, please allow me to acknowledge and thank a number of people here today.
Let me first say how deeply grateful I am to all of you who are here—and to those watching the broadcast on our campuses and beyond—for coming together to celebrate all that makes Indiana University exceptional.
To the members of the African American Choral Ensemble and the students and faculty of IU's Jacobs School of Music, thank you for your wonderful performances that have stirred our hearts and set the tone for today's ceremony.
To Governor Holcomb and Mayor Hamilton—your dedicated service to the people of Indiana is an inspiration to all of us at IU as we seek to be a meaningful partner with the state and the communities IU serves.
To my colleagues representing sister institutions and societies, thank you for honoring Indiana University with your presence. The great diversity of the institutions you represent is critical to the ability of American higher education to provide opportunities for students from all backgrounds to pursue their academic interests in ways that work for them.
To Indiana University's trustees, thank you for the confidence you have shown in me and for your tireless commitment to guarding the well-being of this great university. I also want to acknowledge the contributions of your former colleague, the late Trustee Melanie Walker.
To the members of IU's outstanding faculty, the quality of your teaching, research, scholarship, and service are the foundation of this university's global reputation for excellence. I am so proud to be among your ranks.
Let me also thank the members of IU's staff, whose tireless dedication to the advancement of this university contributes enormously to the success of our students.
To our devoted alumni, you are this university's greatest ambassadors, and your successes are a vital part of IU's great traditions of excellence.
To my friends and colleagues who have travelled around the country to be here today, thank you for your friendship and support.
And I would not be here today without the unconditional love and support of my family: my outstanding parents, Gary and Glenda, you must be so proud of your four children; my ridiculously fun sister, Michele; my children Laura, Allison, and Ben, who are the pride and joy of my life; my son-in-law Josh, who really is now my fourth child; and my college sweetheart, husband and best friend, Jason. Much is rightly made about my serving as the first female president of IU, but I would like to acknowledge Jason as our first "first gentleman." I believe Jason may be the first presidential spouse to continue his professional career totally outside the university while also being deeply committed to serving IU. I am profoundly grateful for your willingness to forge this new path for future first spouses.
This special day, with its tradition and symbolism, is not really about me—it is about something much bigger. It is about Indiana University, the values that have sustained it for more than 200 years, and the figures in its history who helped it become one of the nation's finest public research universities. It is about our university today, and the many ways it touches the lives of students, families, and communities. And, above all, today is about Indiana University's future. And so, in my remarks today, I will say a few words about IU's remarkable past, assess the present state of the university as I see it four months into my service as president, and then invite all of us to look to the future, as we renew our commitment to the university's fundamental values and begin the collaborative work of serving our students, our communities, our state, and our world more effectively.
So, let me begin by recognizing the past.
The pioneering women who helped build Indiana University
It is a particular honor to be the first woman to serve as president of Indiana University.
But I must take a moment to acknowledge the enormous energy that countless women have brought to IU over the years, blazing new trails as students, faculty, and administrators.
Many of you know the story of one of the first such pioneers, Sarah Parke Morrison. In the fall of 1867, a time when very few public universities were open to women, Sarah became the first woman to be admitted as an IU student. Six more women followed her example and enrolled the following semester. Sarah completed her bachelor's degree in two years, becoming the first woman to graduate from IU. A few short years later, she became an adjunct professor of English literature, making her the first female faculty member at Indiana University.
Many others, including:
Frances Marshall, the first African American woman to graduate from IU,
Lillian Gay Berry and Juliette Maxwell, the first women to achieve the rank of professor at IU,
Nellie Showers Teter, the first woman to serve on the IU Board of Trustees,
the late IU Distinguished Professor Elinor Ostrom, the first woman in the world to win the Nobel Prize in Economics, and
the thousands of women who have served this institution as faculty members, administrators, trustees, and engaged alumni all helped to make Indiana University what it is today.

I am enormously grateful to be able to stand on the shoulders of these and so many other women who helped Indiana University to thrive and flourish.
An intensely vital university
During my first four months in office, I have spent much of my time meeting with hundreds of passionate members of the university community as well as our many vital partners around the state. I have learned so much about this exceptional university, so let me describe the present as I see it.
It is abundantly clear to me after four months as president that Indiana University is an "intensely vital place,"[1] to borrow from one of my predecessors, IU's 12th president, Elvis J. Stahr, who described the university in that fitting way in his inaugural address in 1962—the year before I was born.
I see in IU a university with a worldwide reputation for excellence that continues to inspire talented and ambitious students from all backgrounds—from Indiana and beyond—to seek out this distinctive community of learners.
I see students drawn to this place because they and their families see that IU offers an excellent and affordable education in renowned schools in disciplines that span the breadth and depth of human knowledge. Many students are drawn to IU because they see—as I do—that Indiana University's longstanding strengths in the liberal arts are an integral part of what makes this an intensely vital place.
And, of course, I have seen firsthand Indiana University's enormous statewide footprint—with its largest campuses in Bloomington and Indianapolis, its remarkably robust regional campuses in Gary, South Bend, Kokomo, Richmond, and New Albany, its eight regional medical education centers, and its campuses in Fort Wayne and Columbus. Our campuses are among the most beautiful in the nation and are home to state-of-the-art facilities that support teaching, learning, and research. They offer the quintessential college experience, one of boundless educational, cultural, and social opportunities. Their many and varied collective strengths define who we are as one great university, where all degrees awarded on all campuses come from "Indiana University."
Our student body is more diverse than at any time in its history, with students of color representing a record enrollment level of 29 percent of degree-seeking students this fall.
I have also learned so much about IU's global focus and engagement that make it one of the most internationally-focused universities in the nation. We are leaders in the number of students who participate in life-changing study abroad, the number of international students we welcome, our numbers of international alumni, the number of languages we teach, and the number of eminent area studies centers that enrich our knowledge of the world's societies and cultures. Our 200 academic partnerships with peer institutions around the world facilitate all of this, as do IU's five Global Gateway offices. IU's global values—and its global impact—contribute to making this an intensely vital place, and it is our intention to sustain and build upon them in the coming years.
I have had the great pleasure of meeting so many loyal alumni and friends of IU who support the university through their volunteer service and generous philanthropy that allows IU to do so much, including providing scholarships to students who could not otherwise afford an IU education. I look forward to strengthening the ties that bind our alumni and friends to IU.
And I have seen the powerful impact IU has on the cultural life of our state through our museums and galleries; through the creative output of our faculty and students; through music, theater, and dance; through athletics; and through other events that draw visitors to our campuses.
In his inauguration speech in 1972, IU's 14th president, John Ryan, shared these words that continue to ring true today: "Go where you will in the United States or the world today and identify yourself as a member of the Indiana University family, and you will find you are known—because a father or sister or husband has attended; or because a teacher or a Peace Corps (member) or doctor has brought his (or her) education from Indiana to that place; or because of the world-wide reputation of our faculty and their research. ...Indiana University marches tall in the first rank of the academic world." [2]
Our collective future: moving forward together
I have also seen in my first four months as president of IU that this is a community that is driven by a deep commitment to reaching new heights, so let me say a few words now about our collective future.
As all of us move forward together to write the next chapter in the history of Indiana University, we will begin, by recommitting ourselves to our core missions:
providing broad access to an excellent undergraduate and graduate education for students from Indiana and beyond,
pursuing world-class research, scholarship, and creative activity, and
building on our base of excellence in education and research to make meaningful contributions to the economic, social, civic, and cultural development of our state, the nation, and the world.
Serving students first
First, let us always place our students first by ensuring that we are doing all we can to help them succeed.
To our amazing students who are here today, and to the tens of thousands of your fellow students across the state, you are the reason this university exists. And, in many ways, you are its future. All of us at the university know that you will value your IU education, use it for worthy ends, and go on to accomplish great things.
Putting you first means facilitating your success by providing the relevant coursework that prepares you for the career path you choose and ensuring that you graduate in a timely manner. More broadly, we must ensure that we are doing all we can to make your time at IU exceptional. We need to create experiences both inside and outside the classroom that help you learn to think analytically and solve problems in ways that set you apart from other college graduates.
Many of our students, including the student leaders seated on the stage and in the audience today, seek out those kinds of experiences and are fully and impressively engaged.
A few weeks ago, for example, I had the pleasure of meeting Aiysha Amjad, who is here today. In addition to being a double major in two academically-demanding programs at IUPUI—biology and neuroscience—Aiysha serves as executive director of the IUPUI Regatta, as a Community Engagement Associate in the IUPUI Center for Service and Learning, as a Peer Mentor Leader in the IUPUI Honors College, and as a student volunteer with the Exodus Refugee Immigration organization.
Nicholas Stevens, who is also here today, is a senior majoring in healthcare management and policy in the O'Neill School of Public and Environmental Affairs in Bloomington. He serves as president of the Student Athletic Board, an organization that encourages student involvement in all IU Bloomington sporting events. Nicholas is also an example of the entrepreneurial spirit that many of our students exhibit, as he is co-owner and vice president for finance of "5 A.M.", an online clothing company that seeks to promote positivity and hope with its clothing.
Aiysha, Nicholas, and the many other outstanding students who are here today truly represent so much of what makes IU an exceptional place.
In some areas, we can foster student success by encouraging more students to take advantage of the excellent programs that are already in place. In still other areas, new resources and programs that will allow us to enhance student success and support their overall wellness will need to be created. IU's newly appointed chief health officer, for example, is currently examining the programs across the university that support our students' physical and mental health, identifying gaps that exist on various campuses, and examining how we can make improvements. Recognizing that we need to focus our investment on those areas that have the greatest potential to enhance student success and wellness, we must do the hard work of identifying ways we can better utilize our resources toward this end.
Going forward, with each decision we make, and with every new program we consider launching, we must ask "how does this impact our students?"
We recently, for example, announced the establishment of the Presidential Diversity Hiring Initiative, a seven-year, $30 million program to accelerate IU's efforts to hire a more diverse mix of faculty, including researchers, on all IU campuses. While IU must continue our efforts to increase the diversity of its student body, this first-of-its kind initiative is focused on diversifying our faculty, but will also give our students access to world-class teachers and researches who bring diverse perspectives to the classroom and the laboratory.
Students, we pledge to you that in the years to come, all of us at IU will up our game to ensure that you remain at the very center of the Indiana University universe.
Expanding excellence in research, discovery, and creativity
Second, as we move forward together, let us focus on being ambitious in expanding excellence across the university in research, discovery, and creativity. IU's reputation as one of the leading research universities in the world has never been stronger. Our outstanding faculty and students are engaged in a wide range of research and scholarship that results in the generation of discoveries that cure disease, protect our environment, help secure our nation, grow the economy, and advance art and culture in our communities.
IU faculty have had great success in competing for sponsored awards, which speaks to the quality of our faculty and their work. This funding directly and indirectly helps to support thousands of jobs in the state of Indiana.
Distinguished Professor Liana Apostolova of the IU School of Medicine, for example, is conducting groundbreaking research that focuses on the early symptomatic and pre-symptomatic stages of Alzheimer's disease. Her reputation as a world leader in Alzheimer's disease clinical investigation led to her becoming the principal investigator of the largest single National Institutes of Health grant ever received by a scientist at IU. This project established a national consortium focused on early-onset Alzheimer's disease.
Many other IU faculty members are engaged in creative endeavors that demonstrate the important contributions IU makes to the cultural life and the arts ecology of the nation.
Distinguished Professor Samrat Upadhyay, of the Department of English in Bloomington's College of Arts and Sciences, for example, has received widespread acclaim for his novels and short stories. He is the first Nepali-born fiction writer to be published in the United States. His books have won or been shortlisted for prestigious awards, and have been translated into multiple languages.
Many other eminent scholars are engaged in transformative research and creative activity across our campuses.
Now is the time for us to build on this momentum by continuing to recruit and retain world-class faculty focused on research and creative practice, ensuring that they have the space, equipment, funding and other resources they need, and accelerating the translation of IU research into products, businesses, and services that benefit society in countless ways.
Expanding IU's major contributions to the life of our state
And third, as the state's namesake public university, IU has an obligation to contribute in major ways to the economic, social, and cultural development of our state, and to advance the quality of life for all Hoosiers.
The importance of public universities like IU to the long-term economic vitality of the state is enormous. We are incubators for jobs and economic growth. We help to keep top students from Indiana and beyond in the state as our next generation of leaders.
In the years to come, let us strive to be effective partners with the state in recruiting new business and industry to the state. And let us work to strengthen our relationships with existing Indiana businesses and the state by connecting business and government leaders with IU's resources and expertise in ways that will have a positive and meaningful impact on Indiana's economy.
We also improve the quality of life for all Hoosiers through our commitment to advancing diversity, equity, and inclusion at IU and in the communities we serve. Indiana University's diversity is one of its greatest strengths, and we must all work together in the coming years to ensure that our campus communities are places where differences of all kinds are respected, embraced, and protected.
And through IU research that helps prevent, treat, and cure disease, through the operations of our clinical and health science schools, and through our vital partnership with IU Health, we must accelerate our efforts in the years ahead to make meaningful contributions to the improvement of Hoosier health.
Let all of us at IU strengthen our commitment in the years to come to helping to further enhance Indiana as a great place to live, work, and invest.
While on the subject of the future, it would be remiss of me not to acknowledge the future sitting here with us today. Could I ask all current students to please stand so that we can acknowledge you as the most important part of our collective future?
Conclusion
As a newcomer to Indiana, let me say what a joy it has been to become one of the newest residents of the Hoosier state. Every day, I meet more and more Hoosiers who are intellectually curious, who treat their neighbors with kindness and respect, and who have the humility to lift one another up.
Today, I have touched on but a few aspects of Indiana University's rich history and highlighted only a few of the elements that make it such an intensely vital place today. We have an impressive story to share and enormous momentum upon which to build.
Indiana University's legendary 11th president, Herman B Wells, concluded his inaugural address with these phrases, which are as relevant today as they were 83 years ago: "Cognizant of the rich resources which are ours… heartened by the achievements already won in …a (history) of distinguished service to the state and nation, we face the future with confidence." [3]
And so do we today.
As we move confidently forward together in the coming years, let us take the next bold steps to discern and enhance the elements that make an Indiana University education distinctive for our students—and let us work together to make their IU experience exceptional. Working together across schools, disciplines, and campuses, let us create a new vision for the heights of excellence IU can reach in research, discovery, and creative activity. And let us bolster our efforts to help advance the quality of life for the people of Indiana and beyond.
By coming together as one to achieve these goals, we can meet and exceed our high expectations for IU's future and reach new heights as one of the nation's greatest public research universities.
Thank you very much.
Footnotes:
[1] Elvis Stahr, Inaugural Address, delivered November 19, 1962, IU Archives.
[2] John W. Ryan, The Investiture of John W. Ryan as the 14th president of Indiana University, delivered January 20, 1972, IU Archives.
[3] Herman B Wells, Inaugural Address, Delivered December 1, 1938, IU Archives.
More about President Whitten's inauguration celebration
Read more about and watch the broadcast from this historic day.
It was a history-making inauguration for IU's first female president.

View the inauguration ceremony here.