IU Bloomington Freshman Induction Ceremony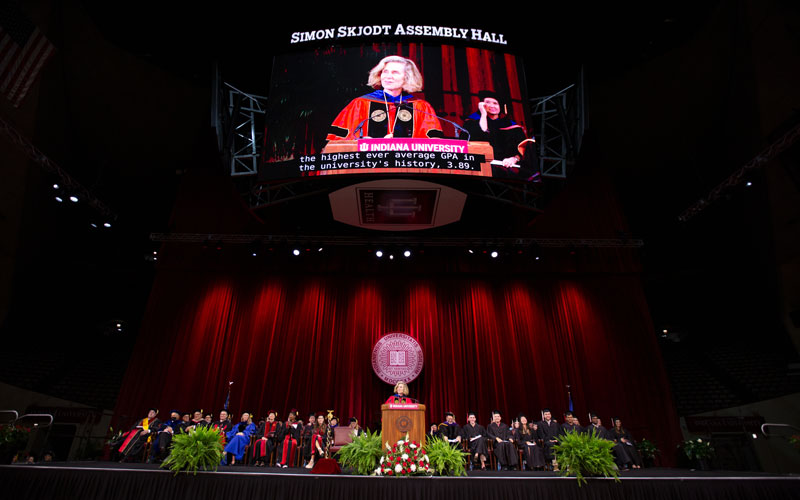 IU Bloomington Freshman Induction Ceremony 
Welcome to the IU Bloomington Freshman Induction ceremony for the Indiana University Class of 2026.
This particular ceremony—which dates back to 1933—has always been especially notable for its sense of pride, anticipation, and joy as a new generation of students adds its stories to the great traditions of this great university.

When the tradition of Freshman Induction began, it took place on the steps of the Frances Morgan Swain Student Building.
Our incoming class has grown much larger, but the words of that historic address still capture the profound meaning of this moment.
"The spirit that greets you here. . . includes all those who have come for the purpose of seeking truth and intellectual freedom . . .
"All that has been and all that is of the spirit of Indiana University welcomes you unreservedly."
Indiana University Bloomington is a remarkable place, known as much for its welcoming environment as for the excellence of its academic programs.
Much of that spirit can be directly attributed to the outstanding administrators, faculty, and staff members who dedicate themselves to helping students succeed.
Members of the incoming class, you have reached this day with the help and love of your family and friends. They will continue to stand by you during this time of momentous change. As will we.
Let me extend a warm welcome—on behalf of the entire Bloomington campus—to the parents and family members joining us today.
I know you must have packed and carried a mountain of boxes over the last couple of weeks.
Some of you have been through the long checkout lines at the Bloomington Target at least half a dozen times!
And you have finally reached this moment, which I imagine—as a parent myself—must bring up a range of emotions. I want you to know that we are honored that you've entrusted your student to us, and that we take your trust very seriously. 
To our entering Class of 2026: Welcome to IU Bloomington!
We're thrilled to have you on campus, and we've already learned some very exciting things about you.
At last count:
The youngest among you is 15; the oldest 24.
There are 58 pairs of twins in this class and 2 sets of triplets.
You've found your way here from all 92 counties of Indiana, and from 49 states, as well as the District of Columbia.
There are even 68 of you from Lafayette and West Lafayette—don't worry, we still love you!—and I hope that this is the beginning of many happy border crossings for you.
I also want to give a special welcome to our entering class of international students, who have gathered here from every continent except Antarctica, and from 45 countries around the globe.
You come from as close as Mexico and Canada, and from as far as Australia and India. It takes a special courage to travel to another country to pursue your education, and we are honored you have chosen to study with us.  
And your talents as a class speak volumes.
About one third of you (31%) graduated in the top 10 percent of your high school class.   
The great majority of you (64%) were in the top 25 percent.  
This class collectively brings the highest ever average GPA in the university's history (3.89).  
And there are 103 high school valedictorians among you.  
We have selected each and every one of you because you show great promise, and we know you will energize all the wonderful conversations, collaborations, events, and learning and service opportunities already happening at IU Bloomington.
We have selected you, also, because each of you holds the potential to shape the world into a better, more thoughtful, creative, innovative, and interesting place.
And you could not have found a better place to grow.
IU Bloomington has long been a force for change in the world.
We stand at the top of the American higher education system. Of the 4,000 post-secondary institutions in the United States, only 63 belong to the Association of American Universities.
IU Bloomington is one.
These are the universities that stand at the cutting-edge of research, that cure disease, that build national security, that help protect our democracy and our rights, that help communities prosper, and that make the world a more interesting place through the arts. 
From our beginnings in the 1820s, with only 10 students and a single building, we have built a world-leading institution with over 200 majors, nearly 400 study abroad programs, and over 750 student organizations.
We teach over 80 languages, more than any other university in the United States.
Here, you can study anything from fashion design to neuroscience, from finance to environmental health, from the world's greatest literature to the science that defines the edge of knowledge. You can combine majors, certificates, and minors, and diversify your skillsets in preparation for the changing world of tomorrow. And you can study with some of the best minds of our generation.
Our students have taken what they've learned here and gone on to do phenomenal things.
One of our alumni, Michael Higgins, served as the president of Ireland.  
Another alumna, Loretta Rush, serves as the current chief justice of the Indiana Supreme Court.  
Other alums include:
Suzanne Collins, the author of The Hunger Games novels,
professional basketball players Victor Oladipo and Cody Zoeller,
molecular biologist and Japan Prize recipient C. David Allis,
and entrepreneur and owner of NBA's Dallas Mavericks, Mark Cuban.
IU Bloomington takes the person you are and empowers you with the skillsets and connections that prepare you to take on all the successes and challenges life throws at you.
I'm thrilled for us to start this journey together.
More about President Whitten
Meet IU's 19th president and see IU's areas of focus.