Signing of definitive agreement on the realignment of IUPUI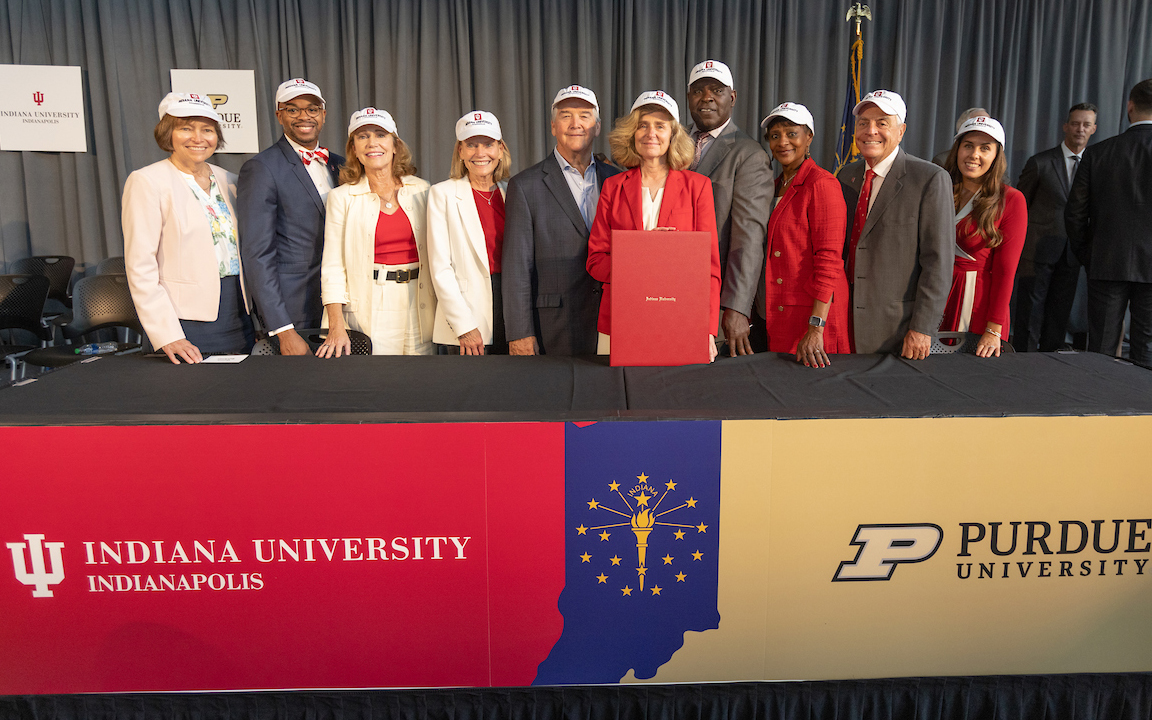 This afternoon we celebrate a historic agreement between two extraordinary public research universities—one that will be a steppingstone for both Indiana University and Purdue University toward even greater possibilities for innovation, collaboration and impact for our students and the city of Indianapolis.
I want to extend special thanks to Purdue President Mung Chiang, his predecessor Mitch Daniels, and their colleagues at Purdue for partnering with us to not only imagine a new future but deliver an agreement that equips both universities to realize their visions for Indianapolis and leverage their unique strengths to serve Indiana and the world. We intend to continue collaborating closely in the years ahead to help build a stronger, more economically robust Hoosier State.
I also want to thank Governor Holcomb, Secretary Chambers, and members of the Indiana General Assembly for endorsing our vision for IU Indianapolis. Their shared vision will help facilitate the transition and the campus' future growth.
We also know that success for the Indianapolis campus includes inclusive action that benefits all of us—especially in neighborhoods surrounding our campus. Through this agreement, we accelerate our commitment and affirm our respect for the diverse assets of our community. To guide us in this journey, we are honored to have Kristian Stricklen, President of the Madam Walker Legacy Center and partner to many of us at IU, with us today.
To my many IU colleagues, I am extraordinarily grateful for your dedication. Interim Chancellor Andy Klein, Tony Prather, and Michael Huber have provided critical leadership, and countless faculty, staff, and community members have worked diligently as part of task forces and working groups throughout this past year to help us reach this moment.
And finally, I want to thank the Trustees of Indiana University for their advocacy and the many Indianapolis business and civic leaders who have been active partners throughout this nearly year-long planning process.
Our vision for Indianapolis
As Indiana's flagship university, we are linked with the state's future. We take pride in our 90,000 students, in more than 900 academic programs, and in nearly $10 billion of economic impact across the state – which supports one of every 26 jobs statewide.[1]
For IU Indianapolis, our vision is grounded in the belief that a world-class city deserves—and its future demands—a truly world-class research university right here in the heart of our city.
Put simply: IU Indianapolis will become one of the nation's pre-eminent urban research universities.
Consistent with our IU 2030 strategic plan, our goal is nothing short of extraordinary impact – in students transformed, discoveries made and communities strengthened.
And our vision is taking shape.
In just the last nine months, we've announced an array of initiatives that will shape the future of IU Indianapolis.
Our new IU Indianapolis Science and Technology Corridor will be a hub for research and industry collaboration, while fueling talent pipelines.
By doubling instructional capacity at the IU School of Nursing and establishing a direct path to admission from the IU School of Science to the IU School of Medicine, we're poised to meet crucial needs across our state's healthcare system.
By expanding the Luddy School of Informatics, Computing and Engineering from IU Bloomington to Indianapolis, we're prioritizing research and in-demand degree programs that will drive economic development and support the technology sector in our capital city. This will include doubling our Indianapolis enrollment at the Luddy School.
Thanks to the leadership of the Indiana General Assembly, IU will also invest $60 million to significantly expand and renovate research facilities and up to $10 million to attract new STEM faculty – all right here at IU Indianapolis.
And just today, we are announcing that IU faculty in the School of Science will lead nearly $12 million in Department of Defense-funded research that will help establish the Hydrocephalus Research Center at IU and pursue treatments for hydrocephalus, a common complication that impacts roughly 50% of patients facing traumatic brain injury and stroke.
Initiatives like this provide a reminder of our faculty's unmatched research impact – with benefits that will improve and save lives.
And this is only the beginning.
Imagine—right here in the heart of our city—a campus that is a hub of innovative new degrees and programs that prepare all students for rewarding careers and fulfilling lives.
Imagine a healthier Indianapolis, driven by discoveries that result from collaboration between researchers in the nation's largest school of medicine, the School of Science, the Fairbanks School of Public Health and a wide variety of other disciplines.
Envision growing numbers of IU students and faculty actively contributing to the social and economic fabric of the city—and a campus even more deeply integrated with the Indianapolis community through close partnerships with local businesses, the arts, sports, and nonprofit organizations.
Imagine a campus where innovation knows no bounds—where an increased culture of entrepreneurship will strengthen Indianapolis' position as one of our country's great urban centers.
These are our goals. And this is the impact we're committed to achieving.
With the resolution we sign today, and with our vision set for August of 2024, we make IU Indianapolis official, and redouble our efforts to strengthen the economic and cultural vitality of this extraordinary city and the state we call home.
Thank you very much.
Footnotes
[1] IU delivers $9.9 billion impact on state, high return on investment for students and taxpayers, 10/1/20, https://news.iu.edu/live/news/27161-iu-delivers-99-billion-impact-on-state-high-return
IU Indianapolis: A new era of impact
See more about the historic agreement.