Dedication of David Baker Avenue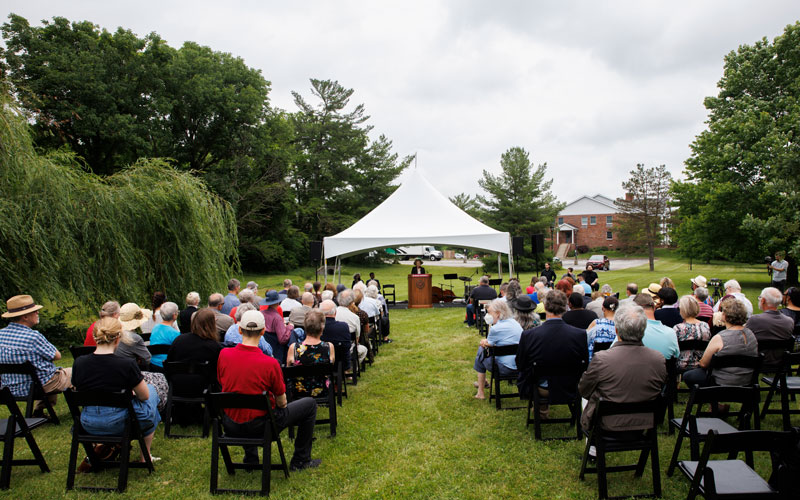 Honoring world-class accomplishment that brings distinction to IU
Indiana University has long been known for its unremitting commitment to excellence in teaching, learning, research, and creative activity. Our buildings, our beautiful green spaces—and especially the spaces named in honor of significant figures in the university's past—should reflect these central values.
Today's celebration, of course, follows the renaming of the portion of Jordan Avenue owned by the city of Bloomington as Eagleson Avenue, in honor of the Eagleson family, a prominent Black family whose members made major contributions to the city, IU, Indiana, and the nation.
With today's dedication, we take great pride in celebrating the many accomplishments of a beloved alumnus and a longtime member of the IU faculty whose life and career brought enormous distinction to the university—the late Distinguished Professor David Baker.
Honoring David Baker
David Baker first came to Indiana University to study music in the early 1950s. He trained as a classical trombonist as there was no jazz program here at the time. He earned bachelor's and master's degrees in music education in IU's world-renowned Jacobs School of Music.
He hoped to embark on a career as a symphony musician—but despite his superb talent, he discovered that few orchestras in the 1950s were open to him because of his race.
But he also had an a long-held affinity for jazz. During his extraordinary career as a musician, he played with many of the greats in the world of jazz, including Maynard Ferguson, Lionel Hampton, Quincy Jones, Stan Kenton, and George Russell. Down Beat magazine honored him as the top jazz trombonist of 1962.
In 1966, he joined the IU faculty as the founder of the Jazz Department. At the time, only about a dozen American universities taught jazz—and it was taboo at many universities. As IU faculty member and the author of David Baker: A Legacy in Music, Monika Herzig (HURT-zig), has noted, students at some universities faced the threat of expulsion just for practicing jazz in the practice rooms.[1]
With his colleagues, Professor Baker built one of the best jazz programs in the country—one that is known and admired around the globe today. His work as a teacher defined jazz education, not only at Indiana University, but around the world. He served as chair of the department from 1968 to 2013.
And he was known for his dedication to his students, many of whom went on to distinguished careers as musicians.
As Professor Baker's longtime friend, Quincy Jones, wrote, "(David) always chose his teaching and his students as his principal calling. In a society that most commonly rewards glamorous careers with a focus on highly visible personalities," Mr. Jones continued, "the choice to dedicate one's life to helping others achieve their aspirations is a mark of a truly selfless and kind person."[2] 
And his reach as an educator extended—and continues to extend—far beyond the Bloomington campus. He conducted master classes, residencies, and workshops around the world. He published more than 400 articles and 70 books—definitive texts that continue to be used by musicians around the globe.
He was also a prolific composer, whose body of work includes more than 2,000 musical compositions.
He was nominated for a Grammy in 1979 and a Pulitzer Prize in 1973. In 2000, he was named a National Endowment for the Arts Jazz Master, the nation's highest jazz honor. In 2007, he was named a Living Jazz Legend by the John F. Kennedy Center for the Performing Arts.
A reminder of a rich legacy
Nearly 25 years ago, Professor Baker spoke at a White House event called "Jazz: An Expression of Democracy." Calling jazz "the most democratic music," he talked about the role jazz played in changing how all of us live together. "Especially in matters of race," he said, "jazz led rather than followed societal trends. (At a time when) America was virtually completely segregated… jam sessions, recording sessions, and other gatherings often brought together Black and white musicians as equals. Jazz musicians," Professor Baker continued, "were more likely to judge each other by their ability to play than by the color of their skin."[3]
This collaborative, inclusive spirit is also part of David Baker's rich legacy. 
It is a legacy that continues to inspire students, teachers, musicians, audiences, and community members to follow the road he helped to pave.
All of us at Indiana University are thrilled that David Baker Avenue will continue to remind the world of that legacy for many generations to come.
Footnotes:
[1] Margalit Fox, "David Baker, Who Helped Bring Jazz Studies Into the Academy, Dies at 84," The New York Times, March 29, 2016, Web, Accessed June 1, 2022, URL: https://www.nytimes.com/2016/03/30/arts/music/david-baker-who-helped-bring-jazz-studies-into-the-academy-dies-at-84.html.
[2] Quincy Jones in the forward to Monika Herzig (ed.), David Baker: A Legacy in Jazz, (Indiana University Press, 2011), xiii-xiv.
[3] David N. Baker, remarks delivered at "Jazz: An Expression of Democracy," September 18, 1998, The White House, Washington, D.C., Web, Accessed June 2, 2022, URL: https://vimeo.com/492027385.
More about David Baker
Watch the broadcast from the ceremony. 
More about the IU Board of Trustees decision to change the avenue's name.