IU Bloomington Undergraduate Commencement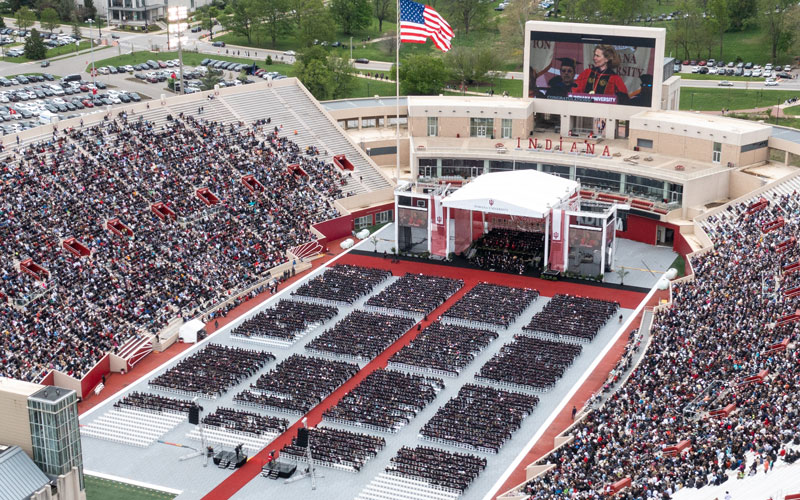 Celebrating the Class of 2022
All that today's graduates have achieved during their time at Indiana University reflects the diligent effort that has been invested to reach this moment.
The students who graduate this weekend as part of the IU Bloomington Class of 2022 come from 97 different countries, from all 50 states and the District of Columbia, and from 88 of Indiana's 92 counties.
You range in age from our youngest graduates at age 18, to this weekend's oldest graduate, who is 69.
More than 28 percent of you are first-generation college students—and among this weekend's graduates are eight sets of twins!
During your time at IU, you have excelled in the classroom. Among today's graduates are a Rhodes Scholar, a Goldwater Scholar, Boren Scholars, and 86 students who are graduating with a grade point average of 4.0. 
Many of you have helped to make IU a better place for your fellow students—and for generations of students who will follow you—through your service as student government leaders, peer tutors, sustainability fellows, and in many other roles. 
Earning degrees that will carry you forward
Given that your time at IU coincided with a global pandemic, your graduation today is a special triumph. You have attended classes, lectures, performances, and sporting events in a world where we only saw the top half of each other's faces.
But your grit and determination have brought you to this day. You have devoted long hours of diligent study during your time at IU. Today, you reap the rewards of your hard work—and going forward, you will carry with you a degree from one of the nation's leading public universities. We are proud to celebrate your success.
The classmates and friends who surround you today have become your IU family.  Great opportunities and bright futures lie ahead for all you. And as you begin the next stage of your journey through life, your connection to your IU family and to this place will remain. No matter where you are from or where your careers take you, all of you will be IU Hoosiers for life.
Highlighting individual accomplishment
Among the more than 6,700 students who graduate today are countless stories of individuals who have demonstrated resilience, compassion for others, and intense dedication to achieving goals, but I want to highlight just a few.
Heidi Popson graduates today with a bachelor's degree in Nursing. Helping to care for her autistic brother, Jeremy, taught Heidi the importance of compassion and patience when caring for others and inspired her to pursue a healthcare profession. She recently accepted a position as a pediatric oncology nurse.
Breanna White, who is the first in her family to go to college, graduates with a degree in Social Work. She completed an internship in an Orange County, Indiana, middle school that had previously never had a social worker. Recently hired to stay on after graduation, Breanna is one of many students who make a positive difference in the lives of people across Indiana.
Jake Cozza graduates today with highest distinction with a degree in Music Composition from the Jacobs School of Music. Jake has been active during his time at IU as a songwriter, a music producer, a composer for film, a sound effects designer, a DJ, a performer on the piano, guitar, and trombone, and a member of the stage crew at the Jacobs School.  
Iesha Young graduates with high distinction with a degree in Informatics from the Luddy School. She has worked in the school's Serve IT Nonprofit Clinic, and she has used her experience as a Black woman in tech to mentor and encourage other students of color. As part of the school's inaugural class on Disney theme parks and technology, she also travelled to Disney World to learn about how tech is used to bring attractions to life and mold the experiences of patrons.
Lauren Wilkins graduates today with highest distinction with degrees in Psychology and Animal Behavior from the College of Arts & Sciences. She has thrived at IU as a Wells Scholar, as a productive member of two research labs, and as a four-year member of the RedStepper Dance Team. Her honors thesis recently won a departmental award and is being submitted for publication in a leading journal.
And among today's graduates are a number of IU student athletes, whose hard work and determination has led to remarkable achievements in competition as well as in the classroom. Andrew Capobianco, for example, is graduating with a degree in exercise science from the School of Public Health. A member of the men's swimming and diving team, Andrew is an Olympic silver medalist, a seven-time All-American, a two-time Big Ten Diver of the Year, the winner of multiple Big Ten and NCAA championships, and he has served as a peer mentor to other student athletes. Andrew and the other IU student athletes among the Class of 2022 are proof that at IU, our student athletes are students first, that they excel in the classroom, and they graduate!
Charge to the class
Members of the Class of 2022, all of us at IU are proud of what you have accomplished at IU, and we will be equally proud as you make your mark on the world in the coming years.
Near the beginning of his time in office, IU's legendary 11th president, Herman B Wells, told students that "the complicated society in which we now live needs wise leadership – men and women who can serve their country and their fellow men with intelligence and wisdom."[1]
More than 80 years later, the society in which we live is even more complicated. More than ever, we need leadership from men and women who can serve with intelligence and wisdom.
Indiana University has given you the tools and the opportunities to develop into such leaders.
Graduates, in the years to come, may you apply the skills and knowledge you have gained at IU to build rewarding and fulfilling lives. Strive to continue to learn in new ways. May you continue to take care of one another, and develop and exercise your commitment to the service of others. And may you seek and find new ways to turn the knowledge you have gained here into action—and to turn action into change that will improve our world in countless ways.
Congratulations and best wishes to the Class of 2022.
Footnotes:
[1] Herman B Wells, "Address to Freshmen" -Indiana University, Orientation Week Sept. 14, 1939.
More about the 2022 Commencement season
Watch the broadcast from the ceremony and a congratulatory message from the president.
View the undergraduate ceremony here.

Watch a congratulatory video from President Whitten.