IU Bloomington Graduate Commencement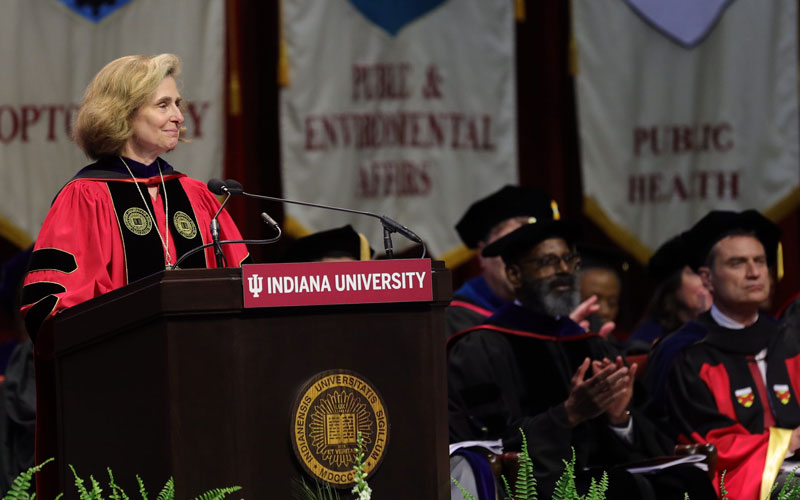 Celebrating the Class of 2022
Today, we gather to celebrate your accomplishments in earning advanced degrees.
You are now among a select group of people who have made the considerable investment of personal and financial resources necessary to earn an advanced degree, and you now stand ready to become tomorrow's leaders.
The education you have received at Indiana University will allow you to contribute in transformative and innovative ways to the prosperity and progress of our nation and the world.
As a landmark report on graduate education from the Association of American Universities said more than two decades ago, "Graduate education prepares the scientists and engineers needed by industry, government, and universities to conduct the nation's research and development; educates the scholars in the humanities, social sciences, and the arts who preserve and enlarge our understanding of human thought and the human condition; and develops the scholars in all disciplines who become the faculties of the nation's colleges and universities."[1]
As graduate students in one of the world's leading public research institutions, you have gained the knowledge, values, and habits of mind that will enable you to fulfill these and many other roles.
Many of you have been partners in Indiana University's vast research enterprise, and I am confident that you will go on to make important contributions in research and scholarship. Others have focused intensely on mastering advanced training in your professional field, earning an education of the highest quality that will allow you to make valuable contributions to our society's prosperity and well-being. And all of you have experienced the sense of accomplishment and achievement that comes from extending yourselves to higher limits.
Earning degrees that will carry you forward
Given that your time at IU coincided with a global pandemic, your graduation today is a special triumph. You have attended classes, lectures, performances, and sporting events in a world where we only saw the top half of each other's faces.
But your grit and determination have brought you to this day. You have devoted long hours of diligent study during your time at IU. Today, you reap the rewards of your hard work—and going forward, you will carry with you an advanced degree from one of the nation's leading public research universities. We are proud to celebrate your success.
The classmates, friends, and faculty who surround you today have become your IU family. Great opportunities and bright futures lie ahead for all you. And as you begin the next stage of your journey through life, your connection to your IU family and to this place will remain. No matter where you are from or where your careers take you, all of you will be IU Hoosiers for life.
Highlighting individual accomplishment
Among the more than 2,400 students who are earning advanced degrees today are countless stories of stories of resilience and dedication, but I want to briefly highlight just a few.
Megan Huibregtse graduates today with a doctoral degree in Kinesiology from the School of Public Health. She received an award from the Indiana Clinical and Translational Sciences Institute designed to support promising predoctoral students interested in developing careers in translational research. Megan's dissertation is dedicated to her father, who passed away at the end of her second year in her doctoral program. She has authored or co-authored 14 articles during her time at IU, and she was first author on five of these. Megan also received an honorable mention for the 2021 American Kinesiology Association's Doctoral Scholar Award.
Lynnli Wang Hall graduates today with a master's degree in the Department of Organ Performance in the Jacobs School of Music. Many of you have undoubtedly been treated to one of the wonderful public performances of Ms. Wang Hall and her students on IU's Arthur Metz Memorial Bicentennial Grand Carillon. She very quickly built a carillon studio from scratch and has taught the instrument to a wide variety of students, both inside and outside of the Jacobs School. Earlier this year, I had the pleasure of presenting Ms. Wang Hall with IU's Lieber Memorial Associate Instructor Award, whose recipients are chosen for contributions to the education of others that go above and beyond what one might expect of beginning faculty members.
Emily Ertel and Teddy Hesterman are among those earning Doctor of Optometry degrees today from the IU School of Optometry. Both were recipients of the American Academy of Optometry Foundation and VSP Global 2021 Practice Excellence Scholarship. They were selected based on their commitment to entering the independent practice of optometry and their clinical and academic performance.
Jazma Sutton graduates today with a PhD in History from the College of Arts & Sciences. Her dissertation explores the origins and development of Indiana's rural free Black communities, the gendered experiences of freedom during the antebellum period, and the roles free and self-liberated black women played in the Underground Railroad.
And Charles Westerhaus graduates this weekend with a JD/MS in Cybersecurity Risk Management, a dual degree from the Maurer School of Law that combines courses in the Kelley School of Business and the Luddy School of Informatics, Computing and Engineering. Charles is a graduate of the U.S. Naval Academy in Annapolis, and the Navy's flight school. His last day of flight school, in fact, was September 11, 2001. He soon embarked on a distinguished career as a Naval aviator, logging more than 600 hours of combat time. But he had always known he wanted to become a lawyer. And at the age of 41, he applied and was accepted to the Maurer School. Charles has said that life as an older law student can be lonely at times. He has been called "professor" more times than he can count. But he credits his family—his wife, three children, and his mother—with providing a support system that has kept him engaged. As an Admissions Fellow in the school, Charles has been engaging with future Indiana Law students, serving as a resource for them as they navigate their path to law school.
Charge to the class
Members of the Bloomington Graduate Class of 2022, all of us at IU are proud of what you have accomplished at IU, and we will be equally proud as you make your mark on the world in the coming years.
Near the beginning of his time in office, IU's legendary 11th president, Herman B Wells, told students that "the complicated society in which we now live needs wise leadership – men and women who can serve their country and their fellow men with intelligence and wisdom."[2]
More than 80 years later, the society in which we live is even more complicated. More than ever, we need leadership from men and women who can serve with intelligence and wisdom. 
In earning an advanced degree at Indiana University, you have gained the tools and the opportunities to develop into such leaders.
Graduates, in the years to come, may you apply the skills and knowledge you have gained at IU to build rewarding and fulfilling lives. Strive to continue to learn in new ways. May you continue to take care of one another, and develop and exercise your commitment to the service of others. And may you seek and find new ways to turn the knowledge you have gained here into action—and to turn action into change that will improve our world in countless ways.
Congratulations and best wishes to the Class of 2022. 
Footnotes:
[1] AAU Committee on Graduate Education: Report and Recommendations, October 1998, Web, Accessed April 29, 2022, URL: https://www.aau.edu/sites/default/files/AAU-Files/Graduate%20Education/Committee-on-Graduate-Education-Report.pdf.
[2] Herman B Wells, "Address to Freshmen" -Indiana University, Orientation Week Sept. 14, 1939, IU Archives.
More about the 2022 Commencement season
Watch the broadcast from the ceremony and a congratulatory message from the president.
View the graduate ceremony here.

Watch a congratulatory video from President Whitten.