Rotary Southern Indiana District Conference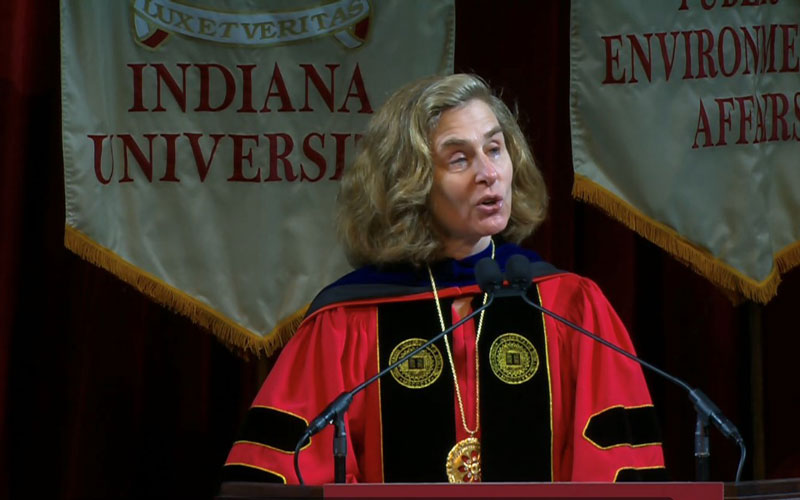 I'm delighted to be here with so many Rotarians from southern Indiana, among whom are many alumni, current and former members of IU's faculty and staff, friends of the university, and even a former trustee, Dr. Phil Eskew. I'm delighted that all of you are able to gather in person for your district conference since for the first time since 2019, and that you are back at IU for the first time since 2009. Welcome back!
For more than a century, Rotarians like you have used their passion, energy, and intelligence to take action on projects that have strengthened communities and improved our state and our world. The impact you have had on your communities is truly remarkable, whether it is supporting scholarships for college students, literacy programs, or educational exchange that helps young people become global citizens. Your service has benefitted Indiana University in numerous ways as well. I am told that New Albany Rotarians were instrumental many years ago in launching the campaign to build IU's beautiful Southeast campus in New Albany. And, of course, during the Great Depression, Rotarians all across Indiana donated funds for the construction of the Rotary Building on our Indianapolis campus. It served as a convalescent home for children at Riley Hospital during the height of the polio epidemic, and after being beautifully renovated a number of years ago, it now houses a number of IU divisions, including IU's Center for Global Health.
An outstanding university positioned to achieve even greater heights 
Let me begin by saying that I am deeply honored to serve as Indiana University's 19th president.
A number of years ago, when my husband, Jason, and I lived in Michigan, we occasionally vacationed in Brown County, Indiana. I believe we have some Brown County Rotarians here today. Because I love college campuses, whenever I am near a campus I haven't visited, I make a point of taking a walk to explore. After walking around the Bloomington campus, my husband and I were captivated by its striking beauty and charm. In the ensuing years, people across the country would ask us: "What do you think is the most beautiful campus?" Our answer was invariably: "Indiana University Bloomington." Little did I know when we took that walk that I would return years later to begin my dream job as president of Indiana University.
Of course, I knew long before I came to IU that it is not just beautiful, but that is also an outstanding public research university, with a rich history, wonderful traditions, and a worldwide reputation for excellence. My first nine months as president have only confirmed this.
It is a particular honor to be the first woman to serve as president of Indiana University.
But I stand on the shoulders of countless women who have brought their energies to IU over the years, blazing new trails as students, faculty, and administrators.
And as a relative newcomer to Indiana, let me say what a joy it has been to become one of the newest residents of the Hoosier state. Every day, I meet more and more Hoosiers who are intellectually curious, who treat their neighbors with kindness and respect, and who have the humility to lift one another up.
I firmly believe the way you understand and improve things—and do new and exciting things—comes from the information that you get from others. So, in my first months as president, I've been all around the state—including visits to a number of the towns and cities you represent—listening and learning. 
What I found is that we have incredibly dedicated students, faculty, and staff all across the state who are helping their campuses to thrive. Our flagship campus, of course, is here in Bloomington. The IUPUI campus, as an urban-serving campus, is making ever greater contributions to Indianapolis and central Indiana. Our regional campuses in Gary, Kokomo, South Bend, Richmond, and New Albany are remarkably robust, and they make major contributions to the regions they serve. I've visited our IUPUC campus in Columbus, where IU has a deep and abiding partnership, and where the J. Irwin Miller Architecture Program is thriving in the Republic Building. Up north at IU Fort Wayne, we are focused on educating future healthcare professionals. And the IU School of Medicine, of course, has strong regional centers of medical education around the state, including here in Bloomington and in Terre Haute and Evansville.
In my travels around the state, I have also had the great pleasure of meeting so many loyal alumni and friends of IU who support the university through their volunteer service and generous philanthropy that allows IU to do so much, including providing scholarships to students who could not otherwise afford an IU education.
As I have also seen, IU is one of the most internationally focused universities in the nation. We are leaders in the number of students who participate in life-changing study abroad, the number of international students we welcome, our numbers of international alumni, the number of languages we teach, and the number of eminent area studies centers that enrich our knowledge of the world's societies and cultures. Our 200 academic partnerships with peer institutions around the world facilitate all of this, as do IU's five Global Gateway offices. We intend to sustain and build on all of this in the coming years.
In short, what I have seen in my first months as president of IU is a university that is making major contributions to the state, the nation, and the world—and one that is in an excellent position to take the next bold steps to truly become one of the nation's greatest public research universities. 
So, this evening I want to spend some time talking about my vision for Indiana University's future.
As I see it, we have three primary things to do at IU.
Serving students first
First and foremost is to take care of students. While I'm president of IU, students will be the center of the IU universe. They are the reason we exist as a university. Their time at IU will, in most cases, be the only college experience they have, so we need to make it exceptional for them. We need to ensure that they get the coursework that prepares them for the career path they choose and that they graduate on time. But we also need to create experiences for them outside the classroom that teach them to think analytically and creatively in ways that set them apart from other college graduates.
We are rapidly approaching the end of this academic year. When the year began in August, it marked the return to in-person learning on our campuses across the state. We were able to return to campus safely, of course, because our students, faculty, and staff were diligent in observing the comprehensive public safety measures IU put into place early on during the pandemic—and, of course, because of our high vaccination rates, which are now at 91 percent for the entire IU community and around 95 percent here in Bloomington. 
This year's strong enrollment reflects IU's continued success in keeping an education affordable, accessible, and responsive to the needs of students from all backgrounds.
Students from all the communities where you live and work are well-represented—and are thriving—here in Bloomington and on our campuses across the state.
IU welcomed more than 91,000 students statewide, including a record number of students of color. IU Bloomington set a new enrollment record this year, with a total enrollment of more than 45,000 students. The incoming class at IU Bloomington was also the largest incoming class in the history of the campus.
And our students all across the state are accomplishing some amazing things.
This year, for example, Elvin Irihamye, a senior at IU Bloomington, became the 19th student in IU history to be named a Rhodes Scholar. In the fall he will go to the United Kingdom on the renowned scholarship to study at the University of Oxford. A neuroscience major here in Bloomington, Elvin spoke at our recent Honors Convocation ceremony, where we also honored many other academically talented students. A number of those students also received prestigious national scholarships, including the Goldwater Scholarship, which goes to college sophomores and juniors who intend to pursue research careers in the natural sciences, mathematics, and engineering.
I said a moment ago that students are the center of our universe. What this also means that with every decision we make and every initiative we launch in the coming years, we will ask "how does this affect our students?"
Last fall, for example, we announced the creation of a $30 million fund to accelerate IU's efforts to hire a more diverse mix of faculty, including researchers. Known as the Presidential Diversity Hiring Initiative, this initiative will focus over the next seven years on hiring from groups traditionally underrepresented in higher education, with the ambition of increasing their representation among faculty. This will involve replacing open roles as well as adding new faculty positions. This initiative will be supported by reallocated resources from non-academic services, as well as external gifts, and it will be managed by IU's Office of the Vice President for Diversity, Equity and Multicultural Affairs. This initiative is about our faculty, but its benefits to students will be enormous. IU has made large gains in recent years in diversifying its student body, with underrepresented minority students comprising 29 percent of our overall enrollment this fall. Now is the time to provide our students with access to world-class teachers and researchers who bring diverse perspectives to our classroom and laboratories.
Another way we are focused on improving how we serve our students is by strengthening the programs that support them, with a particular focus on their mental health. We know that transitioning to adulthood, to college, to a new living situation with new people is difficult—and doing this in the midst of a years-long pandemic makes it even more difficult. IU's campuses have long had resources and support for students, including counseling, crisis services, food pantries, and financial aid resources. These areas are now getting more attention with our new Student Mental Health Initiative. Our Chief Health Officer has reviewed our current services and made recommendations for improvements and developed a long-term plan for monitoring students' mental health.
Expanding excellence in research, discovery and creativity
Our second area of focus at IU will be to ensure that we are ambitious at IU in expanding excellence across the university in research, discovery, and creativity. IU's outstanding faculty and students are engaged in a wide range of research and scholarship that results in the generation of innovative new ideas, new intellectual works, and discoveries that cure disease, protect our environment, help secure our nation, grow the economy, and advance art and culture in our communities. 
IU faculty have had great success in competing for sponsored awards from organizations like the National Science Foundation and the National Institutes of Health, which speaks to the quality of our faculty and their work. IU received $732.8 million in sponsored funding in Fiscal Year 2021 to support research, instruction, and service. This total includes more than $493 million in research support, a nine percent increase over the prior year due to large gains in funding for the IU School of Medicine.
IU partners with Purdue University and the University of Notre Dame in the Indiana CTSI, which translates basic scientific research into new medical treatments in order to improve health outcomes. CTSI, for example, supported research that resulted in the development and commercialization of a new drug for patients with a rare and painful bone disease that affects mostly children.
In the coming years, our overall goals with regard to our research enterprise will be to increase our efforts to attract external funding and to focus with more intensity on the areas where IU can make the most difference.
Advancing the quality of life for all Hoosiers
And third, as the state's namesake university, IU has an obligation to serve the state by advancing the quality of life for all Hoosiers.
The importance of public universities like IU to the long-term economic vitality of the state is enormous. We are incubators for jobs and economic growth. We help to keep top students from Indiana and beyond in the state as our next generation of leaders.
IU is committed to being even more intentional in the years ahead about its engagement efforts in communities all across the state, including in your cities and towns, especially as all of us continue to recover from the negative effects of the COVID-19 pandemic.
In the years ahead, we intend to partner even more closely with the state in helping to attract new businesses and industries to Indiana. We are also working to strengthen our relationships with existing Indiana businesses and the state by connecting business and government leaders with IU's resources and expertise in ways that will have a positive and meaningful impact on Indiana's economy.
IU also advances the quality of life in our state through its powerful cultural impact in areas like the arts and sports; through the deep commitment of our campuses to community service and civic engagement; and through our commitment to diversity, equity and inclusion in the communities we serve.
IU's Office of the Vice President for Government Relations and Economic Engagement oversees our efforts to connect IU's resources and expertise with partners in business, industry, and government around the state.
I know that talent and workforce issues continue to be at the forefront and that these issues pose serious challenges to the state's economic future. IU is eager to work with business and community leaders like you across the state to help address these issues.
And as president of IU, I want to ensure that Indiana-based employers and businesses enjoy a special advantage in access to IU's talent base—be it faculty subject matter experts, student internship opportunities, or graduates seeking employment opportunities.
The health sciences
And of course, IU is making a huge impact in in the state by educating the next generation of healthcare providers through our schools of medicine, nursing, public health, optometry, dentistry, health and human sciences, and social work. We educate the vast majority of professionals in many of these fields.
We are also partners with IU Health in a new regional academic health center here in Bloomington, which is having a transformative effect on how we educate those who provide health care—and on the future of healthcare more broadly in south central Indiana. A brand-new IU Health Bloomington Hospital recently opened, and it is located on our campus on the 45/46 Bypass. Co-located with the hospital is the wonderful new IU academic health sciences building, which is giving us the space to increase enrollment in many of our clinical health science programs, which, in turn, allows us to contribute to addressing our state's shortage of healthcare providers. The IU School of Medicine has already completed a program of expansion that allows students to complete all four years of medical training at any of its eight regional medical education centers around the state outside of the school's main campus in Indianapolis. Studies have shown that medical students will often practice primary care medicine, especially family medicine, in the area where they received their training, so this program is critical in addressing the state's physician shortage in underserved areas. We also recently launched an initiative to double the number of students enrolled in our School of Nursing.
Conclusion
Greater engagement and collaboration between IU and Hoosier communities and service organizations like Rotary is always possible because we share a common vision for the future of our state and its communities.
We want to ensure that a first-rate education is affordable and accessible for Indiana's best students and that it allows them to realize their greatest hopes and dreams.
For our communities, we share a vision of more jobs with better pay, enhanced educational and cultural opportunities, and a wider range of career opportunities.
And all of us want to see healthier and happier Hoosiers, who have access to the best health care, medical education, and research.
We have major goals for IU's future, and that future includes all of the communities you represent.
So many of you who are here today—as alumni, friends, and community partners—help make IU's success possible.
All of us at IU are grateful for all you do for our communities, our young people, and for Indiana University.
Thank you very much.
More about President Whitten
Learn more about IU's 19th president and see Indiana University's areas of focus.