America's Role in the World Conference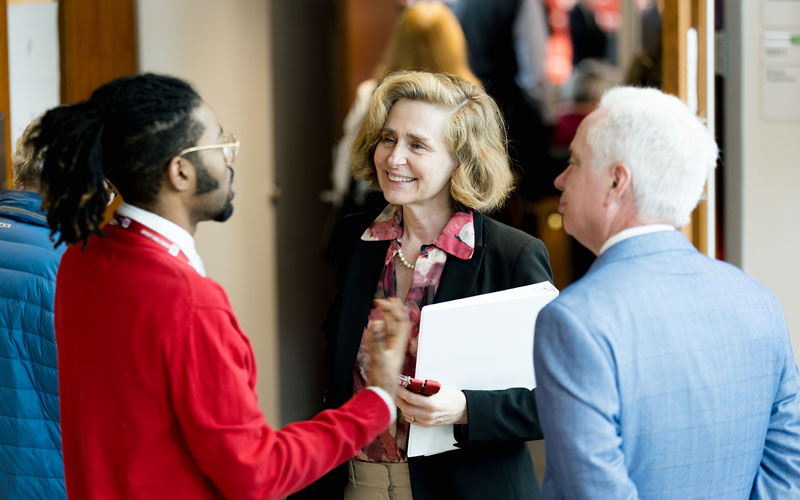 Good morning.
I'm very pleased to be here for the seventh annual America's Role in the World Conference and to welcome you to this session, a conversation with Ambassador William Taylor, the former United States Ambassador to Ukraine.
The conference brings together leading foreign policy voices to address pressing international challenges, and it has become one of the leading gatherings of its kind in the Midwest. As president, I appreciate how the conference supports the mission of IU's Hamilton Lugar School of Global and International Studies to help students—and all of us—better understand and engage with the world around us.
The school's commitment to the continuing quest for knowledge and wisdom about the broader world is also very much in the spirit of the lives and careers of the school's namesakes, former Congressman Lee Hamilton and the late Senator Richard Lugar.
Moreover, as anyone can see from the headlines of the last few weeks, the need for global understanding, cooperation, and engagement is more important than ever before.
I know that you have already had sessions this morning on Russia's war against Ukraine and its international impacts. That impact is deeply felt here in Bloomington as well, by students, faculty, and staff who have loved ones in Ukraine.
Today, we are honored to have as our guest one of the nation's leading experts on Ukraine, Ambassador William B. Taylor.
Ambassador Taylor is a vice president at the United States Institute of Peace, a national, nonpartisan, independent institute, founded by Congress and dedicated to the proposition that a world without violent conflict is possible, practical and essential for U.S. and global security. Ambassador Taylor is the institute's chief expert on Russia and Europe.
He served as the sixth United States Ambassador to Ukraine from 2006 to 2009 under Presidents Bush and Obama. After the recall of Ambassador Marie Yovanovitch in June of 2019, Ambassador Taylor was appointed chargé d'affaires for Ukraine, a role in which he served until January 2020.
During the Arab Spring, he oversaw U.S. assistance and support to Egypt, Tunisia, Libya and Syria. He also served as the U.S. government's representative to the Mideast Quartet, which facilitated the Israeli disengagement from Gaza and parts of the West Bank. In addition, he served in Baghdad, where he led reconstruction efforts to restore basic services and bring stability to Iraq, and in Kabul, where he coordinated international and U.S. assistance to Afghanistan.
Ambassador Taylor is a graduate of West Point and Harvard University's Kennedy School of Government, and he served as an infantry platoon leader and combat company commander in the U.S. Army in Vietnam and Germany.
Just a few weeks ago, having just returned from Kyiv prior to the invasion, he testified before the U.S. Helsinki Commission's hearing on "Russia's Assault on Ukraine and the International Order." 
We are honored to have him with us today and we look forward to his expert assessment of the evolving situation on the ground in Ukraine.
Ambassador Taylor will open with a few words, and then he will be joined onstage for a conversation with Senator Dan Coats and Ambassador Lee Feinstein. Senator Coats is the former Director of National Intelligence, the former U.S. Ambassador to the Federal Republic of Germany, and a former member of Congress from Indiana who served in both the U.S. House of Representatives and the Senate. We are honored that he now serves as a Distinguished Scholar in the Hamilton Lugar School. Lee Feinstein, as most of you know, is the founding dean of the Hamilton Lugar School and the former United States Ambassador to Poland. Marie Harf, who, as you know if you have been in attendance all morning, is an IU alumna and a member of the school's Dean's Advisory Council, will moderate the discussion.
Now, please join me in welcoming our guest of honor, Ambassador William Taylor.         
More about the America's Role in the World Conference