IU Innovators recognition reception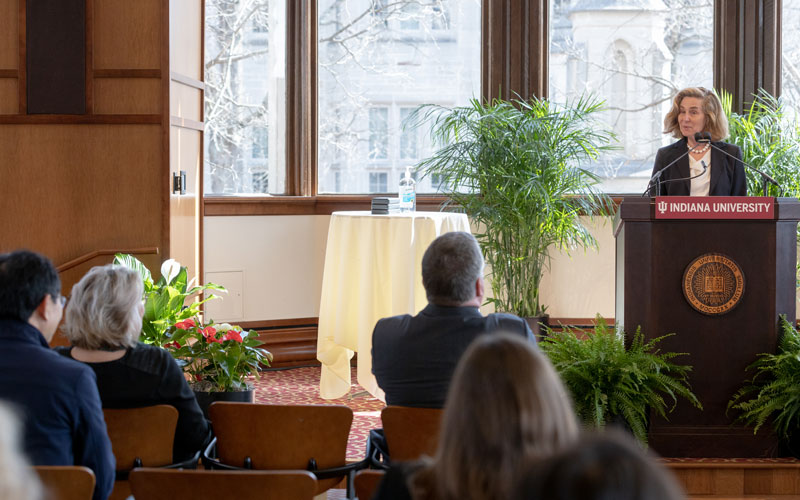 Innovation that improves the quality of life for Hoosiers and beyond
I am delighted to be here this afternoon to help celebrate three renowned IU innovators—two of whom are distinguished members of the IU faculty and one of whom is an IU alumna.
The leadership of all three of today's honorees has resulted in cutting-edge discoveries and contributions that have had an enormous positive impact on our state.
As one of the nation's leading public research universities, Indiana University has an obligation to contribute to the economic development of our state and nation—and to help enhance the quality of life for citizens of Indiana and beyond. One of the main ways we do this is by helping IU researchers and entrepreneurs turn their innovative ideas and discoveries into new startup companies, which, in turn, create new jobs, attract investment to the state, and support a high standard of living.
At IU, the efforts to identify, protect, and commercialize technology that comes from discoveries and innovations born from IU research are led by Fred and Simran's team at the Innovation and Commercialization Office. I appreciate the team's efforts to bring technologies with commercial potential to the attention of companies and investors with the resources to bring IU research-based products or services to the market.
The support and engagement of alumni and friends who are eager to invest in new business ventures in the Hoosier state further magnifies the impact of IU's innovative faculty and students. Their support helps to ensure the availability of early-stage gap funding that is so often critical to the success of IU's entrepreneurs.
And so, today I am delighted to recognize the commitment to innovation and entrepreneurship of three special members of the IU community by presenting them with the Wylie Innovation and Catalyst Medal.
Honoring David Clemmer and Martin Jarrold
Our first two honorees today are Distinguished Professor David Clemmer and Distinguished Professor Martin Jarrold, both of whom are Robert and Marjorie Mann Chairs of Chemistry in the Department of Chemistry in the IU Bloomington College of Arts and Sciences.
Professor Clemmer earned his doctorate in Physical Chemistry from the University of Utah. He joined the IU faculty in 1995 and was appointed as a Distinguished Professor in 2014. He has served as chair of the Department of Chemistry and as Associate Dean of Natural and Mathematical Sciences in the College of Arts and Sciences.
Professor Clemmer and his students have developed several mass spectrometry-based techniques. His group is best known for the invention and development of nested ion mobility-mass spectrometry. This work has resulted in around 15 patents from the U.S. Patent and Trademark Office and around 45 foreign patents. Professor Clemmer's inventions form the foundation of high-definition mass spectrometry and are available for use around the world.
He is the scientific co-founder of Beyond Genomics (now known as BG-Medicine), a systems biology company located in Boston that currently employs more than 50 scientists.
Professor Clemmer is a fellow of the Royal Society of Chemists, the American Association for the Advancement of Science, and the National Academy of Inventors.
Distinguished Professor Martin Jarrold was born and raised in England, where he earned his doctoral degree from the University of Warwick.
He came to the United States as a NATO Postdoctoral Fellow at the University of California, Santa Barbara. After several years in Santa Barbara, he joined the Physics Research Division of AT&T Bell Laboratories, where his work focused on determining the physical and chemical properties of semiconductor clusters. After a decade as a professor in the Chemistry Department at Northwestern University, where he worked on advanced mass spectrometry-based methods to study peptides and proteins, he joined the IU faculty in 2002.
His recent research is in the field of charge detection mass spectrometry, a form of scientific measurement first described in the 1960s, but only recently refined to its current level of sensitivity in his lab at IU. Professor Jarrold has developed instruments that have translational application to assessing the assembly of the Hepatitis B virus, the Adeno associated virus, and high-density and low-density lipoprotein particles, which are implicated in cardiovascular diseases.
You may have already gathered that professors Clemmer and Jarrold have a great deal in common.
Four years ago, the two of them also founded a startup company, which recently reached a deal with a major corporation.
Their company, Megadalton Solutions, licensed IU-developed technology to Waters Corporation, a global leader in laboratory instruments and analytical software. The technology licensed to Waters Corporation involves charge detection mass spectrometry. Using this method, researchers can analyze, measure, and describe large, complex molecules in solution at previously unknown levels of accuracy.
The technology licensed under the agreement has applications to the development of cell and gene therapies, which use modified cells or genes to repair patients' genetic disorders. The mRNA vaccines for COVID-19 developed by Moderna and Pfizer, for example, deliver instructions to generate a harmless fragment of the virus in the body using a capsule known as a lipid nanoparticle. The ability to precisely measure an encapsulated gene or cell is critical to the development of gene- and cell-based therapies, since drug makers need to confirm whether the gene or cell prepared for delivery is in fact the gene or cell they're trying to introduce into the body.
IU's Office of Innovation and Commercialization has been working with Professors Clemmer and Jarrold since 2013 to build a portfolio of intellectual property to protect their technology.
The new technology developed by Professors Clemmer and Jarrold represents a significant breakthrough, as it means that analyses that previously required days are now achievable in minutes.
Professors Clemmer and Jarrold, in recognition of your innovative discoveries and your entrepreneurial spirit, it is my great pleasure and privilege to present both of you with the Wylie Innovation and Catalyst Medal.
Congratulations.
Honoring Jane Martin
Our final honoree today is Jane Martin.
Ms. Martin graduated from IU with a degree in Marketing and Finance from the Kelley School of Business. She met her husband, Patrick, who also has an IU degree in business, at IU, and they were married in Beck Chapel.
Ms. Martin began her career as a Security Analyst and Portfolio Manager at Allstate Insurance Company's headquarters in Chicago. She was recruited to Allstate's Venture Capital Division, where she was involved in early investments in Mathematica, Equatorial, and Simmons Communications.
She went on to have a highly distinguished career as a venture capitalist, with decades of experience in public and private equity investing and technology commercialization.
She served as a General Partner at U.S. Venture Partners, a leading venture capital firm in Silicon Valley, managing $350 million in venture funds for Stanford, Harvard, General Electric, Citicorp and dozens of public and private endowments, pension funds and individuals. The firm seeded companies such as Sun Microsystems, Applied Biosystems, Advanced Cardiovascular, Gymboree, and PetSmart.
Twenty years ago, she and Patrick returned to Bloomington to enjoy their retirement, but for Jane, retirement did not mean slowing down.

She has been actively engaged in serving IU and the community, having served on Bloomington Mayor John Hamilton's Wage Growth Task Force, as Board President of the Dimension Mill, and on the IU Foundation Board of Directors. She has also been integral to the success of several entrepreneurship and investment programs at IU.
In 2019, IU's Sidney and Lois Eskenazi Museum of Art announced a generous gift from Patrick and Jane in support of the commons in the Center for Education, which facilitates learning and engagement with original works of art. The Martins are active members of the museum's National Advisory Board, in fact, they recently concluded a term as co-chairs of the board.
Jane, in recognition of your distinguished career, your entrepreneurial spirit, and all you have done for Indiana University, it is my great pleasure and privilege to present you with the Wylie Innovation and Catalyst Medal.
Conclusion
The renowned IU innovators we honor today, have, throughout their careers, been dedicated not only to research and discovery, but also to ensuring that discoveries are translated into products and services that improve people's lives. As figures who have enormously enhanced research, innovation, and entrepreneurship at Indiana University and beyond, they are fitting recipients of the Wylie Innovation and Catalyst Medal.
Congratulations again to all three of you.
More about the 2022 Commencement season
Watch the broadcast from the ceremony and a congratulatory message from the president.
View the undergraduate ceremony here.

Watch a congratulatory video from President Whitten.