Greater Bloomington Chamber of Commerce Governor's Luncheon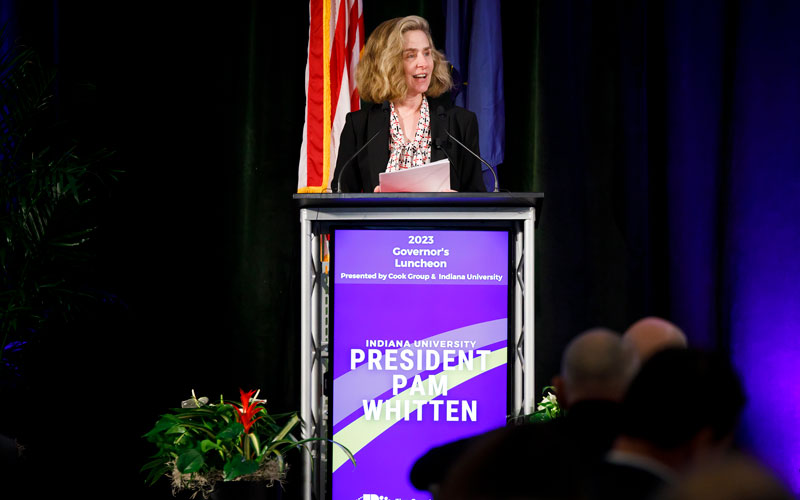 Indiana University is proud to count Greater Bloomington Chamber of Commerce President and CEO Eric Spoonmore and Cook Group President Pete Yonkman as graduates. And given that more than 25,000 IU alumni live and work in Monroe County, I know that many other IU graduates are with us today.
It's great to be with you all today in a city that boasts a campus that is consistently rated one of the most beautiful in the nation and is, without question, one of the coolest, most energetic and vibrant college towns in the country.
We're grateful for all that you do to support the Greater Bloomington Chamber of Commerce and to help the Bloomington business sector to thrive.
And thank you to the Chamber for hosting this year's Governor's Luncheon. We are honored to have Governor Holcomb with us today and to hear from him on the current legislative session and the state of Indiana's business climate. After the governor's remarks, I look forward to moderating a question-and-answer period with him to dive deeper into those topics.
Leading IU with a vision for collaboration
First, leading Indiana University is the honor of a lifetime, and we are pursuing an ambitious future for the university.
Today, I'll outline some of the ways we are seeking a stronger IU. But I also want to make the case for the role world-class public research universities like IU can and must play to address our shared challenges and to drive progress in Bloomington and across our state.
To that end, I want to be crystal clear: Indiana University is committed to being a leading partner and collaborator to drive innovation, attract investment and chart a prosperous future for Hoosiers everywhere.
And I believe that this work must begin with making higher education more accessible and retaining our state's most accomplished students – as both students and members of the Hoosier workforce. Put simply, Hoosiers need greater confidence in their ability to afford higher education, more tools to help them do so, and stronger incentives to pursue their education here in Indiana.
And if our work at IU starts with ensuring access to higher education, it must continue by providing knowledge and discovery to drive innovation in our own backyard, and service to shape lives and improve communities across our state.
Our shared vision
Through IU 2030, our framework for the development of strategic plans for each of our campuses, we've outlined three pillars that will form the foundation of our future.
Our first pillar calls for an unmistakable commitment to student success. That begins by providing affordable access to a first-rate education, but it concludes by helping students launch successful careers in the state by earning degrees relevant to both current Indiana employers and the new ones who come to our state because they seek access to the talent produced through in-demand IU degrees – from the Kelley School of Business; to the Luddy School of Informatics, Computer Science and Engineering; to the School of Public Health, and more.
Our second pillar prioritizes high-impact research, discovery and creative activity that improves lives, attracts talent to our state and spurs economic growth.
And our third pillar calls us to serve the state and communities we call home, bringing our resources and expertise to bear on the greatest challenges facing Indiana communities.
As we look to the future, IU is incorporating these three pillars into strategic plans that will guide our campuses—in Bloomington and around the state—for the next seven years. Here in Bloomington, 25 committees with more than 450 participants have been developing a plan that will help our flagship campus prosper further as a vibrant center of teaching, learning, research, and service. Completed plans will debut this spring and include bold and ambitious goals that will position IU to thrive through 2030 and beyond.
IU as an economic driver
Against this backdrop of IU's ambition, I also urge you to think of the value of our state's universities—and particularly its public research universities—as far more than a source of credentials, degrees, and workforce training.
We know that states that invest in robust and vibrant universities fuel business and industry, and create stronger, more prosperous communities. Leading research universities, in particular, are crucial to driving growth – not only through traditional technology transfer, but by creating anchors of talent and innovation that can foster new industry sectors and the expansion of existing ones. 
In Indiana, we have enormous strength to build on. Consider that the upper Midwest is home to 20 of the world's top 200 research universities—including both IU and Purdue—and that the region produces one-third of our nation's STEM graduates.[1]
The research universities of the upper Midwest also produce 31 percent of U.S. university-based research and development and receive 34 percent of all research funding from the National Institutes of Health, the leading funder of biomedical research in the world.[2]
Incidentally, our own IU School of Medicine—the largest in the nation—ranks 14th nationally in total NIH-funded research among public universities, and our aspiration is nothing short of the top ten.
And we're proud that our Bloomington flagship campus, alone, contributes $3.6 billion to the state's economy annually and supports one out of every 66 jobs in Indiana.[3] But that's just IU Bloomington. Statewide, IU has a $9.9 billion economic impact, while one of every 26 jobs is supported by IU and the activity of its students.[4]
Yet, our ambition calls us to even greater levels of impact and service.
IU as partner
Across our many objectives, we also understand that progress only comes through partnerships with individuals, statehouse leaders, industries, and community organizations like the Greater Bloomington Chamber of Commerce.
We stand as a willing collaborator to those in this room and all across our state who are committed to shaping and strengthening the economic and cultural vitality of Indiana.
And our lead champion for these efforts is Michael Huber, who I will ask to stand. He formerly served as president and CEO of the Indy Chamber and leads our efforts to leverage IU's talent, expertise, discoveries and innovations, partnerships, and other resources toward contributing to the state's future prosperity.
Conclusion
In closing, I'm a believer in a bold future for Indiana. And I'm confident about our future because I know how IU can and will contribute to our shared progress.
I know that by linking our strengths with the state's needs, we will contribute to our state's prosperity, its public health, and its culture.
That means pursuing success for students that is grounded in affordability, excellent faculty, cutting-edge curriculum, an unwavering commitment to equity and inclusion, and a hyper-focus on equipping students for a globally interconnected world.
It means viewing transformative research as a crucial societal and economic outcome of IU's unmistakable academic excellence, where our targeted and strategic investments yield groundbreaking treatments, the advent of new industries, and awe-inspiring cultural and creative endeavors.
And it means combining these two priorities in pursuit of our third: a dedicated focus to improve the lives of the people and economic vitality of Indiana.
Not just for our students, but for all Hoosiers. 
Thank you very much. 
Footnotes
[1] John C. Austin, "The Rust Belt Needs Capital to Turn Talent and Innovation into Jobs," Brookings, Tuesday, August 14, 2018, Web, Accessed February 7, 2023, URL: https://www.brookings.edu/blog/the-avenue/2018/08/14/the-rust-belt-needs-capital-to-turn-talent-and-innovation-into-jobs/.
[2] Ibid.
[3] "The Economic Value of Indiana University Bloomington: Executive Summary," Emsi, August 2020, 2, Web, Accessed February 3, 2023, URL: https://impact.iu.edu/reports/iub-execsummary.pdf.
[4] "IU delivers $9.9 billion impact on state, high return on investment for students and taxpayers," Emsi, October 2020, Accessed February 16, 2023, URL: https://news.iu.edu/live/news/27161-iu-delivers-99-billion-impact-on-state-high-return
More on IU 2030
Through IU 2030, our framework for the development of strategic plans for each of our campuses, we've outlined three pillars that will form the foundation of our future.