2023 Social Justice Conference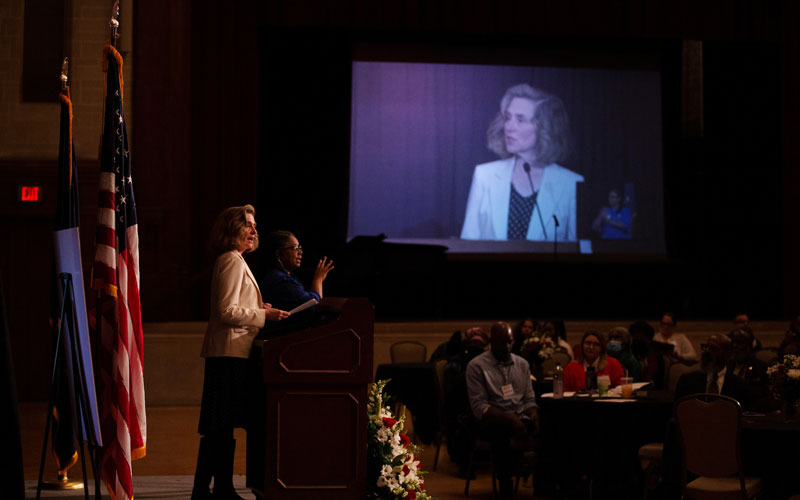 The audacity to believe in dignity, equity, and freedom
Thank you all for joining us today for Indiana University's observance of Martin Luther King Jr. Day, highlighted by this third-annual conference on diversity, racial and social justice.
The theme of this year's conference is drawn from Martin Luther King Jr.'s 1964 Nobel Peace Prize acceptance speech. He accepted with "an abiding faith in America and an audacious faith in the future of mankind."[1]
He refused to accept "the idea that man is mere flotsam and jetsam in the river of life, unable to influence the unfolding events which surround him."[2]
His universal message of hope and his belief in dignity, equity, and freedom continues to resonate today. 
At Indiana University, our diversity is an essential strength. And it is more than a priority—it's a legacy.
A university community built around a commitment to diversity, equity, and inclusion—as IU is—exposes all its members to multiple perspectives and worldviews, which helps us to understand ourselves—and each other—more deeply and thoroughly.
I am proud to note that Indiana University has made great strides in building a more diverse community in recent years. And I am happy to report that in the 2022-23 academic year, our student body and faculty are more diverse than at any time in IU's 200-plus-year history.
For all IU campuses combined, students of color make up over 30 percent of the IU student body—almost 25,000 students. This represents nearly a doubling of minority students at IU over the last decade.
And last September, we launched the Presidential Diversity Hiring Initiative – a seven-year, $30 million program focusing on recruiting a more diverse mix of world-class teachers and researchers. In its highly successful first year, this initiative resulted in the hiring of 52 new faculty members who bring diverse perspectives to the classroom and the lab. Their colleagues also describe these new faculty as rising stars in their fields and magnets for vitally important federal research grants.
While we have made gains in the diversity of our student body and faculty, we can not rest on our laurels. We must continue our efforts to increase the diversity of our university community. In the months and years to come, we will redouble IU's commitment to improving diversity, equity, and inclusiveness; addressing social injustice; and standing up to bigotry and intolerance on our campuses and in the communities we serve.
In "Where Do We Go from Here: Chaos or Community?" the last book published before his assassination in 1968, Dr. King wrote: "When a new dawn reveals a landscape dotted with obstacles, the time has come for sober reflection, for assessment of our methods and for anticipating pitfalls. Stumbling and groping through the wilderness finally must be replaced by a planned, organized, and orderly march."[3]  
More than half a century after Dr. King wrote these words, much progress has been made, but our landscape remains dotted with obstacles.
Just this week, the Bloomington community faced a horrific incident where an 18-year-old of Asian heritage, who has requested privacy, was attacked on a bus because of their race. This sadly demonstrates that Dr. King's words and teachings are still necessary and relevant today. We must remain committed, today more than ever, in our stand against hate.
Conferences like this allow us to reflect, assess our methods and plan actions to promote dignity, equity, and freedom for all. The workshops, presentations, and keynotes from distinguished national civil rights leaders at this year's conference are a fitting way for all of us at Indiana University to reaffirm our commitment to Dr. King's vision and legacy.
Thank you again for being with us today and have an excellent conference.
Footnotes
[1],[2] Dr. Martin Luther King Jr., Acceptance Speech, Delivered December 10, 1964, NobelPrize.org, Nobel Prize Outreach AB 2023, Tue. 3 Jan 2023, https://www.nobelprize.org/prizes/peace/1964/king/acceptance-speech/
[3] Dr. Martin Luther King Jr., Where Do We Go From Here: Chaos or Community?, Boston, Beacon Press, 2010, pp. 145.
More on the 2023 Social Justice Conference
Find out more about the third annual Social Justice Conference.