A focus on students, research and service
Pamela Whitten is the 19th president of Indiana University and the first woman to lead IU, a world-class public research university with seven campuses throughout Indiana.
Under her leadership, IU has emphasized three core missions: providing broad access to an education for all students from Indiana and beyond; pursuing world-class research, scholarship and creative activity; and making meaningful contributions to improving Hoosier health and the economic, social, civic and cultural development of the state and the world.
I am honored to lead this great university, and to continue to work with exceptional faculty, staff, students, alumni and friends of IU to seize opportunities and challenges ahead, creating a better future for all those we serve.
Pamela Whitten President of Indiana University
A look back at the first year
During her first year in office, Whitten accelerated the university's efforts to hire and retain diverse faculty and researchers, strengthened IU's commitment to sustainability, and renewed its focus on student mental health.
Whitten has placed a strong emphasis on prioritizing students across the state, appointing the university's first Vice President for Student Success. With support from search committees comprising faculty, staff and students, Whitten has also assembled a diverse and experienced leadership team that includes five IU alumni. With this exceptional cabinet in place, IU is positioned for a bright and successful future.
The state's flagship university since 1820, IU has a record of leading innovation and advancing research and partnerships throughout the region that has continued during Whitten's tenure. In 2022, the IU School of Medicine, the largest medical school in the nation, celebrated record-breaking funding from the National Institutes of Health, and IU expanded enrollment and growth of its nursing program to address the state's nursing shortage.
Connect on social media
Follow President Whitten to learn more about her vision for Indiana University, and to see what our students, faculty, staff and alumni are up to on a daily basis.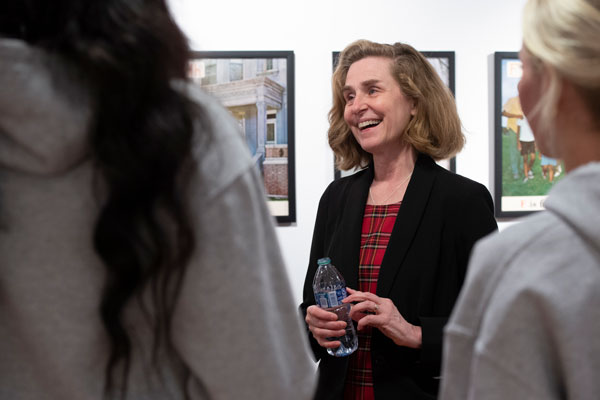 Areas of focus
President Whitten is committed to a focus on student success, world-class research and scholarship, and to improving Hoosier health and the economy in Indiana and beyond.
See IU's impact
Career and honors
Before joining IU, Whitten held a variety of leadership roles, including serving as a dean for five years at Michigan State University, senior vice president for Academic Affairs and provost at the University of Georgia, and as president of Kennesaw State University. She is an internationally recognized expert in the field of telemedicine, holding a Ph.D. in communication studies and a Master of Arts in communication.
2021- : President, Indiana University
2018-2021: President, Kennesaw State University 
2014-2018: Senior Vice President for Academic Affairs and Provost, University of Georgia
2009-2014: Dean of the College of Communication Arts & Sciences, Michigan State University 
2007-2009: Associate Dean for Research and Graduate Education, College of Communication Arts & Sciences, Michigan State University 
2006-2007: Assistant Dean, College of Communication Arts & Sciences, Michigan State University
2005-2006: Professor, Department of Communication and Regenstrief Center for Healthcare Engineering, Purdue University
2005-2014: Professor, Department of Telecommunication, Information Studies & Media, Michigan State University
2004-2005: Professor and Director, Health & Risk Communication Center, College of Communication, Michigan State University
2001-2005:

 

Associate Professor, Department of Telecommunication, Michigan State University
1998-2001:

 

Assistant Professor, Department of Telecommunication, Michigan State University
1998-2005:

 

Research Fellow, College of Human Medicine, Institute of Healthcare Studies, Michigan State University
1995-1998: Inaugural Director of Information Technology Services and Research and Assistant Professor in the Department of Family Medicine, University of Kansas Medical Center 
1993-95: Teaching Assistant, University of Kansas
1988: Instructor, University of Maryland, Frankfurt, West Germany Campus
IBJ Media's Inaugural Indiana 250, a list of the state's most impactful and influential leaders (2022)

Atlanta Business Chronicle's Who's Who in Education – Top 100 Educators (2019, 2020 and upcoming May 2021)
Atlanta Magazine's Atlanta 500: Education & Healthcare (2020 and 2021)
Atlanta Business Chronicle's Most Admired CEOs (2020)
American Telemedicine Association Fellowship (2011)
Michigan State University Distinguished Faculty Award (2010)
Michigan State University Outreach Scholarship Award (2008)
Linkugel Distinguished Alumni Lecture Series Award, University of Kansas (2006)
National Library of Medicine and American Medical Women's Association: Local Legends in Medicine (2004)
Michigan State University Teacher-Scholar Award (2002)
Get to know the president
Learn more about Pamela Whitten, IU's 19th president.
See the headlines from Indiana University.

Read the president's newsletter and see her latest speeches and statements