Take IU with you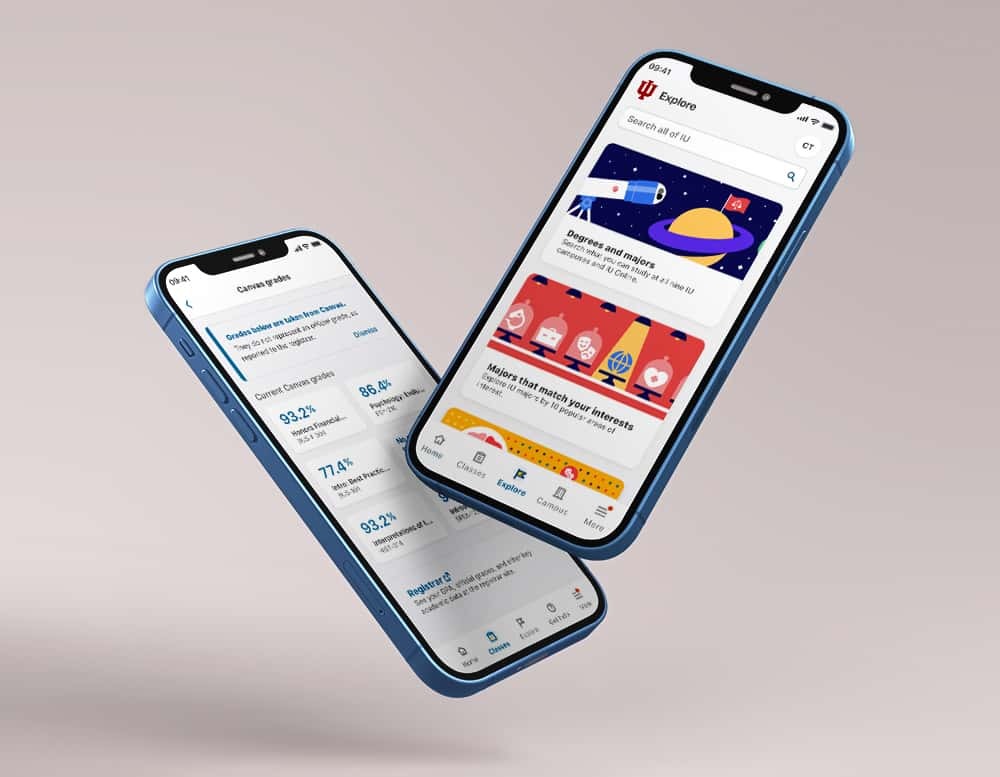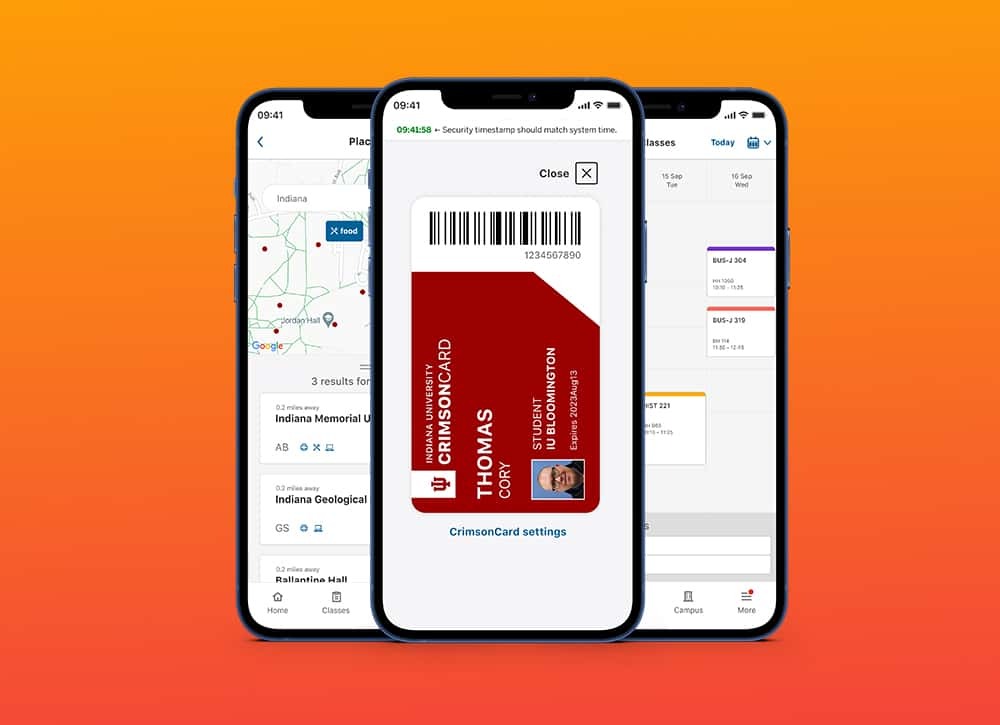 Let IU Mobile make your first year easier
If you're new to IU, the IU Mobile app will help you adjust to life as a student. Download the app to:
Quickly reference info about your classes, like location, schedule, and instructor name.
Figure out where you're going with campus maps, directions, and bus routes.
Get easy access to your Crimson Card balance.
Clock in and out of your job, and handle any missed punches, with Kuali Time. (Check with your supervisor for availability)
Keep track of advising appointments and other to-dos with customized notifications.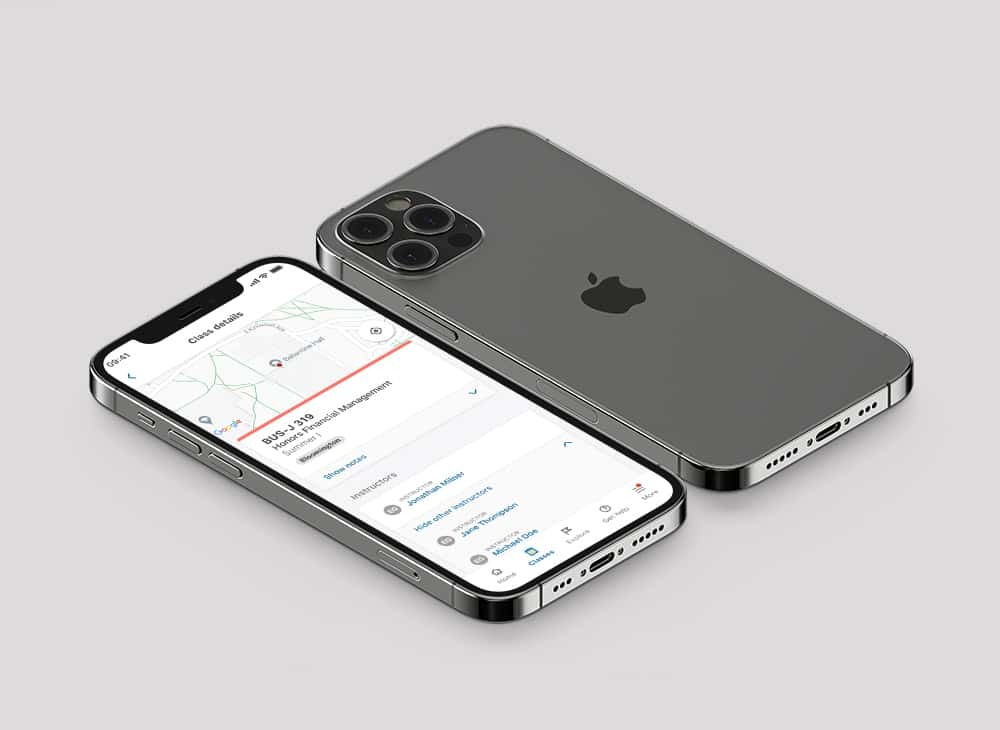 Stay connected to IU from anywhere
IU Mobile puts the tools you need at your fingertips, with a personalized experience designed around your needs. Quickly and easily access Canvas, Zoom, Kaltura, and more, and get one-click support when you need it. IU Mobile works over Wi-Fi or cellular data, so you never lose your connection to the resources you need to keep working toward your goals.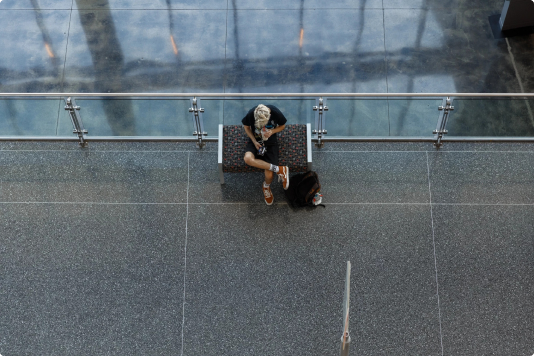 We're serious about your privacy
You may receive notifications from IU Mobile, but the app does not do location tracking, reporting, or storing of related information.
IU Mobile uses Google Analytics (a common analytics platform) to collect anonymous usage data for the purpose of helping our developers improve the app. This data is not sold or shared outside of IU. 
IU Mobile uses IU Login and two-factor authentication to protect your information. 
Some data displayed in the app is also protected by your device security, including pin, fingerprint, or face id.
IU Mobile will request permission to access your location. Providing that permission is optional. When IU Mobile knows your location, it can help you navigate IU buildings, food, and computer labs.
Stay tuned for new features
We're constantly working on new features and functionality to make the app better and enhance your IU student experience.
Spring 2023
Our spring releases are all about getting to know your campus better. Were starting with expanded transportation info and athletics features. Well also be rolling out IU Mobile campus tours visit and learn about the interesting places on your campus
Summer 2023
This summer, well be adding even more academic info for you. From advising appointments to bursar communications to your degree progress, IU Mobile will put your academic career at your fingertips.
April 17, 2023 5.2.5

Athletics

Athletics now lets you see the schedule for a specific sport, from the home screen

Improvements and fixes

Several design improvements and bug fixes

March 6, 2023 5.2.4

Evening transportation

IUB users now have Evening transportation, a guide to safe, reduced cost options for getting around Bloomington

Athletics

Improvements to Athletics, making it easier to find yesterdays results

Improvements and fixes

Various improvements and bug fixes

February 27, 2023 5.2.3

Parking

Parking details, now on your Settings screen, has information about your permits, vehicles, and citations

Athletics

Improvements to Athletics, including putting current games right where you can find them

Improvements and fixes

Many accessibility and design improvements and bug fixes

February 3, 2023 5.2.2

Icon selector

A new home screen icon selector is now added to the settings page for iOS users

Settings

Multiple improvements to dark mode and to the settings page

Alerts

Improvements to network error messages on buses, campus map, Status.IU, and home pages

Athletics

Multiple improvements to athletics

Maps

Improvements to maps for Android users

Improvements and fixes

Various accessibility and design improvements and bug fixes

November 17, 2022 5.2.1

Maps

Improvements to Campus Maps, including more detail on parking locations, better bus info, and faster loading of the campus view

Athletics

Improvements to Athletics, including showing live score updates when viewing the schedule and more information in game results

Apple Watch

Ability to change campus from within the Apple Watch app

Improvements and fixes

Additional design and accessibility improvements and bug fixes

October 3, 2022 5.2.0

Athletics

Athletics now has better ways to get to your teams info, and improved updating on Apple Watch

Maps

More information is available about campus dining locations

Bus status

Bus info is improved, with better indications of active routes

Canvas

A bug that caused Canvas users to have to log in twice has been fixed

Improvements and fixes

Accessibility and design improvements

August 25, 2022 5.1.2

Improvements and fixes

Various accessibility and design improvements and bug fixes

July 2, 2022 5.0.0

Class schedule

Preview your schedule for your upcoming classes from the Home screen

Shortcuts

Add your most used IU Mobile tools including your card balances, Kuali Time, and much more to your Home screen

Campus

The Campus tab now opens an interactive map of your campus, where you can find buildings, parking, buses, and more

All IU Mobile

Dont know where to look Find it on the All IU Mobile list on the More tab

Improvements and fixes

Various accessibility and design improvements and bug fixes

June 2, 2022 4.7.0

Maps

Campus maps have an optional 3D overlay, giving you a view of the area

Athletics

View IU Athletics on Apple Watch, including live scores for certain sports

Email

Exchange email is available on your home screen

Login

Authorization has been migrated to a new service

Improvements and fixes

Various accessibility and design improvements and bug fixes

May 9, 2022 4.6.5

Campus feed

Your campus feed puts athletics, events, and news in one place on your Home Screen

Maps

Campus maps now include bus status, and improved icons help you find the places you need

Improvements and fixes

Various accessibility and design improvements and bug fixes

April 7, 2022 4.6.4

Balances

New CrimsonCash, IU Print, and multiple other balance and transaction details added

More menu

Multiple improvements to the More menu

Improvements and fixes

Various accessibility and design improvements and bug fixes

March 4, 2022 4.6.3

Parking

Parking information about university garages and lots is available in campus maps, including allowed parking permits

Laundry

At IUB, laundry users can check the availability of student housing washers and dryers, and set alerts for when a machine is free

Athletics

Athletics info is now available for IUSB and IUK

Improvements and fixes

Many accessibility and design improvements made and bugs fixed

January 31, 2022 4.6.2

Apple Watch

Improvements to Apple Watch app

Athletics

Added IUPUI Athletics information

Kuali Time

Kuali Time provides more detail about hours worked, now showing hours both per week and per pay period

Improvements and fixes

Many improvements and bug fixes

December 13, 2021 4.6.1

Dark mode

You can now choose dark or light mode as a visual theme, or have IU Mobile use the system setting from your phone

Accessibility fixes

Various accessibility fixes

November 30, 2021 4.6.0

Apple Watch app

You can now use IU Mobile from your Apple Watch, where you can find your CrimsonCard, class schedule, and more

IUB Athletics

Upcoming IUB athletic events and past results are available through a home screen widget

Improvements and bug fixes

Various accessibility improvements and bug fixes

October 23, 2021 4.5.1

Bus status

Bus status now opens to your most recently selected bus routes

Improvements and bug fixes

Various accessibility improvements and bug fixes, including a bug that could impact your phones performance

October 4, 2021 4.4.1

IU Mobile Polls

New polling feature added

Search

Multiple improvements to search

Improvements and bug fixes

Various accessibility improvements and bug fixes, including a bug that made some content impossible to reach

August 13, 2021 4.4.0

Kuali Time

Some hourly employees can now use IU Mobile to clock in and out, as well as submit missed punches to Kuali Time

Improvements and bug fixes

A search bug that could crash the app has been fixed, along with various accessibility improvements and other fixes

June 29, 2021 4.3.7

Search

Search now shows features within the IU Mobile app alongside other IU information

Class schedule

Students can export their schedule to their mobile devices calendar

May 4, 2021 4.3.6

Bus Status

Improvements to bus maps

Degrees Majors

School information added to Degrees Majors

April 24th, 2021 4.3.5

First Year Experience

New orientation features added for incoming students at IU Bloomington

Events

Events from events.iu.edu added to the home screen for users at each campus

March 22nd, 2021 4.3.4

Your key contacts

For students - find your advisor and instructor contact information on the Classes page

Canvas grades

For students - find your canvas grades on the classes page

New One.IU features

Click View all beside One.IU tasks on the homepage to find access to your One.IU favorites, recently used, and more

February 4th, 2021 4.3.3

Class schedules for instructors

For instructors - find your Class Schedule on the Classes page

Localized News stories for each campus

The news widget on the homepage now shows trending articles from each campus

New loading color scheme

New year, new color scheme. Its a crimson trident on a white background now to improve the opening animation

Visual updates

Multiple visual updates to create a more consistent experience throughout the app

December 10th, 2020 4.3.2

Explore section

Find information about applying to and attending IU in the new Explore section

Student Organizations

Learn about student organizations at each campus in the More section

Horizontal and tablet views

The app is now much easier to use on tablets and horizontal phones

September 28th, 2020 4.3.1

Search improvements

Building photos and improved formatting on search results

Class list view

For students - new list view on your Class Schedule

Moved Campus view

September 22nd, 2020 4.3.0

Class Schedule

For students - find your Class Schedule on the Classes page

Class Details

For students - tap a class on your Class Schedule to find Class Details

Canvas Dashboard

For students - a new Dashboard of Canvas items is available on your Classes page

Visual updates

New visual updates including a new header have been added

July 22nd, 2020 4.2.3

No campus selected

You can now use the app without selecting a campus

Additional wellness links

New wellness links added to the Get Help page

Additional Coronavirus information

New information added to the Coronavirus response and returning to campus section

July 15th, 2020 4.2.2

Bug fixes

Various minor patches and improvements

July 1st, 2020 4.2.1

Degrees and Majors

Explore IU's academic programs, sortable by type and campus

IU Mobile updates

That's this section Learn about what's new to the app, and what's coming soon

June 15th, 2020 4.2.0

Crimson Card

View your Crimson Card in IU Mobile

Crimson Cash

View your Crimson Cash balance in the more section

June 1st, 2020 4.1.0

Coronavirus response

Learn about Indiana University's coronavirus response

Trending News

Find trending articles from the IU Newsroom

May 1st, 2020 4.0.1

Help Information

Find tech support information for your campus on the help pag

One.iu favorites

The app now supports your One.iu favorites on the home page

Key dates

Find a short list of important academic dates for your campus on the Classes page

April 1st, 2020 4.0.0

Global Search

Search for One.iu tasks, buildings, people, and Knowledgebase articles in the app

Notifications

Log in to the app to receive personalized updates from IU notification systems

Places

Find buildings and navigate around your campus