2022 Winter commencement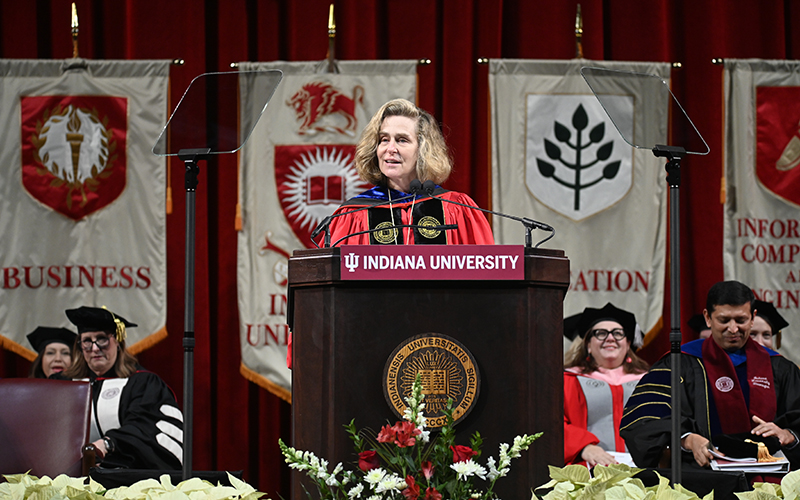 Optimism for a bright future 
Trustees, Provost Shrivastav, honored guests, colleagues, and members of the IU Bloomington Winter Class of 2022:
As I look out at this accomplished group of graduates, I am filled with a tremendous sense of optimism for a bright future.
As you become IU's newest alumni, I know that you will bring the compassion, determination, and strength of character you have shown as students to new careers, new families, and communities across Indiana and beyond. I am confident you will use the knowledge and skills you have gained at IU to improve our society in countless ways.
You are now ready to make your mark on the world, just as you have made your mark on Indiana University.
Celebrating the Class of 2022
Today, Indiana University is awarding more than 2,200 degrees—a record number of December degrees—which makes this the largest class of December graduates in the history of IU Bloomington!
 
The students who graduate today come from 58 different countries, all 50 states, the District of Columbia and Puerto Rico, and 72 Indiana counties.
And you have excelled in the classroom. Among the members of the Winter Class of 2022 are 126 students who are graduating with a GPA of 4.0. Most of you who are graduating with a 4.0 are earning advanced degrees, but I want to especially highlight our undergraduates. Out of more than 1,100 students earning undergraduate degrees today, just eight students—or seven-tenths of one percent of the undergraduate class—are graduating with a 4.0.
 
In addition, 227 students are graduating with double majors, and 11 are graduating with triple majors. 
As you take your place among the next generation of business leaders, scientists, teachers, journalists, artists, nurses, social workers, and government leaders, you are prepared to help shape a bright future for all of us.
 
Students like Derek Garza, who graduates today with highest distinction from the IU School of Nursing, make me even more optimistic about that bright future. Derek is one of about 300 members of the graduating class who are first-generation college students. For these students, the life-changing impact of earning an IU degree is nearly incalculable. Derek's first exposure to the healthcare profession came early in life when he was diagnosed with childhood cancer. Looking back on the care and support he and his family received—from nurses who treated him and his parents like family—inspired Derek to make a difference in the lives of others. Men—particularly men of color—are rare in the nursing profession. I am sure Derek will not only provide the quality, culturally competent care for which the IU School of Nursing is known, but that he will also inspire additional young people of color to enter this rewarding profession.
 
The more than 1,000 of you earning advanced degrees today also give us hope for a bright future. You have focused intensely on mastering the advanced training in your professional field, and many of you have been deeply engaged in research, scholarship, and creative endeavors at IU. I know you will go on to make invaluable contributions to our world, including, in some cases, as the next generation of university faculty members.
Hannah Staley, for example, graduates today with a Master of Public Affairs degree and a Master of Science in Environmental Science degree from the O'Neill School of Public and Environmental Affairs. Hannah has worked extensively with the McKinney Climate Fellows program of the IU Environmental Resilience Institute. This program allows IU students to contribute to sustainability and resilience efforts across Indiana. Last month, her passion for the environment took her to Egypt for "COP27," the United Nations Convention on Climate Change. After graduation, Hannah will work with the National Oceanic and Atmospheric Administration in Washington, D.C., where she received the highly competitive and prestigious Knauss Marine Policy Fellowship, and where she will work to develop solutions to some of the most pressing challenges facing our country.
 
I am also filled with optimism for the future by IU's outstanding student-athletes, who represent IU with distinction on the field and in the classroom. They embody the deeply rooted values of our university community: integrity, a commitment to excellence, playing by the rules, and perseverance in the face of adversity. Quinten Helmer, a member of the IU men's soccer team that advanced this year to the national title game for the 17th time in program history, graduates today with highest distinction with a degree in finance from IU's Kelley School of Business. A Big Ten Distinguished Scholar, Quinten was named last year as the recipient of the NCAA's "Elite 90" award, which is presented to the student-athlete with the highest cumulative grade-point average participating at the site of the finals for each of the NCAA's 90 championships.
And Walker Smith, who graduates today, is a Wells Scholar and a Goldwater Scholarship recipient, a prestigious national award for future scientists, engineers, and mathematicians. Walker is one of the 227 double majors I mentioned earlier. Today, he receives a degree in chemistry from the College of Arts and Sciences and a degree in composition from the Jacobs School of Music. Walker has combined these seemingly disparate interests by conducting experiments to convert the motions of molecules into sounds. His one-person concert, "The Sound of Molecules," received support from IU's Center for Rural Engagement and the Jacobs School's Project Jumpstart innovation competition. Walker has performed the innovative show, which bridges the gap between STEM and the arts, at Bloomington's science museum, WonderLab, and at area middle schools.
These are only a few examples of the outstanding achievements of today's graduates.
Also among today's graduating class are student government officers, Multicultural Greek Council leaders, members of committees who advise the deans of IU's schools, women in STEM, and award-winning student journalists.
And many of you participated in or helped lead the IU Dance Marathon, a great IU student tradition, which, this year alone, raised more than $3.2 million in support of Riley Hospital for Children.

Charge to the class 
A quarter of a century ago, the great anti-apartheid activist and president of South Africa, Nelson Mandela, spoke at his country's annual Freedom Day celebration. Though he was addressing the future of South Africa after centuries of colonial rule, his closing words hold relevance for you on this day of celebration.
"A bright future beckons," Mandela said. "The onus is on us, through hard work, honesty, and integrity, to reach for the stars."[1]
Graduates of Indiana University, a bright future beckons all of you.
As you leave this special place, the onus is now on you to take the lead in addressing our society's most pressing challenges.
Draw on all you have learned at Indiana University, in and out of the classroom.
Apply that knowledge and experience with hard work, honesty, and integrity.
Use your energy and optimism to be agents of change.
Reach for the stars…. and show the world what it means to be Indiana University Hoosiers!
Congratulations and best wishes to the Class of 2022!
Footnotes
[1] Address by President Nelson Mandela at the South African Freedom Day celebrations, delivered April 27, 1996, Web, accessed December 1, 2022, URL: https://www.sahistory.org.za/archive/address-president-nelson-mandela-sa-freedom-day-celebrations-pretoria-27-april-1996.
More about the 2022 Winter commencement
Learn about the Winter commencement ceremony and the highlighted individuals.
Kelley School student Diptanshu Rao delivers speech for the 2022 Winter commencement.

Watch the commencement of the class of 2022 and celebrate their accomplishments.