2023 State of the University address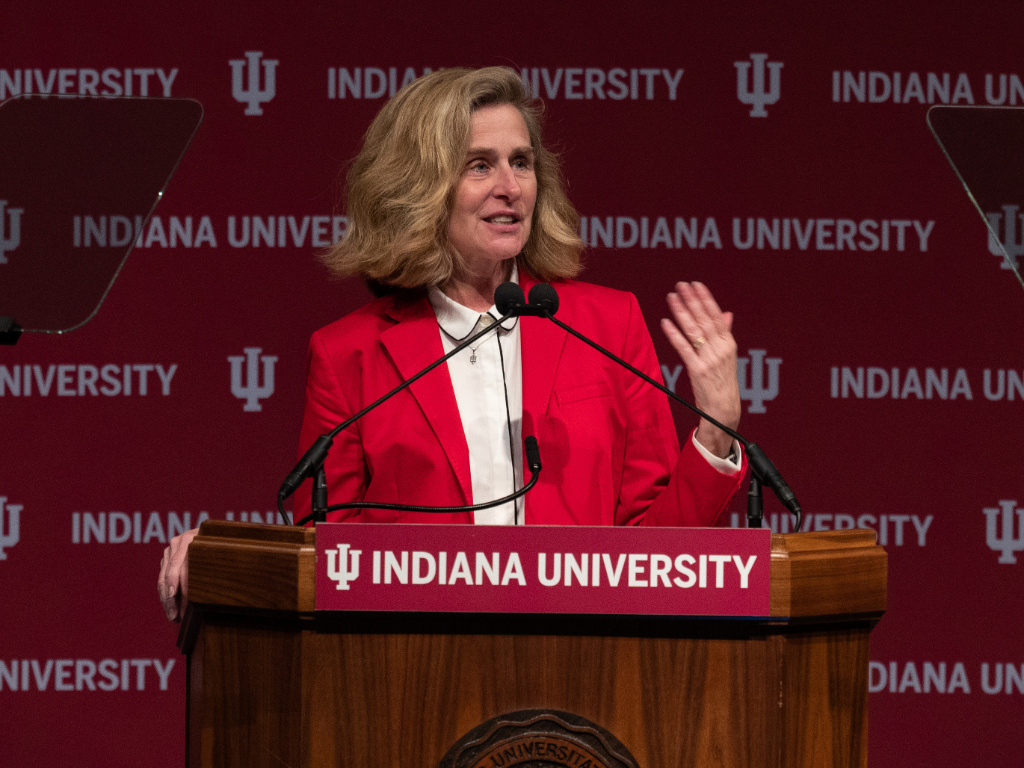 State of the University address
Thank you, Professor (Philip) Goff, for that introduction. I am grateful to you, your University Faculty Council co-chairs Colin Johnson and Carolyn Schult, and to the chairs of the faculty organizations on all other IU campuses—Ranjan Kini of IU Northwest, Gin Morgan of IU Kokomo, Gregory Dam of IU East, and Susan Popham of IU Southeast—for your dedicated service. As a long-time faculty member, I am grateful to all members of the UFC for their commitment to shared governance, which reflects our shared belief in a collective vision, the power of unity, and the strength that emerges when we pool our knowledge, creativity, and experiences.
And welcome to the faculty and staff members, students, colleagues, and members of the broader university community who have joined us in person and online today for the 2023 State of the University address.
Challenges and opportunities compel us to make critical choices for our future
For more than 200 years, Indiana University has been a beacon of knowledge, an incubator of innovation, and a symbol of academic rigor. The journey we and our predecessors have undertaken, driven by our unwavering commitment to excellence, has propelled us to the heights of academic and research achievement. Our alumni distinguish themselves as entrepreneurs and in the C-suite. They are civic leaders at the state, local, and federal levels. They serve in the U.S. Congress and presidential cabinets. They teach young minds and provide care at the bedside. Our students, faculty, and alumni are world-renowned in music, theater, the visual arts, literature, dance, design, and film. Today, Indiana University is ground zero in the fight against Alzheimer's disease, a trailblazer in information technology, and a pioneer at the leading edge of cybersecurity.
IU is a living testament to the power of human conviction and the transformative force of education. But we aspire to be even more. We envision a future where IU pushes the boundaries of knowledge further, where our research transforms lives, and where increasing numbers of graduates become change-makers in a rapidly evolving world. In pursuing these grand aspirations, we must also persevere amid challenges.
The landscape of higher education is shifting beneath our feet, and we find ourselves at a fork in the road. But our path forward is clear. Indiana University, like many other universities, finds itself at a crossroads.
For years, we have been warned about the looming enrollment cliff, a steep decline in the population of college-age Americans driven mainly by changing birth rates. We face questions about the value of a college degree. This is true even as economic factors demand that we nimbly respond to emerging talent needs by significantly increasing college attainment.  Balancing these challenges while upholding IU's core values of a liberal arts education and academic integrity is complex and demanding.
We find ourselves confronted with a choice—a crucial decision that will define our trajectory. We could opt for the path of comfort, clinging to familiar practices, familiar programs, and familiar partners.
But we know this path offers no actual progress, no lasting impact, and ultimately fails to serve the public good that we, as the state's flagship university, are committed to advancing.
The alternate path is one of true transformation. It's a path that encourages innovation, creates opportunity, and addresses the pressing needs of our state and nation. It is a path that draws on our courage, adaptability, and steadfast commitment to our mission of empowering individuals and bettering our communities.
At Indiana University, we believe the choice is clear. We choose the path of transformation and progress… a path that gives us a clear view of the challenges ahead and the fortitude, flexibility, and conviction to embrace them. It is a path that leaves us looking to tomorrow with excitement.
Our vision for the future: The IU 2030 Strategic Plan
And we are well into the journey.
Through IU 2030, we are pursuing a bold, seven-year vision endorsed by the Indiana University Board of Trustees in April of this year. IU 2030 consists of a comprehensive university-wide plan and eight individual plans for each of the university's campuses and the IU School of Medicine, with objectives and metrics for success across three strategic pillars: championing student success, pursuing research and creative activity that improves lives, and strengthening the economic and cultural vitality of our state. Thousands of faculty, staff, and students across the state contributed to developing these visionary plans, and I am deeply grateful to all of them for their efforts.
Student success
The first pillar of IU 2030, student success, embodies the essence of our purpose and responsibility as educational institutions. By prioritizing student success, we aim to empower individuals to reach their potential, make meaningful contributions to society, and cultivate an engaged and thriving citizenry. Ultimately, this focus on student success is an investment in a brighter and more inclusive future, aligning with our duty to serve the public good and advance society.
We will be a national leader, providing our students with an extraordinary education and immersive experiences that elevate them among their peers in the workplace and beyond.
Here's how we intend to achieve these goals.
First, we are launching a comprehensive online student success platform. Beginning in Fall 2024, we will provide students with a single point of access to chart their own IU journey, track their academic progress, and access personalized support. We will use technology to help them make smart academic choices that keep our students on track for graduation—all through a single, mobile-friendly tool.
We also know that experiential learning is crucial for university students as it bridges the gap between theoretical knowledge and practical application, allowing them to develop critical thinking, problem-solving skills, and a deeper understanding of their chosen field. These hands-on experiences—including first-year seminars, capstone experiences, internships, research projects, and study abroad—enhance academic learning and prepare students for the dynamic challenges they will face in their careers. As part of the IU Bloomington Strategic Plan, we will ensure that all students participate in at least one experiential learning opportunity each year.
To better serve students on our largest campus, we have created a new structure for student-focused units at IU Bloomington. The Office of Student Life, led by a new vice provost for student life, Lamar Hylton, will foster closer collaboration among Student Affairs, IU Corps, and student-facing components of Residential Programs and Services. The Bloomington Dean of Students has become a separate position focused on student care and advocacy.
There is also ample evidence that high DFW rates—the percentage of grades of D or F or students withdrawing from a course—are a leading indicator of decreased retention, decreased completion, and extended time to degree. A recent Big Ten Academic Alliance study demonstrated that DFW rates are higher across the board for first-generation, Pell-eligible, and historically underrepresented minority students.[1] Under the IU 2030 Strategic Plan, all campuses are focused on lowering DFW rates to enhance student success. The approach being taken on the Indianapolis campus is to employ active learning techniques—such as brief writing and discussion assignments, problem-solving tasks, and reflection-based activities—in course design and delivery. Simple, engaging actions can ensure that students are actively processing course content at the time that they are encountering it. The goal is for faculty to be well-informed about the variety of active learning approaches that have demonstrated effectiveness and that they will know where to access resources to make enhancements that will improve student engagement and learning.
Our regional campuses are focused on enhancing student success by implementing collaborative courses and programs to increase efficiencies, reaching out early to struggling students, and growing the Groups Scholars programs. For more than 50 years, the Groups Scholars Program has provided academic, financial, and social support to selected first-generation, underrepresented students at IU Bloomington, and the program's expansion to the regional campuses will benefit students across the state tremendously. A'Reya Davis, for example, is a Groups Scholar at IU Northwest. She says she didn't even think she would attend college until she heard about the program. A'Reya loves the fact that she has people rooting for her success and providing any help she may need. She is highly active on campus through activities with the Black Student Union, the cheer team, and her work in the campus library.
Of course, affordability is central to student success. All of us can be proud of the work that has been done to keep IU affordable and to keep tuition low. As a result, the majority of students now graduate from IU with no debt. The net cost of attendance at IU has declined over each of the last three years. IU Bloomington is among the most affordable institutions in the Big Ten, the Indianapolis campus is highly affordable compared to its peers, and our regional campuses provide the most affordable path to a four-year degree in Indiana.
But that doesn't mean our work is done. If we can't keep expenses in line with revenues, then we can't keep an IU education affordable. So, during the last fiscal year, we cut $70 million in administrative costs to ensure that expenses align with revenues—without affecting any student- or faculty-facing programs.
We are also helping keep an IU education affordable by implementing a new structure that will simplify student fees as recommended by the Academic Tuition and Fees Task Force. As of the start of the current academic year, the number of fees has been reduced, and fee descriptions have been made more transparent. Under the new fee structure, most IU students are paying less in fees over the course of their degree program, with $14.5 million per year in overall savings to the student body as a whole beginning this year.
Financial aid is also crucial for student success as it ensures equal access to education by alleviating financial barriers that may otherwise deter students from pursuing a college degree. By providing financial assistance, universities empower students to focus on their studies, participate in enriching experiences, and ultimately succeed academically without overwhelming financial constraints. We have increased IU undergraduate gift aid by 56 percent over the course of eight years. IU now awards a quarter of a billion dollars every year to financially support our students, further proving our commitment to ensuring that an IU education remains accessible to students from low-income backgrounds. In the years ahead, we must generate more philanthropic support for student scholarships and fellowships to ensure accessibility to education, empower deserving students, and foster a diverse and inclusive academic community.
Furthermore, we are dedicated to helping students succeed by simplifying the transition to college and lowering barriers to higher education. Initiatives like eliminating application fees, reducing course fees, and streamlining the admission process for high-achieving students demonstrate our commitment to attracting the nation's leading students, fueling the state's talent pipeline, and positively impacting our students, their families, and the communities we serve.
Research and creative activity
Public research universities like IU are not only laboratories of knowledge but also engines of societal progress, addressing critical challenges and propelling technological advancements. This dedication to research leads to discoveries, innovations, and impactful solutions across various domains, including public health, the environment, and technology. Moreover, universities enrich their communities through cultural and artistic programs, contributing to intellectual growth and fostering public involvement.
Under the second pillar of IU 2030, we have committed to expanding the scope and global reach of the university's research enterprise, with significant growth in external funding to pursue groundbreaking research and awe-inspiring cultural and creative endeavors that improve the world.
The Indianapolis campus has a rich and longstanding tradition of conducting community-engaged research. Recognizing the importance of actively engaging with and contributing to the Indianapolis community through research and public scholarship initiatives, the campus is working to further develop its capacity for such research under IU 2030 and become one of the nation's pre-eminent urban research universities.
The IU School of Medicine, the nation's largest medical school, ranks 14th among public medical schools in funding from the National Institutes of Health, the world's largest public funder of biomedical research. The school aims to advance to the Top 10 in this ranking.
The regional campuses are uniformly committed to building a more pervasive culture of research. They are focused on increasing the number of students who participate in faculty-mentored undergraduate research and increasing the average number of external grant submissions by faculty.
The creative and artistic excellence of our faculty is also central to the IU 2030 Strategic Plan. Elizabeth Hebbard, for example, is an affiliated faculty member in musicology in IU's Jacobs School of Music and assistant professor of French and Italian in Bloomington's College of Arts and Sciences. Among her interests are medieval manuscript fragments and using digital tools to virtually reassemble books that have been dismantled and libraries that have been dispersed. She is one of eight faculty members who have been awarded the IU Presidential Arts and Humanities Fellowship for 2023. The fellowship supports faculty across multiple campuses and disciplines and amplifies their distinctive and important work while advancing their standing as leaders in their fields.
Of course, the efficient utilization of space directly impacts productivity and the effectiveness of our research activities. By assessing and optimizing the allocation of physical resources, universities can create conducive environments that enhance collaboration, innovation, and interdisciplinary research. Data-driven space utilization analysis enables universities to plan strategically for future growth and changing research needs. So, we are conducting a coordinated assessment of the space used for research at IU, with a strong commitment to prioritizing necessary renovation and reallocation, with a major focus on allocating additional space to enhance research capacity on the Bloomington campus.
Our research mission is vast, and our research efforts are comprehensive. However, as part of IU 2030, we are dedicated to forging strategic connections between IU research initiatives and both state and national economic development efforts. By focusing on areas and disciplines with growth potential that align with our strengths and the needs of the state and its industries, we aim to enhance the impact of IU research on the broader economic development of our region.
Earlier this month, we announced that we will invest at least $111 million over the next several years to advance IU's national leadership and impact in microelectronics and nanotechnology. This investment, one of the largest commitments made by a university to high-tech industry, will boost the growth of the microelectronics industry in Indiana and across the U.S. while strengthening our collaboration with public and private partners. As part of this investment, we will launch the Center for Reliable and Trusted Electronics, which will lead research activities focused on designing and testing microelectronics that can function when exposed to high radiation levels. The majority of this $111 million investment—75% or more—is for targeted faculty hires and the start-up infrastructure needed to support their research. This is part of the Faculty 100 hiring initiative at IU Bloomington, which we are aligning primarily with the areas of research focus identified in the IU Bloomington strategic plan, in this case, key STEM areas in which enrollment at IU has been increasing. As part of this initiative, the Luddy School of Informatics, Computing, and Engineering is implementing new degree programs to train students in microelectronics and nanofabrication. We are also leaning into state and national leadership in this area. Luddy Dean Joanne Millunchick and I are part of the EDGE Consortium, a small group of leaders at six universities led by female presidents and female engineering deans. The initiative is co-hosted by Indiana University and Dartmouth University with a recognition that the United States cannot reach autonomy and independence in chips and semiconductors without ensuring the robust inclusion of women and minorities. Working with our consortium partners, we can shape academic programs and industry collaborations to lead to a growing, inclusive, resilient, and fully diverse semiconductor workforce.
Yet, our investments in major research initiatives that will drive progress for our region, state, and nation are just getting started.
Today, I am officially announcing a historic investment of more than $250 million to fuel IU's growth as a powerhouse in advancing research in biosciences, biomedical engineering, and health and wellness.  
This significant initiative will establish two pioneering, multi-disciplinary research institutes at IU Indianapolis, as recommended by the Research Accelerator Action Team led by Vice Chancellor for Research Phaedra Corso. The Institute for Convergent Bioscience and Biotechnology and the Institute for Human Health and Wellness will spearhead research endeavors aimed at improving the health of Hoosiers, attracting investments, fostering innovative start-ups, and bolstering Indiana's vibrant biotech industry. In the coming weeks, we will officially launch the search for directors for these institutes, and we anticipate recruiting over 20 new faculty members who possess specialized expertise in these vital areas.
This commitment will also include investing $60 million, as earmarked by the Indiana General Assembly in the most recent state budget, to expand research facilities on our Indianapolis campus that will serve as an anchor within the future Science and Technology Corridor. I want to express my gratitude to the General Assembly for this strategic investment… and it will be judiciously utilized, blending renovation with new construction, all in alignment with our commitment to enhancing IU Indianapolis as a critical talent anchor, a key partner with the biosciences industry, and a significant driver of economic development across Indiana.
Furthermore, we will invest more than $93 million over the next five years to hire over 30 new faculty members in the life sciences on the Bloomington campus and lay the foundation for the requisite start-up infrastructure, again, as part of our ongoing Faculty 100 Hiring initiative. Research laboratory infrastructure at IU Bloomington, focusing on STEM-based facilities, is slated for future renovations. Investments in the Multidisciplinary Engineering and Sciences Hall and the Chemistry, Psychology, and Biology buildings will result in state-of-the-art technologies and equipment.
Rounding out IU's investment in biosciences and biotechnology is a $30 million project, pending state approval, to build out shell space in the Medical Education and Research Building, now under construction, into research labs and related support areas and to renovate portions of the Neurosciences Research Building. Both facilities are adjacent to the new IU Health downtown hospital under construction at 16th Street and Capitol Avenue.
These two significant research investments—in microelectronics and nanotechnology and the life sciences—will not be funded by tuition and fee increases but will leverage existing funds. These initiatives not only bolster IU's research enterprise, but they also support the third pillar of IU 2030, contributing to the Hoosier state's quality of life and economic development. The faculty hired as part of these initiatives can draw other researchers, students, and collaborators to the university. This influx of talent can create a dynamic research ecosystem, attracting local and out-of-state partners and investments. All the while, we will stay true to our mission as a liberal arts institution that focuses on a fully-rounded education for all students.
Service to the state
To advance the third pillar of IU 2030—improving the quality of life for all Hoosiers and enhancing the economic and cultural development of our state—we will build on our teaching and research missions. As we empower our students with knowledge, skills, and expertise essential for diverse careers, we also enrich the state's human capital and foster economic growth. Our cutting-edge research spans various fields, often resulting in groundbreaking products, services, and technologies that fuel economic expansion and job creation and bolster Indiana's global competitiveness.
IU will drive economic growth and job creation within the Hoosier state by fostering a more pervasive culture of innovation and enterprise among faculty and students. By nurturing entrepreneurial mindsets and providing the necessary resources and support, IU will play a pivotal role in transforming ideas into viable businesses, ultimately benefiting local communities and the broader state economy. This fall, we are excited to launch IU Innovates, a platform to support students and faculty in initiating and growing start-up ventures. This initiative will empower them to transform their ideas and research into catalysts for progress and economic development within our state, the nation, and the world. Next week, we will hold a ribbon-cutting ceremony for the first IU Innovates location in Bloomington, strategically located across from the Sample Gates, and plans are underway for a site in Indianapolis. The appointment of Julie Heath, former vice president of entrepreneurial ecosystems for the Indiana Economic Development Corporation, as the inaugural executive director of IU Innovates adds strength to this endeavor.
To advance STEM education, connect to area industry, and further complement the large and growing science and technology ecosystem in downtown Indianapolis, the Indianapolis campus is strategically advancing the Science and Technology Corridor that we announced in December of last year. In addition to the new opportunities the corridor will create for students in STEM fields, it will help make the campus a cornerstone partner to the state and the business community in reaching economic and workforce development goals.
Our regional campuses are doing more to leverage their strengths in collaboration with local businesses and industries to meet workforce needs and contribute to Indiana's economic vitality. IU Kokomo, for example, has helped prepare the workforce and the community for an influx of Korean culture as Samsung SDI and Stellantis prepare to launch two lithium-ion battery plants in Kokomo that will create thousands of new jobs for Hoosiers. The regional campuses are also working to expand their existing mutually beneficial P-12 partnerships, which help elevate the overall quality of education in the regions they serve, address educational disparities, and foster a sense of shared responsibility for academic success.
Of course, enhancing the quality of life in Indiana also means doing all we can to improve Hoosier health. At IU Bloomington, we're working to build a campuswide infrastructure to quickly mobilize assets to respond to needs in Indiana, with an initial focus—among others—on improving outcomes in health and wellness, including mental health and health disparities. The Indianapolis campus is engaging with communities to implement health programs and initiatives designed to meet community needs and priorities. This will include creating an institute focused on addressing health disparities and health equity.
Across each pillar—student success, research, and service to Indiana and beyond—we are powering progress for IU—made possible thanks to our extraordinary faculty and staff. Of course, we also continue to work on several initiatives that involve all three pillars.
Launching IU Indianapolis
The first of these is the launch of IU Indianapolis.
The nation's most vibrant cities boast leading research universities that contribute talent and knowledge while driving economic and cultural impact. Recognizing Indianapolis as a world-class city deserving of a world-class urban research university, we are committed to propelling IU Indianapolis to fulfill this vital role.
Since June, the campus has been taking steps for the transition to IU Indianapolis, which will become official on July 1 of next year. Interim chancellor Carol Anne Murdoch-Kinch is leading the IU Indianapolis implementation plan, overseeing identifying activities, processes, and elements to prioritize for implementation.
In addition, the campus has established a Committee on Academic Innovation that is collaborating closely with colleagues in the School of Science to identify potential new academic programs that can leverage existing strengths, distinguish the campus from other universities, and support the workforce development needs of central Indiana. Proposed programs in biomedical sciences, data analytics, cyber-forensics, sustainability, and the environment showcase our commitment to academic change while also building on the existing array of strong programs across our schools in Indianapolis.
Our strategic vision includes an ambitious plan to double enrollment at the Luddy School of Informatics, Computing, and Engineering at IU Indianapolis and to augment the school's academic programs to address talent requirements, especially in applied computer science.
Investments at the IU School of Nursing will double the instructional capacity, supporting a 50 percent increase in enrollment and helping IU Indianapolis meet a crucial talent need for the city and state. We are actively forging a direct enrollment pathway from the IU School of Science to the IU School of Medicine, investing in healthcare talent growth at a critical juncture when Indiana needs more physicians to study and practice within the state.
All the while, we are mindful of the rich assets right here in Indianapolis, not the least of which is a base of bright and innovative prospective students who want to go to college in their hometown. This year, we announced a new program where students graduating with a 3.0 from the Indianapolis Public Schools will have automatic admission into IU Indianapolis.
Leveraging over a century of IU's presence in Indianapolis, we are steadfast in our commitment to elevate IU Indianapolis into one of the nation's foremost urban research universities.
Fostering diversity, equity, inclusion, and belonging
Another initiative that touches all three pillars is our effort to address diversity, equity, inclusion, and belonging and make an IU education available to students from all walks of life.
I'm proud to say we welcomed our most diverse student body this year. Students of color comprise nearly 32 percent of the student body university-wide. IU Bloomington, IUPUI, IU South Bend, IU Northwest, IU East, and IU Kokomo each set campus records for the share of students of color enrolled. IU Northwest remains the state's only public comprehensive higher education institution designated as a Hispanic-Serving Institution.
While we have seen great success in increasing the diversity of our student body, we are also investing to ensure that our faculty reflects the fullness of our society. In the fall of 2021, we announced the Presidential Diversity Hiring Initiative. We pledged to invest $30 million over seven years to accelerate Indiana University's efforts to hire faculty with diverse backgrounds and perspectives. Two years later, we have hired nearly 100 new faculty members from groups traditionally underrepresented in higher education. And we have spent more than $43 million, achieving our seven-year goal in less than two years. This success is made possible by our faculty, who went out and recruited colleagues from around the country and brought them to IU, demonstrating the critical role that faculty can play in making transformational change happen.
IU's commitment to fostering a diverse and inclusive university community is not only a reflection of our core values but also a strategic imperative for academic excellence. By actively promoting diversity and inclusion, we enrich the learning environment for all, allowing for the free exchange of ideas and perspectives that drive innovation and understanding. Indiana University stands firm in its dedication to cultivating inclusive campuses where every individual's unique background and identity are respected and celebrated.
IU stands, as always, against all forms of hatred, discrimination, and harassment.  They have no place in our university and will not be tolerated. Now more than ever, it is imperative that all of us recommit ourselves to strengthening Indiana University as a place where we take care of each other. We must be forever committed to fostering kindness, respect, and compassion across our university community.
Indiana University embracing the crossroads
In closing, I stand before you today as the president of Indiana University, having had the privilege of leading this exceptional institution for the past 2-and-a-half years. During this time, my affection and admiration for IU have only deepened. It is indeed easy to love IU, and the reasons are abundantly clear. It's not just the stunning architecture or the scenic campuses… but the people—the heart and soul of this university—that make it truly special.
Having immersed myself in the IU community, I have witnessed firsthand the incredible dedication and passion of our faculty, staff, students, alumni, and donors. Their unwavering commitment to our mission has propelled IU to greater heights. It is the faculty members who inspire, the staff who support, the students who learn and grow, the alumni who contribute, and the donors who generously invest in our future. IU is not only a place where dreams are nurtured and potential is unlocked, but also an environment where faculty and staff have ample opportunities to stretch and reach their professional aspirations. The collective efforts of all these individuals make IU a place where love for learning and excellence thrive.
Indiana University is embracing the crossroads with courage and optimism – ready to bring on tomorrow. IU stands resolute in facing the future with optimism and a strategic plan—IU 2030—that guides our journey. While uncertainty and change can be intimidating for some, we embrace the challenges and opportunities that lie ahead. We are not only adapting to change; we are shaping it.
Our students are embracing the crossroads by blazing trails in the business world while embodying the core values of entrepreneurship that define Indiana University's educational mission. Current students Nick Willham and Nico Bolivar and recent graduates Sean Grim and Jonathan Frazier became friends while members of the IU Bloomington wrestling team and as Little 500 riders. They have embarked on an innovative venture known as Farmogic, an online platform promoting locally raised farm products. Their vision of making Farmogic "the Amazon of the meat industry" exemplifies the entrepreneurial spirit we strive to instill in all IU students. 
Our outstanding faculty are embracing the crossroads through innovative, impactful research. Distinguished Professor Eduardo Brondizio exemplifies this commitment. His groundbreaking work has earned him the prestigious Volvo Prize, one of the world's most respected environmental prizes. Professor Brondizio's research focuses on studying human-environmental interactions in the Amazon and plays a crucial role in discussions about climate change, biodiversity, sustainability, institutions, and governance.
Members of IU's staff on all campuses are embracing the crossroads as they work tirelessly, often behind the scenes, to keep our campuses running seamlessly and make them more welcoming, supportive, and sustainable places. Thora Berndt, who was named last week as the recipient of this year's IUPUI Staff Sustainability Award exemplifies this spirit. Among her many contributions to fostering a culture of sustainability in the IU School of Medicine's Indiana Center for Musculoskeletal Health, Ms. Berndt led one of the center's labs through the My Green Lab Certification program, which helps research teams reduce waste and minimize energy and water consumption.
Our more than 770,000 living graduates are embracing the crossroads and helping shape the reputation and success of their alma mater, contributing through their achievements, networks, and philanthropic support, fostering a sense of community and tradition that enhances the overall educational experience for current and future students. One notable reflection of this came in IBJ Media's Indiana 250, a list of the state's most influential and impactful leaders across business, philanthropy, the arts, government, and not-for-profits, more than a third of whom are graduates of Indiana University. Among them are several current and former members of the Indiana University Board of Trustees and many other business and community leaders from around the state.
I am inspired by the potential within our entire community, a potential that, when harnessed collectively, will propel us toward an extraordinary future.
It is a future that will reflect the legacy we build today, the decisions we make now, and the actions we take together. Let us confidently pursue the path of innovation, progress, and transformation. Let us harness the power of our conviction. And let us embrace tomorrow with the confidence that IU will continue to be a beacon of excellence and a home for all who seek knowledge, growth, and impact.
Thank you very much.
Footnotes:
[1] Kate Michaels, Jocelyn Milner, "Powered by Publics Learning Memo: The Big Ten Academic Alliance Cluster Exploring Foundational Course DFW Rates, Equity Gaps, and Progress to Degree," May 2021, Web, Accessed October 11, 2023, URL: https://www.aplu.org/wp-content/uploads/powered-by-publics-learning-memo-the-big-ten-academic-alliance-cluster.pdf.
More about the State of the University
Read more about and watch the broadcast from the State of the University address.
Read about the new framework for developing seven-year plans.