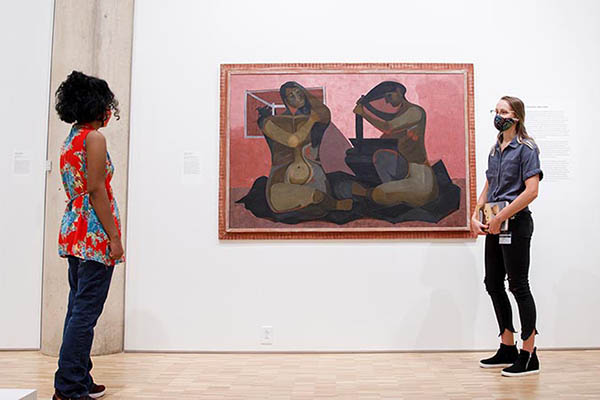 Wearing a mask is critical.
Masks are mandatory in campus buildings and on campus transportation. They are also mandatory in outdoor spaces when physical distancing is difficult.
This requirement applies to all members of the university community, including employees, students, contractors, suppliers, vendors, and visitors.
See detailed guidance on masks at IU
Where masks are required
Types of campus spaces and situations where masks are required include, but are not limited to:
all classrooms
office spaces (including cubicles)
elevators
hallways
fitness centers
library study rooms
locations where you might briefly come into contact with others, such as seating near aisleways
when presenting, including in classrooms, auditoriums, and during events
in outdoor spaces if you're not able to maintain physical distancing from others
Masks are not required:
in enclosed spaces when one person is present with the door closed
during eating or drinking as long you are able to maintain adequate physical distance from others
during university-sanctioned artistic performances, such as when playing wind and brass instruments, acting, singing, etc.
Note: Employees may eat/drink at their workspaces in an open or cubicle environment as long as physical distancing can be maintained (see policy UA-21 for more details). Eating and/or drinking is not allowed in classrooms and labs (see policy STU-02 for more details).
Cloth masks are not considered personal protective equipment (PPE) and are not a replacement for proper PPE in particular settings where specific respiratory protection is required.

Recommended types of masks
All IU employees and students will be provided with two washable, cloth masks before the fall 2020 semester begins.
While masks will be provided for employees and students, you may also choose to wear your own. If you do, we recommend it conform to the Centers for Disease Control and Prevention (CDC) guidelines and:
fully cover your mouth and nose
fit snugly against the sides of your face with no gaps
have ties or ear loops to prevent slipping
Surgical/isolation masks are a good option.
If you wear glasses, consider a mask with a semi-rigid nasal arch to reduce fog on your lenses.
Examples of masks that are not acceptable include (but are not limited to):
covering your face with a t-shirt
scarves
gaiters
bandannas
Putting on and removing your mask
To safely put on your mask:
Wash or sanitize your hands.
Touch only the ear loops and place them over your ears.
Do not touch your face covering except to adjust it to your nose and face.
Ensure your face covering fits over your nose and under your chin.
Wash or sanitize your hands.
Do not touch your eyes, nose, or mouth when putting on your mask.
To safely remove your mask:
Wash or sanitize your hands.
Touch only the ear loops and remove them from your ears.
For reuse, place the covering in a paper bag.
Wash or sanitize your hands.
Do not touch your eyes, nose, or mouth when taking off your mask.
Caring for your mask
Frequently launder masks. Use the warmest water temperature permissible and laundry detergent and allow them to dry completely before reuse. It isn't necessary to bleach masks.
Disposable surgical masks may be reused up to ten days if they don't get wet, soiled, damaged, or misshapen, and may be placed in the garbage when disposed.
Inspect masks. Before reusing a mask, inspect it for damage. If it is damaged or misshapen, replace it or repair it before reuse.
Visit the CDC website for detailed information on the use of cloth masks.
IU guidance on masks and PPE