COVID-19 Vaccine
Everyone for whom the vaccines are currently authorized in the U.S. is eligible to receive a COVID-19 vaccine in Indiana.
Each state makes the decision on who is eligible for the COVID-19 vaccine. You may be eligible in one state and able to receive the vaccine, but not in another state. IU has no say in which groups are made eligible.
Currently, the state of Indiana has made the following groups eligible:
Those age 12 and older (ages 12-17 must get the Pfizer vaccine)
Health care workers interacting face-to-face with patients
First responders who have contact with the public
Educators and support staff (pre-K through 12th grade)
Those with certain high risk health conditions (your physician will provide you with a link to schedule your vaccine appointment)
Individuals who have exposure to COVID-19 infectious material
Once you meet the state's eligibility criteria, you can find a vaccination site near you and schedule your appointment. You do not need to wait for a notification or invitation from IU to schedule your vaccine appointment. Walk-in appointments are also accepted at most vaccination sites.
Have you had your COVID-19 vaccine?
Every shot counts. Let IU know when you've had each dose of the COVID-19 vaccine. The more people we know have been fully vaccinated, the safer our community will be.
I've taken my shot.
Received your first dose outside of Indiana?
If you've had one dose of the vaccine in another state, it's recommended you stay and receive your second dose there as well. You may be able to receive your second dose in Indiana, but the state of Indiana is not guaranteeing that this will be the case. To be safe and not waste your shot, stay and receive your second dose in the same place as your first. 
Fact vs. Fiction:
What's really true about the COVID-19 vaccine?
Fiction: The COVID-19 vaccine was developed in a rush and isn't safe.
FACT: There was no bypassing or relaxing of the normal scientific process for vaccine development. The vaccines were tested by all three phases of scientifically rigorous clinical trials, which have shown no major safety concerns.
---
Fiction: Receiving the COVID-19 vaccine will change your DNA.
FACT: It is not possible for the vaccine to change your DNA. It does not interact with your DNA in any way.
---
Fiction: You can get COVID-19 from the vaccine.
FACT: The vaccine cannot give you COVID-19. There is no live virus in the vaccine.
---
Fiction: You'll feel really sick after getting the COVID-19 vaccine.
FACT: While you may feel some side effects after receiving the vaccine, they should be mild and only last for 24 hours. Most commonly, people feel soreness at the injection site like with any other shot. Others may also experience mild fever, mild fatigue, muscle or joint pain, or headache.
---
Fiction: The COVID-19 vaccine causes infertility in women and isn't safe for pregnant women.
FACT: There's no evidence that the vaccine causes infertility in women or has increased risks for pregnant or breastfeeding women. The Centers for Disease Control and Prevention as well as the American College of Obstetricians and Gynecologists say the vaccine should not be withheld from pregnant and breastfeeding women.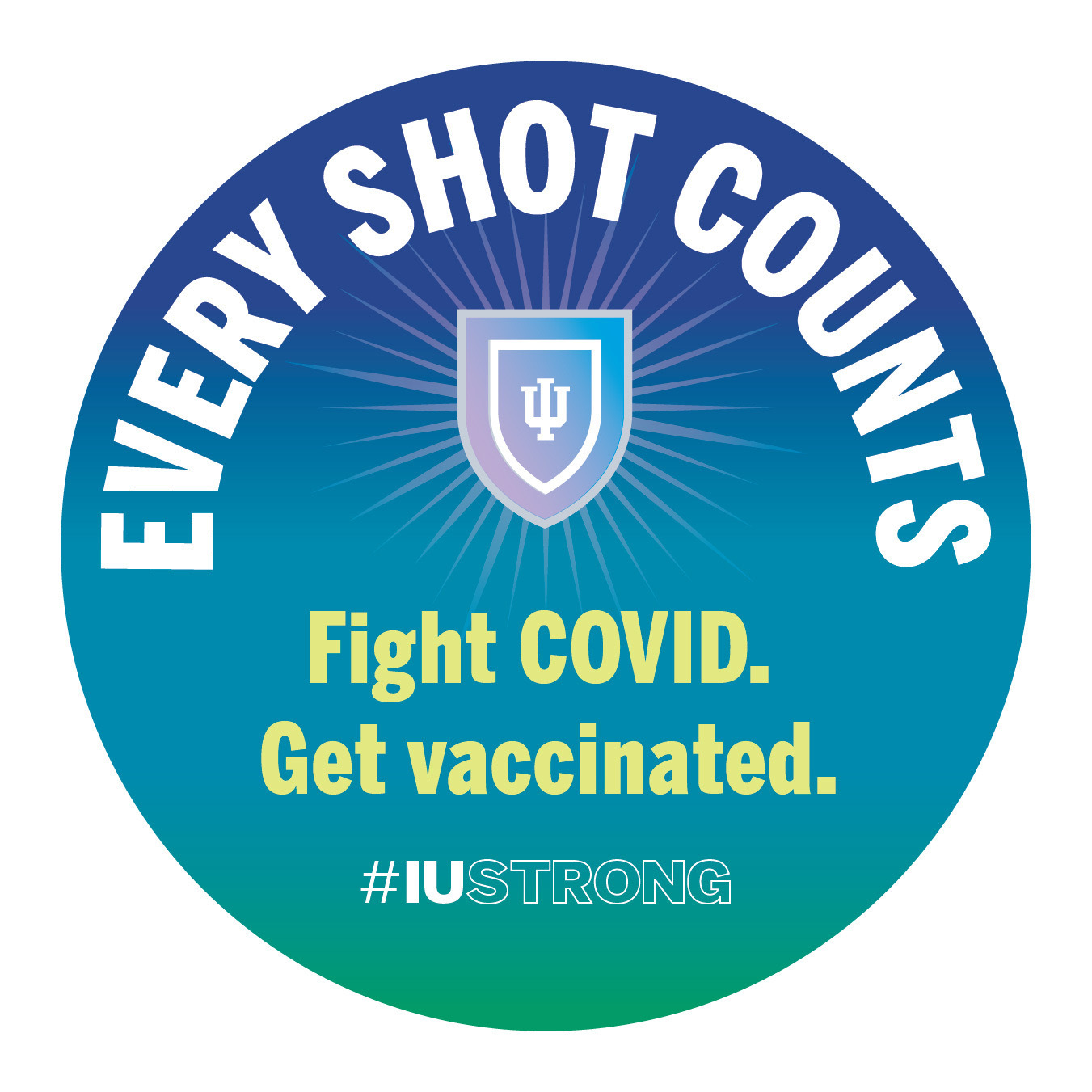 The vaccine is one more (important) tool in our toolbox for fighting the pandemic. The only way we will see a more typical fall 2021 semester is if the vast majority of our IU communities get vaccinated.
Here's how you can help us have a more typical fall 2021
When you're eligible, schedule your vaccine.
Get all doses required for full protection (one or two, depending on which vaccine you get).
Where will you get the COVID-19 vaccine?
Every Indiana county has at least one COVID-19 vaccine site. When you're eligible and schedule your vaccine appointment through ourshot.in.gov, you will be able to select where you want to receive your vaccine. It is recommended that you plan to receive both vaccine doses at the same location.
Starting March 29, IU Bloomington will begin operating a vaccine clinic at Simon Skjodt Assembly Hall, in coordination with the Monroe County Health Department. The site will be open to the public, not only those affiliated with IU. Those eligible for the vaccine -- as determined by the state of Indiana -- can select "IU Simon Skjodt Assembly Hall" in the ourshot.in.gov scheduling system as the location for their vaccine appointment.
As of March 18, plans for vaccine clinics at other IU campuses are in the works but not yet authorized by the state.
What to expect when getting your vaccine
Getting your COVID-19 vaccine will be much like getting any other vaccine. You should wear short sleeves or a shirt with sleeves that can easily be rolled up to your upper arm.
You'll receive the injection in your upper arm. Before you leave the vaccine site, you'll be given the appointment date and time for your second dose, depending on which vaccine you get. It is important to return to the same location for your second dose.
In the 24-48 hours after receiving your vaccine, your arm may feel sore. Other potential side effects will likely be mild, if you have them at all, and may include fever, fatigue, muscle or joint pain, or headache. People who get the Pfizer or Moderna vaccine most often feel a greater immune response after their second dose.
Remember, if you feel any of the above side effects, this simply means your body is building protection against COVID-19. It's a good thing! 
If you develop symptoms more than 48 hours after receiving the vaccine or they last for more than 24 hours, it could be unrelated to the vaccine. Stay home and contact your doctor.
So, what will change after you've been vaccinated?
You will be more protected from getting COVID-19.
You will be helping to protect your friends, loved ones and community by adding to the total number of people vaccinated.
If you've reported your vaccination to IU, you will not need to quarantine if you are identified as a close contact of someone who has tested positive for COVID-19.
You will have done your part to make the fall 2021 semester more typical.
You will feel more secure knowing that if you do happen to get COVID-19, you should have a mild case.
And, what will stay the same?
Research is ongoing to know if those who have received the COVID-19 vaccine can still pass the virus on to others. Studies have shown that all vaccines currently authorized for use in the U.S. are very effective at preventing COVID-19, especially severe disease. This means the chances of you getting COVID-19 are very minimal, but still remain.
Because of these unknowns, as well as the fact that there are new, more contagious strains of the virus that causes COVID-19 and cases continue to rise…
You will still participate in mitigation testing.
Although you won't need to quarantine, you will still report if you've been identified as a close contact outside of IU and participate in daily symptom monitoring through IU's COVIDcheck.
You will still wear a mask, practice physical distancing and wash your hands often.
You will still work to keep your circle small and not participate in high-risk activities.
Learn more about the vaccine
Have more questions about the vaccine and what you can expect?