Bring on
Artificial intelligence
At Indiana University, we're using AI to transform the future, starting right now. We center humanity in our work to advance AI in healthcare, business, the arts and beyond—for the good of all.
[Audio: curious music swells to start, David Crandall begins to speak. Video: A blurry Sample Gates approaches in a drone shot with the IU logo and "BRING ON TOMORROW" written on the screen. This text fades away and reveals an in-focus Sample Gates during a fall afternoon. We cut to see David Crandall sitting in front of a wall of monitors displaying various images of scans, technology etc. The IU logo appears on screen along with "DAVID CRANDALL. Director of Luddy Artificial Intelligence Center". The video cuts to a close up of wires going all directions plugged into the back of a server rack. Two students sit at a bench in the Luddy School working on a project with overhead equipment. An aerial drone shot of the Jacobs School of Music, The Kelley School of Business, and the IU School of Medicine. A robot's eye wakes up and blink, followed by a heartbeat monitor in a hospital and a young woman standing up in her cap and gown at graduation. David Crandall appears back on camera.] 
Speaker: David Crandall 
It's less about creating A.I. for A.I. sake, and more about creating A.I. that's going to make people's lives better. So, it's about understanding what people want and then developing technology that's going to address that need. Here we have not only the technology, but we also have of the best music schools in the world, one of the best business schools in the world, one of the best medical schools in the world. And suddenly the possibilities of AI.. plus, all of that are much more exciting, than just the technology itself. 
[Audio: upbeat music continues, Shiaofen Fang starts to speak. Video: A drone shot of Indianapolis slowly pans, then we see Shiaofen on camera. The IU logo appears along with the text "SHIAOFEN FANG. Associate Dean for Research, IU Indianapolis. Two medical professionals are seen looking at a computer together, and then a piece of lab equipment. A panning shot reveals a piece of colorful artwork sitting on the ground in front of two women. A professor in a lab is working with a young woman on a self-driving robot. Next, a hand appears and gestures towards data points on a laptop screen. Colorful dots are displayed on two large screens next to each other, the computer zooms into the dots and various data points.  Shiaofen is back on camera sitting in front of a wall of monitors displaying his research data. Next, two young women working together are in a large classroom, the camera cuts to two more young women who are standing in front of a posterboard reading "IS ELEMENTARTY AI EDUCATION POSSIBLE?". We see a laptop with a simulated classroom and a student standing. Text reads "CLICK ON THE SMARTPHONE ICON TO OPEN YOUR SMARTPHONE AND ACCESS YOUR APPS. CLOSE IT WHEN YOU ARE DONE". Two male students gesture and nod at each other as they look at a research poster. Shiaofen appears back on camera.] 
Speaker; Shiaofen Fang 
A.I. is going to become ubiquitous in our society, not just in the computing field. Also go to healthcare, go to medicine, go to humanity, and liberal art it's IU strengths anyway. IU is taking advantage of that strength and putting A.I. into it. Make it even stronger here. So, we are looking at the A.I. as a multidisciplinary field. So, student coming in, even if they don't study A.I., they will most likely have opportunities to touch A.I. in some way in their own field. I think that's very important for students because they will learn skills that are really important for future career opportunities here. 
[Audio: music continues, and David Crandall starts speaking again. Video: a drone shot of the iconic red IU clocks. Two women walk down the hallway at Luddy, and then appear in a small room with a robot and another woman. They are reviewing data on a screen and the robot raises its arms and blinks. David Crandall appears back on screen. We see David Crandall in a classroom addressing a room full of students and faculty. A quick series of shots reveals a hand holding two microchips, next a bright green image of a cell on screen, a self-driving car climbs a series of steps along with the bright data read out in split screen. A quick shot of a full server rack, a cute baby wearing camera headgear, two adults walking slowly towards BIG RED 200. Finally, a drone shot reveal the colorful campus of IU along with the clock tower and several buildings. David Crandall is back on camera as the video comes to a close. Text on screen reads "INDIANA UNIVERSITY IU.EDU" The IU logo is seen over a black screen. Fades out. Audio: music resolves and fades out.] 
Speaker: David Crandall 
Having the university be sort of leading the discussion of where we want A.I. to go as a society and leading the technological development, but also sort of the interdisciplinary applications 
and the sort of human centered approach is extremely exciting. We have among the best faculty in the world, and so we have these little pockets of expertise. bioinformatics. neural networks. self-driving cars, machine learning human computer interaction, case-based reasoning. We really believe in the mission of the university. And the mission of the university is to make people's lives better. 
EXPERTISE HIGHLIGHT
Shaping the Future of AI
Indiana University faculty, researchers, and students are using artificial intelligence to revolutionize the way the world works, plays, and creates.
IU's AI programs and initiatives will continue to grow, leading the way in research, education, and workforce development.
Pamela Whitten President of Indiana University
AREAS OF EXPERTISE
Pursuing Excellence in All We Do
Indiana University is fearlessly tackling society's biggest challenges. While others dream of a better future, we're creating it. Bring on Tomorrow.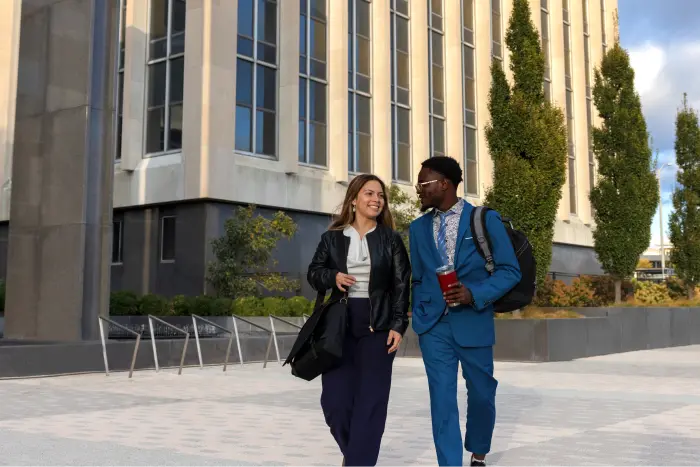 Business
Indiana University is improving the business world in every way that matters, from breakthrough research programs to top-ranked academics.
Explore business stories