Website Approvals
IU's updated website approval process ensures that university sites are compliant, accessible, and strategic. Requests for websites will be evaluated at the outset to determine if proposed sites will align with IU's long-term goals and objectives, will be informed by IU's upcoming content strategy, and will be accessible and search engine optimized.
Site owners will be required to sign a form attesting to long-term commitment to maintenance and compliance. Forthcoming policy will outline more changes to requirements for website owners.
Your request may not be approved if the evaluators determine that a website is not necessary or appropriate for your content.
What to expect when you request a website
Submit the website request form

If you believe your unit or organization needs a website, fill out and submit the website request form.

Request is reviewed

The request will be reviewed to determine if a website is necessary.

Request is approved or denied

If the request is approved, you will be allowed to proceed with requesting a virtual URL, hosting, and a Web Framework copy. If the request is denied, you will receive a message with that information and alternative options for your content.

Test website is created

You will be given access to a test site where you can add content.

Test website is reviewed

When your test site is complete, you'll submit it for a required review for accessibility, content quality, and a privacy policy.

Website is launched

Once your site is approved, you can deploy it and make it public. Congratulations!
What will not be approved?
The following site requests will not be approved. Check the alternatives to standalone websites for other possibilities for your content.
Data for file storage only and not available for public access
Sites that will be live for less than three years
Sites for an individual degree program
Sites that host course materials
Sites for a conference or one-time event
Sites made primarily for a short, easy to read URL
Sites for a student organization
Sites intended to be a blog
Sites only for news and stories
Alternatives to standalone websites
If your website request is not approved, one of the following alternatives may be a good option for your content:
LiveWhale Storyteller for news and stories
LiveWhale Storyteller is a web-based application that helps you easily create, tell, and promote stories in any content management system. The IU Newsroom is built on this application.
Canvas for course materials
Canvas is the primary learning management system (LMS) for IU and the main tool for teaching courses. If you're new to Canvas, check out Getting Started with Canvas as an Instructor. For more information, visit the Canvas Instructor Guide or the Canvas at IU page in the Knowledge Base.
Go.IU for a short, simple URL
IU faculty, staff, and students can use Go.IU to create a custom URL that's short, easy to remember, and trackable for marketing purposes.
IU Blogs
The university provides IU Blogs for faculty, staff, and students who would like to publish a blog. All IU Blogs use an IU-branded WordPress template.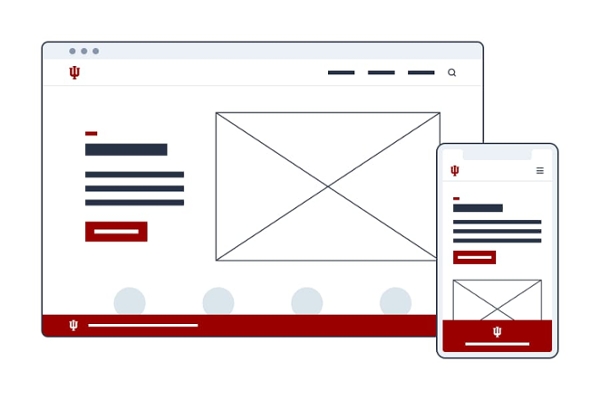 FAQ
The review process takes about a week and you may be contacted with follow up questions. If your website ist approved, you'll receive information about next steps. If your request is denied, your ServiceNow ticket will be updated with that information.
There are no costs associated with creating Sitehost or Sitehost Test accounts.
A virtual host is required for the framework — you should request an SSL certificate for security.