Building on 200 years of academic excellence
IU's online programs and courses are developed and taught by the same internationally renowned faculty who teach on IU's seven campuses. And when online students graduate, they earn the same respected IU degree as on-campus students.
Explore IU Online programs and courses
U.S. News best online
program rankings
---
#21
Best Online Bachelor's Degree
Rank #17 for Veterans
#3
Best Online MBA
Ranked #1 for Veterans
#1 Best Online MBA, Marketing
#2 Best Online MBA, General Management
#3 Best Online MBA, Analytics
#4 Best Online MBA, Finance
#2
Best Online Graduate Business (non-MBA)
Ranked #1 for Veterans
#42
Best Online Graduate Education
#3 Educational/Instructional Media Design
#4 Educational Administration and Supervision
#5 Curriculum and Instruction
#5 Special Education
#49
Best Online Graduate Nursing
#4 Nursing Education
#16 Nursing Administration/Leadership
204
online programs and majors
8,224
students enrolled in online programs in fall 2021
10.5%
increase in online program enrollment from fall 2020 to fall 2021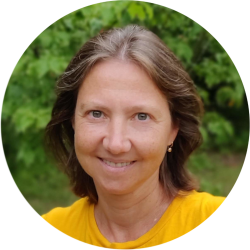 Teaching online is all about making connections. As the online environment is a magnet for diversity, the connections online students make with each other and with course content have the potential to be especially rich. This diversity plays a role in how and what students learn.

Inna Kouper

Assistant Scientist, Luddy School of Informatics, Computing and Engineering, and Center for Survey Research.
Learn more about teaching online at IU
18%
of online program students are under-represented students of color
52%
of online program students are IN residents
55
US states represented by online program students
68
countries represented by online program students
Supporting student-centered learning
IU offers affordable, flexible, and relevant online education that provides access and opportunity to a diverse student body. By partnering with on-campus student service providers, IU Online leverages the unique expertise of each campus to ensure that online students have the support they need to be successful.
Discover how IU supports online students
My professors got it that it's not a face-to-face classroom experience. They got it that they needed to be attentive and responsive. They encouraged us to call and text. They were never rushed. They often followed up to make sure I understood.

Justin Westfall

B.S. in Business Administration, Class of 2018
Learn more about Justin's experience
online degrees awarded at
May 2021 Commencement
We are proud to be Indiana's largest provider of online education at the bachelor's degree level, and to offer many highly ranked graduate programs.

Pamela Whitten

IU President