Logo and marks
IU's marketing lockups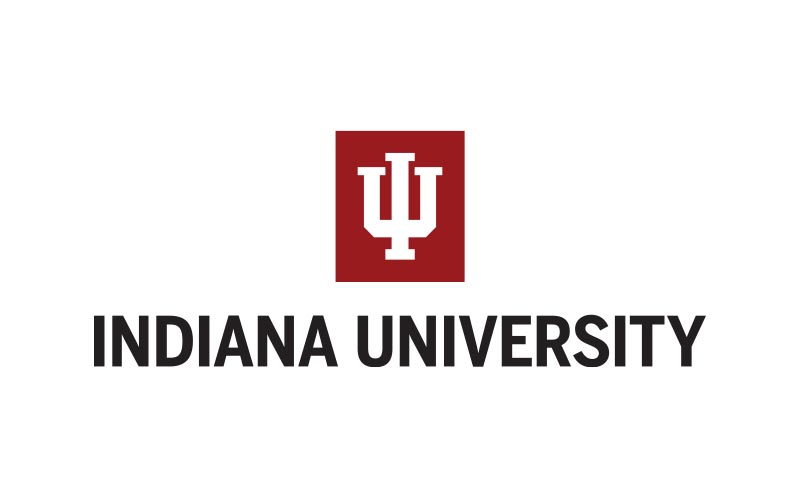 The informal system for branding marketing and communications
Our university marketing lockup provides a consistent and easily identifiable mark that represents our institution. It can be used on all marketing materials, both on screen and in print.
For design flexibility, the lockup has horizontal and vertical options, and either black or white text depending on background image or color. The key is making sure the lockup is distinguishable and legible.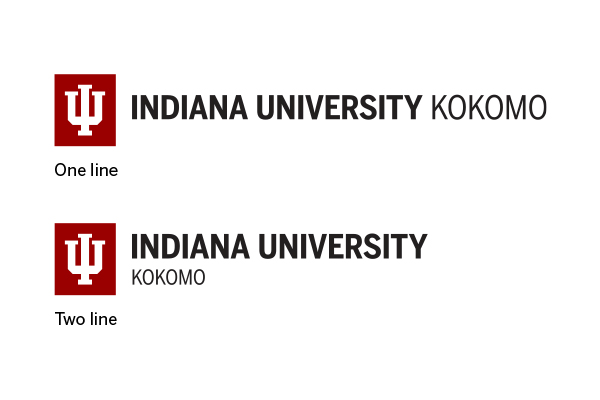 Campus marketing lockups
Campus marketing lockups have a flexible structure that allows for a broad range of use. They can be used across all of your marketing efforts, creating a consistency that further aligns all IU campuses as part of one institution.
Download campus marketing lockups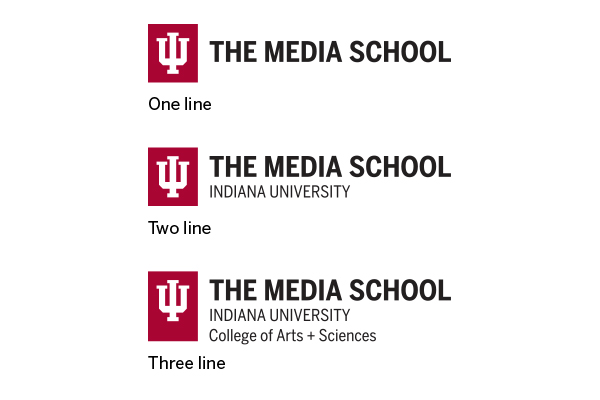 School and department marketing lockups
Marketing lockups help schools, departments, and other units stay true to the Indiana University brand.
While official IU signatures are used for letterheads, envelopes, business cards, official documents, and ceremonial materials, lockups are used for all marketing channels—digital, print, web, and virtually everything else.
Logos and lockups for centers and institutes
Almost all centers and institutes at IU must use the trident and a marketing lockup. You must leverage the brand if:
Your website URL ends in .edu

Your funding comes primarily from IU

You are identified as "The Indiana University _________"
Exceptions
There are a few exceptions to this rule. Your center or institute may qualify for an exception if:
You receive funding outside of the university

You function as part of a multi-institution partnership

You focus on other colleges and universities as your target audience
For help determining whether or not your center qualifies for an exemption, contact us.
Student organization marks
If you are part of an academic or professional organization that's affiliated with the university (university student organizations), you should use the official Self-Governed Student Organization (SGSO) mark on your marketing materials. It's designed to be used with your organization's logo, not instead of it.
For your logo, you are free to use the marketing lockup tool or create your own.
All other organizations can create their own logos—but should not use the official SGSO mark.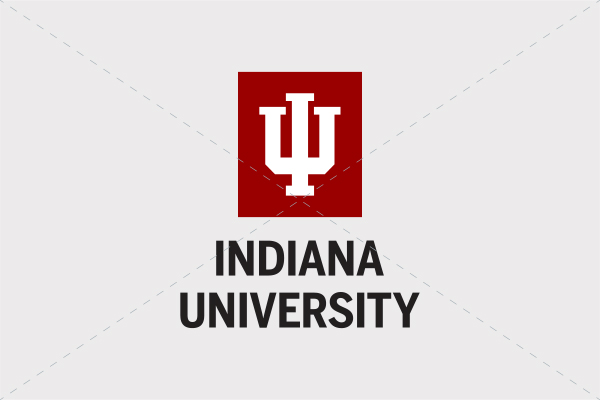 Never alter the lockup
Always use approved master artwork to maintain consistency and to retain the integrity of the Indiana University identity.
Although here we're demonstrating improper use of the marketing lockup, this rule applies to all university art (the trident, tabs, and signatures, included). 
There is no need to recreate university art. The IU logo and all brand marks are available for download here.
Create your marketing lockup
There's no need to design your marketing lockup on your own. Our online tool makes it fast and easy to create a lockup with vertical, horizontal, and centered versions.