visual language
Let's get down to graphics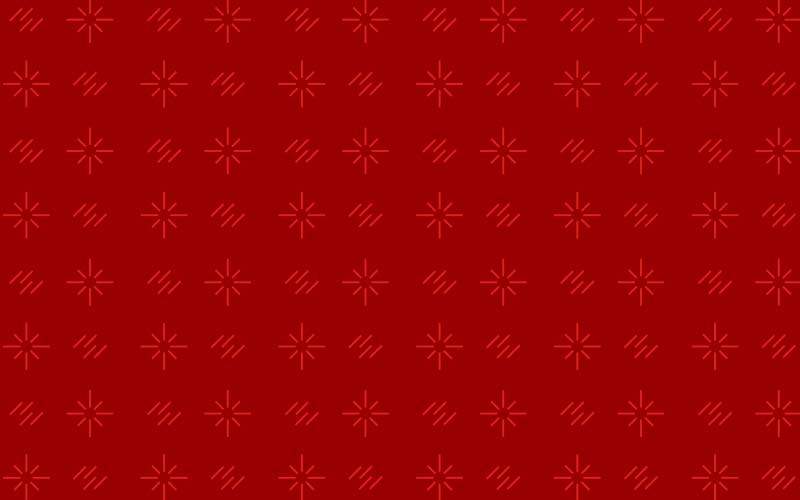 Graphic elements in design
When combined with color, photography, and type, graphic elements can create powerful visual connections to the brand and reinforce the central ideas you're trying to convey. Incorporating graphic elements can add visual interest and a sense of dynamism to your executions.
Graphic elements are not logos
Graphic elements are not meant to be used exclusively by departments or units. Instead, they are tools to enhance a range of messages, compositions, and campaigns.
Graphic building blocks
When using graphic elements, there are a few design principles that can help you add movement, create emphasis, or establish connections. Consider what you are trying to achieve and how each of these principles can aid in visualizing your message.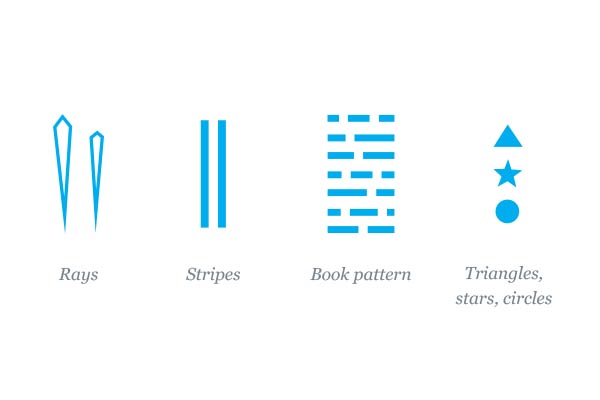 Signed, sealed, delivered
The Indiana University seal is made up of a number of elements that can be further deconstructed, abstracted, or altered to create unique graphic elements that remain rooted in the IU brand.
Rays
Stripes
Book pattern
Triangles, stars, circles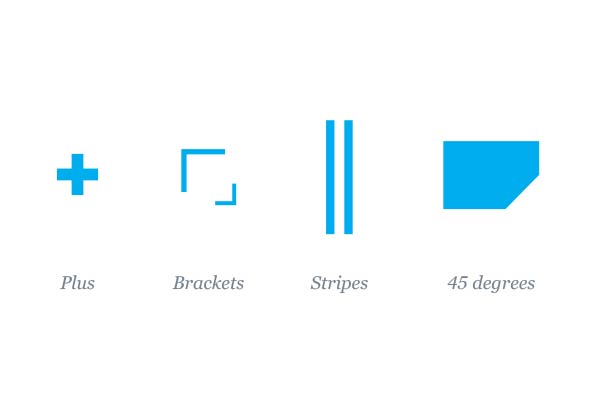 Our trident: tried and true
The IU trident is also composed of elements that can be extracted, abstracted, or modified to create more unique graphic pieces that are true to our brand identity.
Plus
Brackets
Stripes
45 degrees
Oh, the possibilities
Each brand element taken from the IU seal and the IU trident can be used as graphic elements. Feel free to combine, interpret, and manipulate the elements to develop unique and interesting compositions that maintain a strong thread with the IU brand.
Consider the following examples of graphic elements in use. There's no end to the number of ways brand elements can be used within your designs.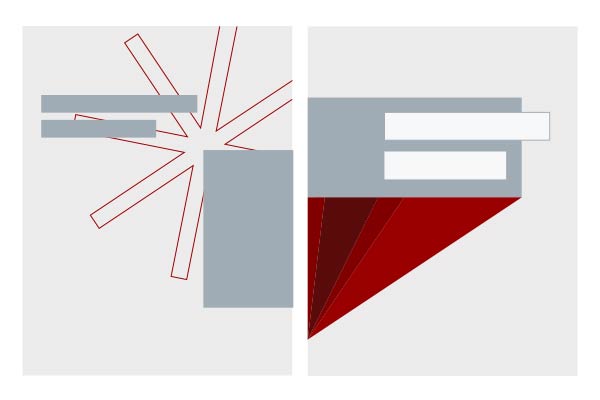 Rays
Light is at the center of the IU brand. Light rays can take many forms as graphic elements. They can add emphasis to your message or draw out connections.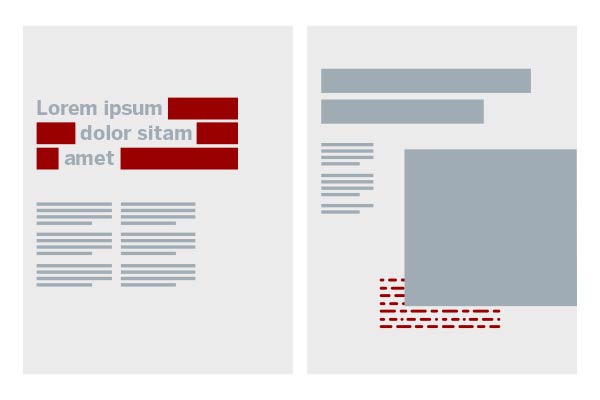 Book pattern
The book pattern, comprised of staggered rectangles, can take many forms, from typographic treatments to elements emphasizing the action or subject in photographs.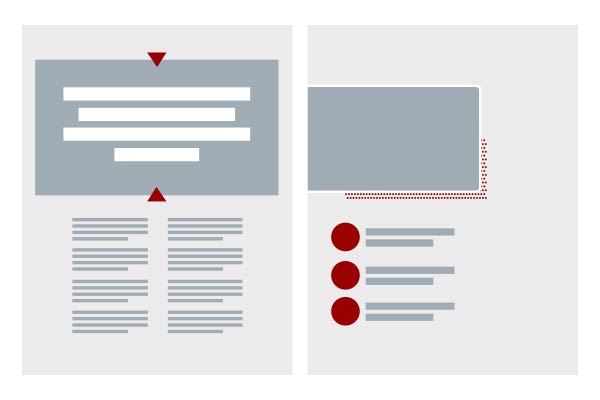 Triangles, circles, stars
Shapes can become versatile graphic elements by using the principles of design strategically. Create hierarchy or add variation and emphasis to any piece by using these elements in meaningful ways.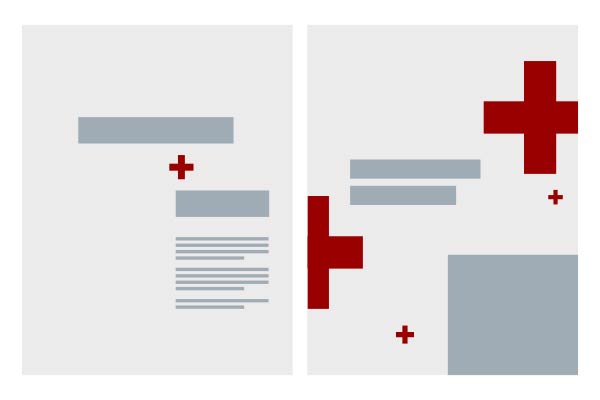 Plus
The plus graphic is versatile in both meaning and form. The plus can be used to show connection or intersection, or can be pulled apart to create a container.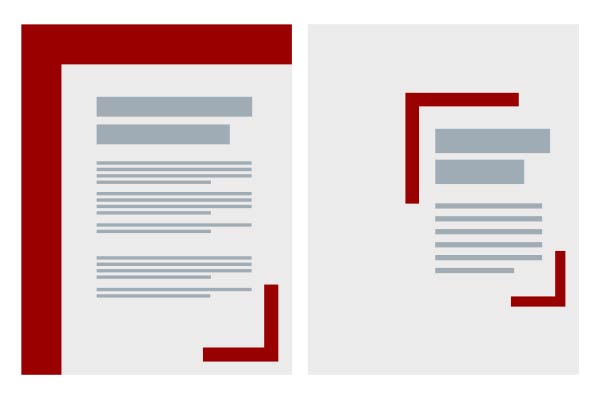 Brackets
Brackets can add emphasis and create a container for the information most important to your message.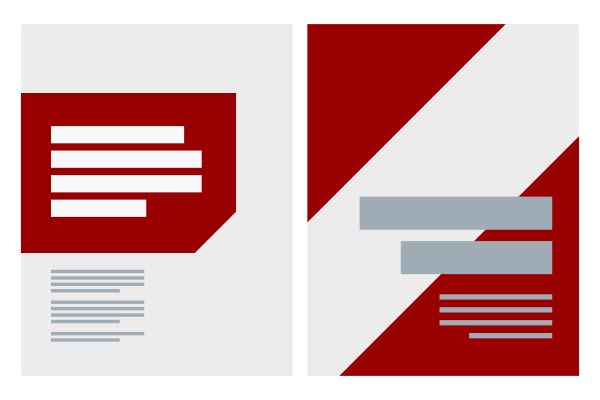 45 degrees
The 45-degree notch can be used in a variety of ways from giving a silent nod to the brand, to acting as a dynamic element in your design. Create containers and frames using the notch, or create dynamic typography elements or image containers.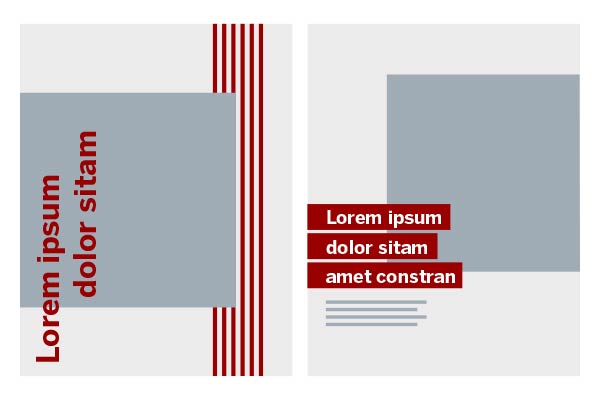 Stripes
The iconic IU candy stripe is a powerful graphic that can be alluded to in many forms. Create strong lines horizontally, vertically, or even diagonally with type. Or, you could use them with an image.
Flex your graphics
Graphic elements are building blocks that can be simplified, repeated, or altered in small ways while still remaining connected to the brand. Be sure to consider what the graphic is trying to communicate in your piece.
This is an example of the book pattern element from the IU seal. This simple element has been flexed in many IU deliverables to help create hierarchy, emphasis, and texture. Consider what other elements can be expanded in your executions.
Explore our visual language further
Keep looking further into IU's visual language.
See how color is used across our range of expression, from functional to expressive.

We can say a lot with our choice of type. Learn about our brand typography basics.

How we arrange the elements in our layouts makes all the difference. Discover more about composition.