Inauguration of Pamela Whitten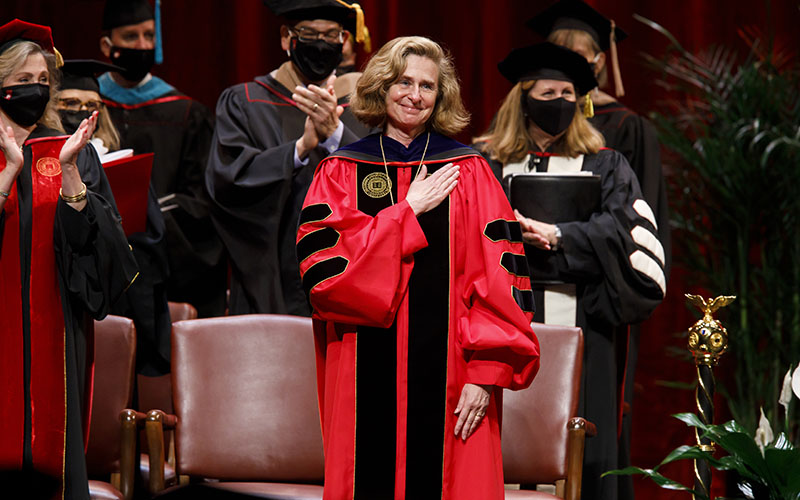 Thousands joined the celebration
The inauguration of Pamela Whitten as the first female president of Indiana University was a celebration of you – the IU community.
Thousands took part in the significant milestone in the university's history at the ceremony at IU Bloomington, an inauguration festival at IUPUI and watch parties held on IU's campuses across the state.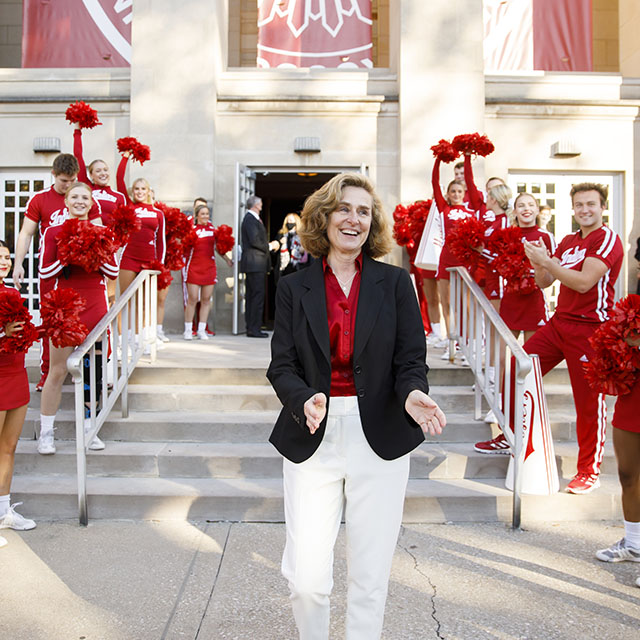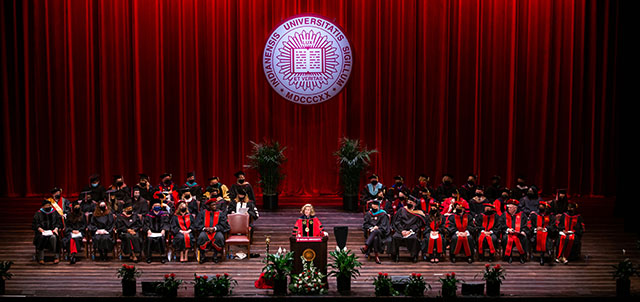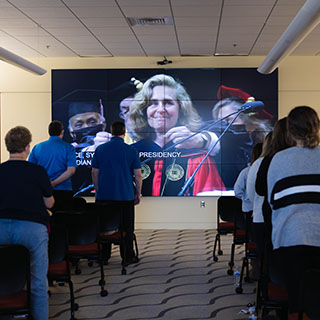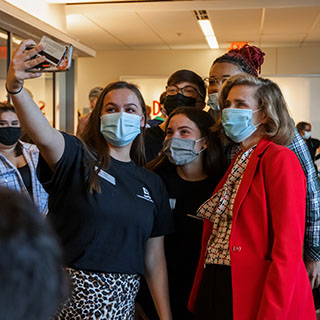 "Pamela is a remarkable and thoughtful leader, who has already established herself as a student-centered and involved president at Indiana University. She places value on recruiting and retaining diverse talent and resources, as well as supporting and promoting key research, which will keep IU moving forward on a path of groundbreaking scholarship and academics in the years to come."
W. Quinn Buckner Chair of the Board of Trustees, Indiana University
IU President Pamela Whitten stands outside the IU auditorium with W. Quinn Buckner, chair of the IU Board of Trustees, before her historic inauguration in 2021. Photo by: Liz Kaye, Indiana University.

Faculty line up before the inauguration of IU's 19th president in November, 2021. Photo by: James Brosher, Indiana University.

President Whitten stops for a photo after her inauguration. Photo by: Chris Meyer, Indiana University.

President Whitten speaks with those attending the celebration outside the IU Auditorium. Photo by: James Brosher, Indiana University.

The celebration continued the next day at IUPUI, as many attended the festivities at the Campus Center on campus in Indianapolis. Photo by: James Brosher, Indiana University.

IUPUI's Campus Center was packed with faculty, staff, students, and many others, as the inauguration celebration continued in Indianapolis. Photo by: Liz Kaye, Indiana University.

President Whitten cuts a cake at IUPUI with two student speakers and IUPUI Chancellor Nasser Paydar. Photo by: Liz Kaye, Indiana University.
"The inauguration of our first woman president is a huge step for Indiana University, and one that is long past due. Witnessing this event shows me, and all of our students, that reaching positions of authority is possible for women, and that our perspectives and expertise are valued and celebrated here."
Kayla Isenbletter Graduate Student, IU South Bend
Inauguration in the news
Read news coverage of the historic inauguration of IU President Pamela Whitten.
About President Whitten
As Indiana University's leader, President Whitten has outlined three core missions for the university: ensuring student success by placing them first, setting ambitious research goals and affirming IU's leadership role in advancing economic development and quality of life for individuals throughout the world.