Leaders in health and medicine. Pioneers in business.
Through our world-renowned professional schools, rigorous degree programs, and groundbreaking research, IU is dedicated to advancing the fields of healthcare and business across the state, country, and world.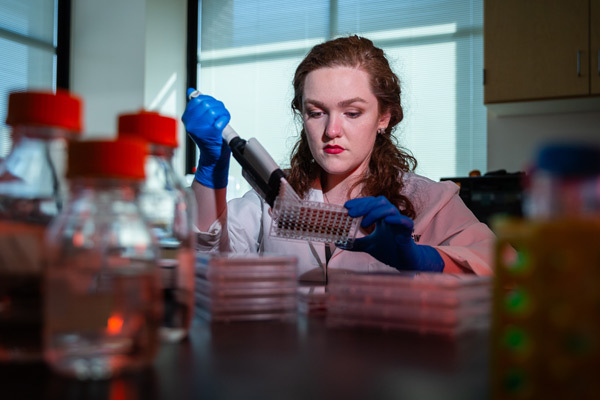 Fighting COVID-19 from every angle
To beat a once-in-a-lifetime pandemic, Indiana University is bringing everything we've got. Experts from across IU are working with industry partners and state officials to bolster efforts to end the pandemic—and that means everything from tracking the spread of the disease to aiding in vaccine development.
See IU's efforts
40%
of 2019 IU graduates majored in health- or business-related fields
43%
of 2019 IU regional campus graduates majored in health- or business-related fields
85%
of 2019 IU Online students pursued health- or business-related degree programs
*All statistics are current as of 2020.
Committed to improving healthcare
With eight clinical schools located across the state, and an annual total of $854 million in external funding to support health sciences research in 2020, IU is changing the face of healthcare.
We invest in research, training, collaboration, and infrastructure that leads to more access, better treatments, new discoveries, and stronger solutions for today's biggest public health challenges.
In addition to the IU School of Medicine, which trains more doctors than any other U.S. medical school, our health science schools include:
IU also makes a statewide impact through eight medical education centers in Bloomington, Gary, Fort Wayne, Muncie, South Bend, Terre Haute, West Lafayette, and our newest facility under construction in Evansville.
Our partnership with IU Health
The state's largest healthcare system, IU Health advances new and improved treatments, innovative procedures, and cures through an investment in research at the IU School of Medicine. Initial target research areas in cancer, neuroscience, and cardiovascular disease have driven the development of highly personalized new therapies using the latest genetic tools.
IU Health and the IU School of Medicine are also working together to address critical health issues facing the state of Indiana, including the opioid crisis, mental health services, and statewide access to care.
Learn more about our partnership
Expanding the boundaries of business
Across all nine campuses and online, IU students have access to hundreds of business-related majors and degree programs that set them up for success in a growing and evolving business landscape.
Our diverse range of programs reflects the growing and evolving global business landscape, from traditional business degrees (including undergraduate and MBA programs at the highly ranked Kelley School of Business) to programs that span advertising, actuarial science, entrepreneurship, sports management, public health administration, and even a Liberal Arts and Management Program that allows students to explore the intersection of business and liberal arts.
$9.5 billion
in economic impact for Indiana
*All statistics are current as of 2020.
Preparing students for health and business careers
In 2019, 18 of the top 20 employers of IU Bloomington graduates and 19 of the top 25 employers of IUPUI graduates were in healthcare and business fields. IU graduates go on to work for top healthcare systems and the world's leading businesses in retail, software, financial services, manufacturing, pharmaceuticals, and more.
Amazon
Salesforce
Ascension St. Vincent Health
Oracle
Riley Hospital for Children
Target
Cummins
Community Health Network
Eli Lilly and Company
Covance
Ernst & Young
IU Health
Get to know IU
Learn about our global locations, meet our leadership, and see a snapshot of IU history.
See where to find IU throughout the world.

Meet the leaders behind our university.

Learn about IU history and find useful facts and statistics.